Cafe Triomphe
is actually a small coffee and tea shop
just north
of the traditional Kuramaebashi Dori boundary that marks the Akihabara maid cafe district. To get there, take Chuu-ou Dori north from the Akihabara station, turn right at Kuramaebashi, go two very short blocks, turn left and it'll be on your right halfway down the block. I've seen it marked on every maid cafe and moe spot map I've picked up, and every time I've walked by I've never seen a single maid in it. Then, when I was looking at the "Kaicho wa Maid-sama" anime promo flier, I noticed that Triomphe was specifically mentioned as part of the tie-in. So, I finally decided to check it out.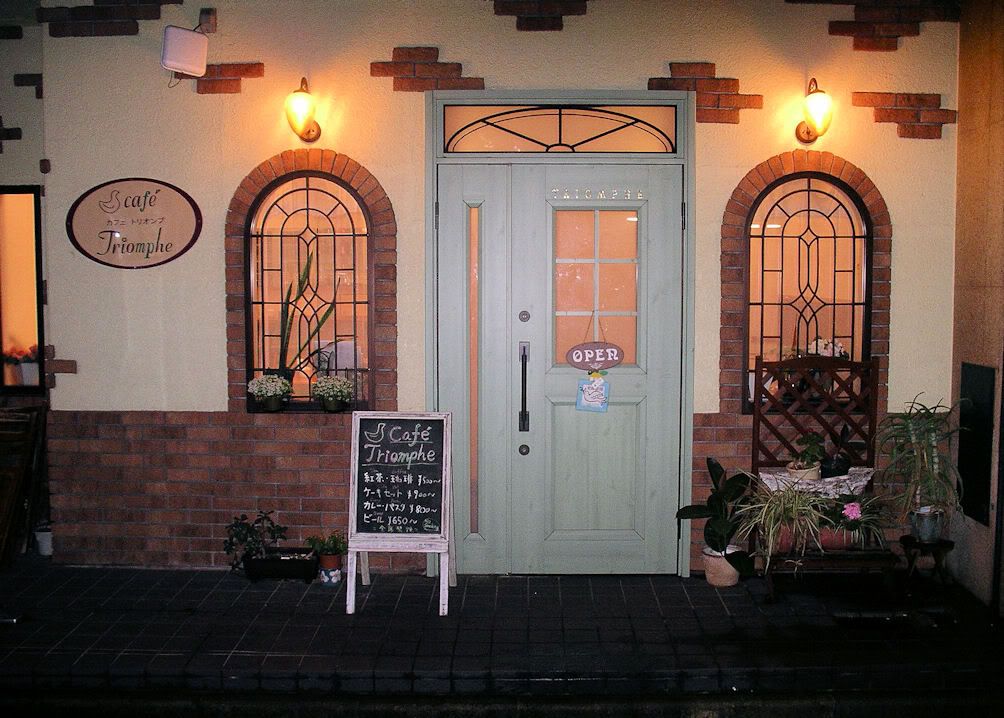 Turns out that while Triomphe has a "sitting room coffee shop" atmosphere, and a wide selection of teas to pick from, it also acts as a rental space. And, occasionally it's been used to host maid cafe events. In fact, one of the uses is to allow people to "run" their own cafe for a day. A price sheet is available on the little fliers table next to the door. I asked about the next upcoming maid-related event and was told that there's nothing on the immediate horizon, and to check the events calendar periodically. On the other hand, there was a stage magician scheduled to perform that night (right about when I had to start work, of course).
Triomphe offers some dinner entrees, as well as having a tea time service, and lunch. I got the "cake set", with my choice from three different cakes, and soft drink. I went with the apple custard cake and hot coffee for 900 yen (about $9.50 USD). The cake was a thin slice with sponge cake on the bottom and an apple glaze on top. The coffee was good and strong, but served in a small cup with no refills. The room is bright and airy, even at night, with cushioned chairs and benches along one wall. Seating for about 30 people unless the tables in the middle of the floor are moved out of the way to allow for some event.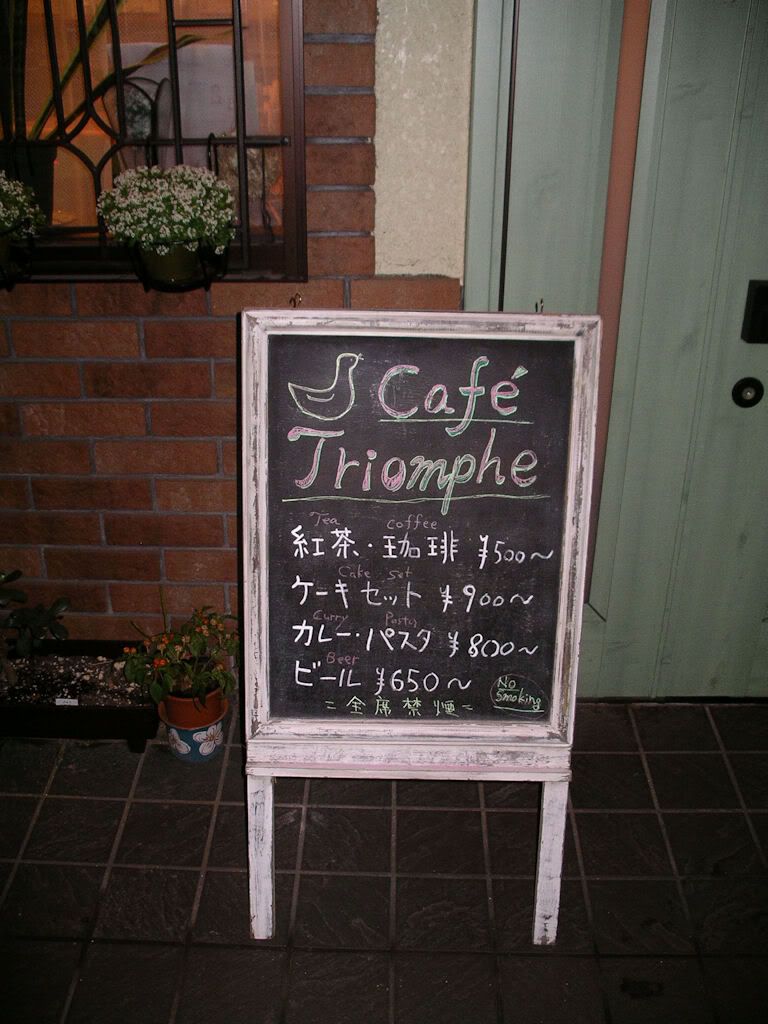 I didn't ask about a points card, although I expect there is one. And they really did have a maid on staff that night. One of the servers arrived after I did, and changed into a long brown dress with a white apron and frill cap. But, I didn't see anything on the menu about maid photos. If I pressed them, I might have gotten a photo with the magician.
Cafe Triomphe is definitely worth keeping an eye on, since they routinely host maid events. And, they're a really nice place for just sitting down with friends for a cup of tea.
Summary:
Name
:
Cafe Triomphe
Location
:
Half a block north
of Kuramaebashi Dori, two short blocks east of Chuu-ou Dori.
Price
: Moderate
Cover
: No cover.
Food
: Coffee and teas in the 500 yen range, cakes and desserts around 500 yen. Entrees (pastas and curries) for 800 yen.
"Love"
: No love.
Outfits
: Generally this is not a maid cafe or cosplay shop, per se. However, at least one server wore a long brown dress with a white apron.
Photos
: N/A.
Wireless Internet
: (?) (No laptops in evidence when I was there.)
Specialties
: This is a coffee and tea shop that rents itself out for magic shows and maid events. You can use it to see what it's like to run your own coffee shop for a day.
Recommendation
: If all you want is a nice cup of tea and a slice of sponge cake while you chat with friends, Triomphe is a good place to hang out. If you're interested in the events, such as magic shows or maid tie-ins, check out the events calendar first. Recommended.