Ghosts? - Check
Angels? - Check
Demons? - Check
Sisters and priests? - Check
Bunnies? - Check
Ok, so what's Akihabara still missing?
Vampires! Well, not anymore.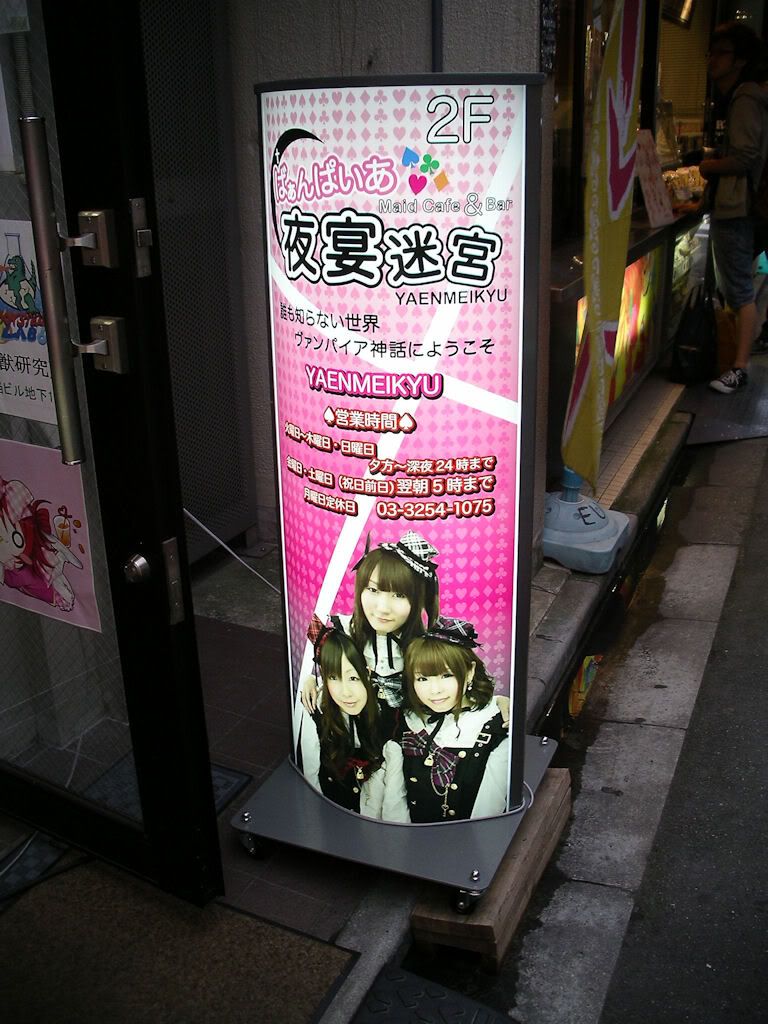 Listen well, Children of the Night, for there's a cafe just for you, located on the second floor of the building with Pinkie's. Yaen Meikyu bills itself as a "vampire maid cafe and bar", and the name translates roughly to Night Party Mystery. To find it, walk north down Chuu-ou Dori from the JR Akihabara station, on the left side of the street, until you reach the north end of the Donkey Building. Go one more block and turn left. It's 1.5 short blocks west, on the left, just above the public smoking and coffee vending space.
Yaen Meikyu
is fairly small, with about 5-6 small tables set up in front of a long sofa-bench, each seating 1 person. There's stool seating at the bar counter for another 6 people. When I arrived, there were two women sitting in one corner of the bench area, and one "otaku" at one of the other tables. After about 10 minutes, the otaku left and was replaced by someone else who chose to sit at the counter. (Please see below about otaku.) There's a coffin lid painted on the wall near the entrance, and the upholstery and fabric covering up the windows is a blood-red velvet. There's a small chandelier, a diaphanous material hanging from the ceiling, and black trim. There's also a fake tiger skin rug hanging from the ceiling...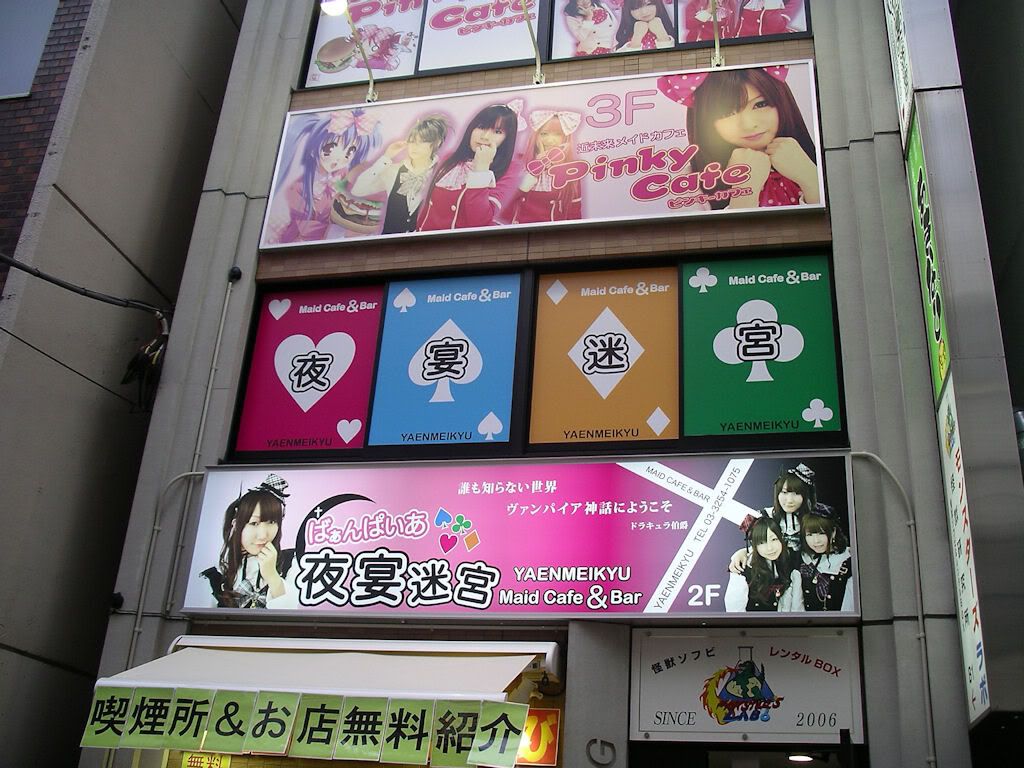 The staff is divided up into two categories, the dansou-like bartenders, and the vampire maids. The bartenders wore white dress shirts with black trousers and vests. The maids had elaborate gothic white blouses, with black vests and skirts, bow ties and the little pill box hats. The staff were very busy, coming and going to parts unknown out past the elevator, and at one point had been reduced to only two maids that were hard pressed to take and prepare the food and drink orders.
One specific maid concentrated on working my table, and she was very patient with me, trying to understand my broken Japanese. Because I'm now working longer hours during weeknights, I have less time to spend at the cafes. This particular evening, I only had time for an ice coffee and a maid photo. The menu does have quite a few entree items, including rice bowl dishes, pasta, curry rice, and soba - all in the 1100-1600 yen range. Soft drinks for 700 yen, mixed drinks for 900. There's almost nothing in the way of desserts, but lots of snacks, like Pocky or mixed nuts, for 400-600 yen. However, the primary emphasis is on the bar side, with bottles of champagne and hard alcohol going for 3000 to 29,000 yen (about $300 USD).
Like some of the other themed cafes, Yaen doesn't list prices in yen. Instead, it's cc's, with 1 cc = 1 yen. There is a table charge, 500 cc for the bench seating, 800 cc for the counter for 60 minutes. And maid photos are 1000 cc for one. It's definitely one of the pricier cafes, and even with just the coffee and the photo came to a little over 2200 yen ($24 USD). I didn't have time for food, so I can't comment on the quality or amount. The two women did get a plate of takoyaki while I was there, and the plate looked pretty good, so that's promising.
The menu also offers "death games", which are basically just short 3-5 minute matches against the maids playing othello or Jenga, for 500 to 1500 cc each. If you win, you get 2 maid photos or something similar depending on the game. If you lose, you have to consume a special "death drink" as punishment. No one had gotten a death game while I was there.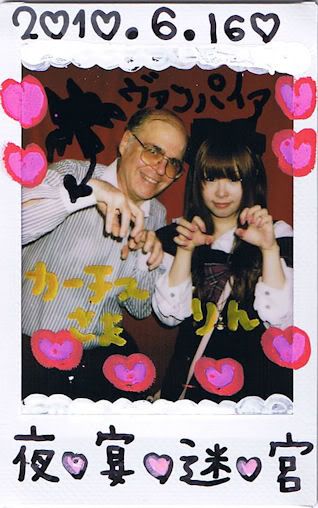 My maid brought out my coffee very quickly. It was in a smallish tall glass, and brewed very strong. It stood up against the ice very well. A little later, we went up front to take the photo in the entry way in front of the elevator. I asked what the recommended pose was, and my maid initially suggested a cat pose before switching to "an angry cat with claws extended" pose. Afterward I returned to the table, and she came over with the photo and a small carry case filled with markers. During the 5 minutes she worked on the touch up, we talked about Akihabara and Yaen. They don't have special events yet, but there may be something in July for Tanabata. She sounded especially excited about maybe having a Halloween event. She mentioned my Japanese level, and I told her I'm studying for the Japanese Language Proficiency Test (JLPT), so she wrote "good luck on the test" on the back of the photo for me.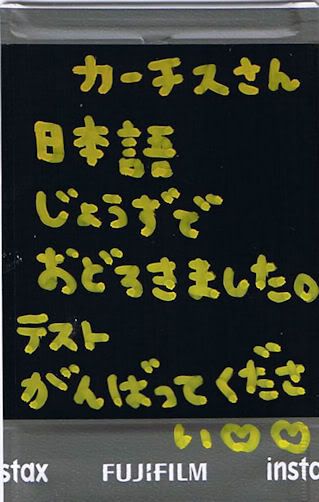 There is a point card. 1 point per visit. 5 points gives a 5% discount on the charges, and 10 points is 10%. There is a tracking system for how many 10-point cards you've filled up, so additional points may get you something else.
There's no added flavor chants, but they do have specialized greetings. When you enter, the maid rings a small bell and says "a guest has arrived from the real world to our realm". When they walk you to the elevator door at the end, the bell is rung again and you're bowed out with "the guest is returning to the real world".
Yaen Meikyu is an interesting concept, basically employing elegant goth Japanese vampires rather than some Twilight-inspired red-eyed fanged blood suckers. Although, these maids would look really cute with red eyes and a little trickle of blood along the side of their lips... If you don't mind the inflated prices, I recommend it.
Summary:
Name
:
Yaen Meikyu
Location
: 2nd floor of the building with Pinkie's.
Price
: High.
Cover
: 500 yen lets you stay 1 hour at a bench table; 800 yen at the counter.
Food
: Rice bowls, pastas and curries for 1100-1400 yen. 700 yen soft drinks and 900 yen mixed drinks. No desserts, but snacks for 400-600 yen. Bottles of hard alcohol for 3000 to 29,000 yen.
"Love"
: No added food chants. "A guest has arrived to our realm" and "a guest is returning to the real world" chants when you arrive and leave.
Outfits
: White dress shirt and black trousers for the dansou bartenders. White blouse, black vest and skirt for the maids, plus the little pillbox hat. (The bartenders were also wearing white rabbit ears.)
Photos
: 1000 yen.
Wireless Internet
: (?) (No laptops in evidence when I was there.)
Specialties
: A gathering place for creatures of the night, plus chances to play death games against the maids.
Recommendation
: The vampire theme is actually rather subdued, with the emphasis placed on goth elegance instead. This is one of the pricier cafes, but it's probably best approached as a hangout for a few beers and a snack or two. Recommended for at least one visit just to check it out.
A note about otaku. "Otaku" is used in Japan to refer to people that are fans of Japanese "subculture" (i.e. - anime, manga, doujinshii, video games, trains, j-pop idols (if the subject is a middle-aged man)) in the way Americans would refer to fan boys. It has generally been a derogatory term until recently, but the public has slowly become more accepting of otaku, and there are now more women that describe themselves as otaku as well. Unfortunately, writers like Patrick Galbraith still use the term as an insult against a very small sub-set of the sub-culture, which is why I try not to use it in these reviews to talk about patrons at maid cafes, to avoid giving the wrong impression about them. But, there are some guys that fall into the stereotype, and then it's really hard to not use it. In this situation, the stereotype is a guy in his mid-20's to mid-30's, short, overweight, wearing a t-shirt, thick black-framed glasses, and with greasy hair and no appreciable social skills, who is always seen alone and apparently still lives with his parents.