Queens Court
is also a newly-opened cafe in Akihabara, having opened its doors on July 7. It's still in the early formation stages, but is shaping up pretty nicely. The website is still under construction, missing pages for the menu and details on the membership card, but the current appearance of the main page is very promising.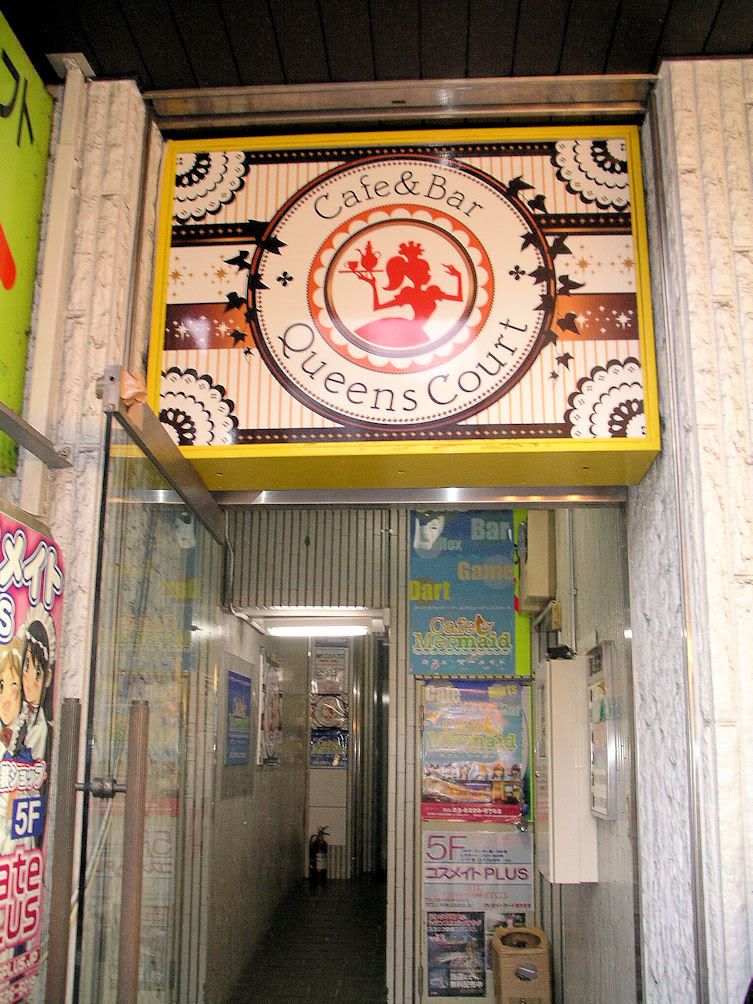 Billed as a guild cafe, the idea is to come in, sit at the bar and chat with the staff for a while. You choose either the cafe menu, which is 800 yen for 30 minutes, all-you-can-drink soft drinks, or the bar menu (3000 for 30 minutes, all-you-can-drink mixed drinks). Obviously, it's not all you can drink, because the staff is going to try to get you to drink slowly, but in the case of ice coffee, which generally costs 500-600 yen at other cafes, I went through 3 glasses at one sitting - not a bad deal.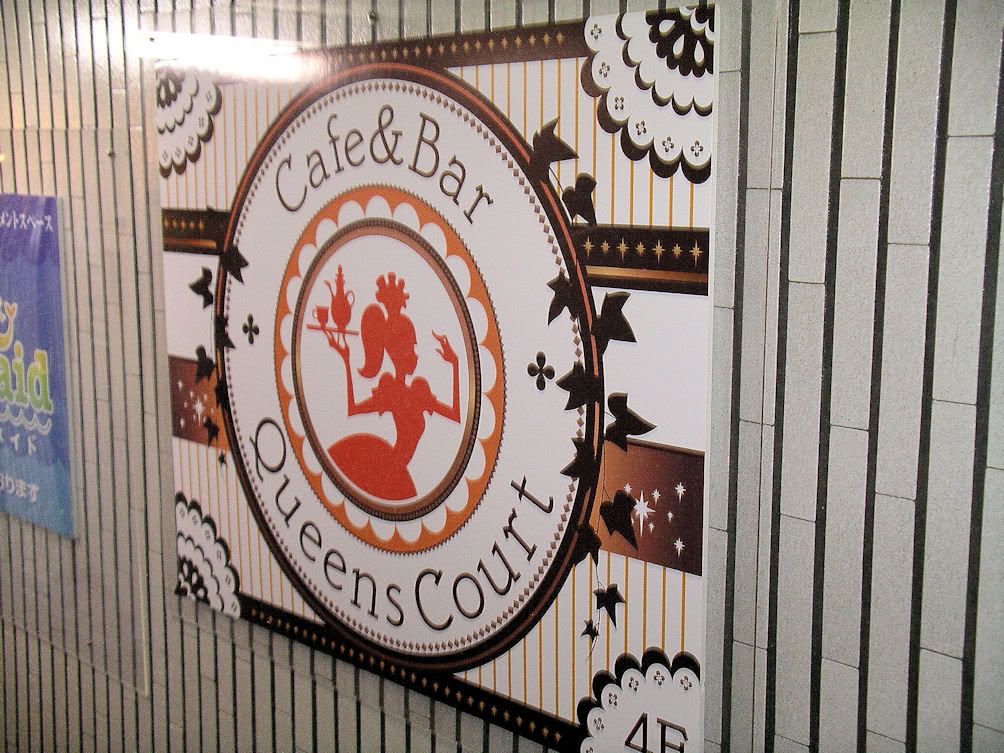 Queens Court is located just west of Chuu-ou Dori and just north of the JR station, in the same building as
Cafe Mermaid
. From the Akihabara station, go straight west past Chuu-ou Dori one block. Turn north, and go one more block, then turn west again. It'll be 1.5 blocks down, on the left, on the 4th floor. It's in the same area as Akiba Itchome Theater, Pondichery, m-FACTcafe, Candy Fruits Strawberry, and of course, Mermaid.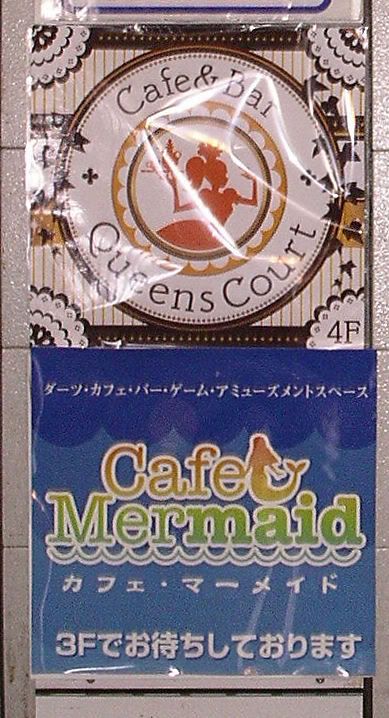 As you get out of the elevator, the red curtains and white lace covering the entrance will be on your left. Past the curtains is a long, narrow room running left-right, with counter seating facing away from the entrance. The room is brightly lit, with white walls and ceiling, and red cushion seats for about 15 people. There's more seating for another few people along the other wall closer to the front of the building. To be truthful, I spent so much time talking with the staff that I neglected to check out the room all that closely.
There were four maids, all wearing a kind of mauve school girl's sailor dress uniform, plus the dansou bartender, Kazuma. Kazuma had a very flashy black dress vest and slacks, with a white dress shirt. At 5:30, it was still too early for serious drinking, so Kazuma had a fair amount of free time, allowing us to talk for the full time I was there. I'm at a bit of a loss as to how to refer to Kazuma, because a "dansou" is a woman playing the role of a butler (literally "dan" is "male" and "sou" is "resembling"). I don't think putting "he" in parentheses is appropriate, and I'm expecting Kazuma to be reading this entry at some point and don't want to insult him by accident. Just for convention's sake, I'll use "him" without the quotes.
Dansou in Tokyo all tend to follow the same dress codes and behaviors, and I wanted to know if there was some kind of school or training one needs to take to become a proper dansou. Kazuma's answer was "no", that he was doing this just as his hobby. On the other hand, Queens Court has only been open for a week, so I asked if he'd been at another maid cafe before this. He replied that he'd worked as a bartender at a kind of hostess bar in Ueno previously. Queens Court is planning on having various events in the future, but there's nothing on the calendar right now. I asked what kind of event Kazuma would like to see, and he answered "singing"; turns out he's a big fan of karaoke, which I think would be pretty fun to see.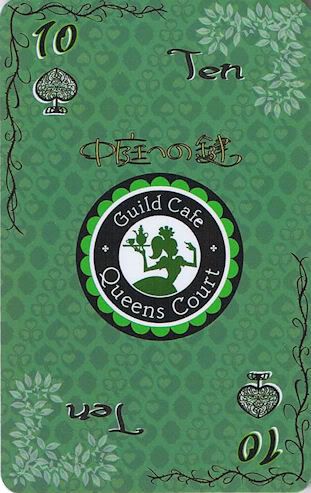 The cafe was pretty busy during the entire time I was there, with about 8 guys sitting around the place at any given time. No female customers this specific night. One person was working on a laptop, so there's a chance the cafe has wireless internet, or maybe he was just using a cellphone link. Everyone was drinking tea or soda, while I was having ice coffee. No one had ordered food, so I can't comment on that. As I mentioned above, the idea is to order off the soft drink or mixed drink menu for 800 or 3000 yen, and then get free refills for 30 minutes. (At the moment, there's a discount on the prices to celebrate having just opened). There are snacks for 400-600 yen, and some entrees for 1200-1400 yen. I was planning on getting a curry rice or something similar, but didn't get around to ordering right away, and then decided to just settle on the coffee. The coffee was good, very strong, and held up against the ice very well. As soon as the glass was empty, the staff asked if I wanted to have the same thing, and brought me my refill within a few minutes.
(The poker chip.)
There's no real table charge, but there is a one-time 300 yen fee for a membership card. I'm not exactly sure how the card system works, since there's no details on the card and and no write up yet on the website. I do know that the receipt showed 3 points for my 1500 yen bill. So, maybe there's a membership upgrade based on points. One interesting twist is the poker chip system. If you get a maid photo, stay for longer than 1 hour, or get a 30-minute reflex session, you get 1, 2 or 3 poker chips, depending on what you did. If you want, you can hand the chip back to the maid as a "thank you" gift and she'll spend more time talking to you. Or, you can save up the chips for a free drink, food item or maid photo. The most expensive item on the menu is 100 chips. (There's a joke about trying to gamble with the chips at Akiba Guild, the maid casino down the street, but the Queens Court staff don't expect you to get away with it.)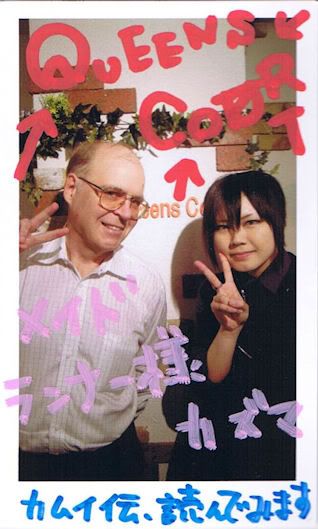 I also decided to get a maid photo with Kazuma, for 500 yen. Along with the membership fee and the drink charge, the evening came to 1500 yen, which wasn't too bad. Because I'd mentioned that I had to get to work in a little while, Kazuma suggested we get the photo right away. Unlike other cafes which use a Polaroid instant film camera, Queens Court uses a digital camera with a photo printer. This lets you preview the photo and retake it a few times if you're not immediately satisfied with the results. We stood along the wall behind the bar near the door in order to get the cafe's sign in the shot. Afterward, Kazuma tried to fancy up the photo from behind the bar, and ended up getting bullied by the maids pouring the drinks for the other customers. Kazuma and I had spent a fair amount of time talking about the manga in Garo magazine, and he wrote on the photo that he'll try reading the Kamui manga in the future (which should be easy, because Mandarake carries collected sets of Kamui, and it's only 2 blocks away).
I have member's number 190, indicating that there've been 189 members ahead of me, which is pretty good for a 1 week span. With luck, Queens Court will be around for a while. I enjoyed myself, and may try going back soon to check out the food. Recommended.
Summary:
Name
:
Queens Court
Location
: West of Chuu-ou Douri, in the same building as Mermaid Cafe.
Price
: Moderate-high
Cover
: No cover per se. 800 or 3000 yen drink charge per 30 minutes depending on the menu.
Food
: The main soft drink menu is 800 yen for 30 minutes, with free refills. The mixed drinks menu is 3000 yen/30 minutes, again with free refills. There are snacks for 400-600 yen, and entrees like curry rice for 1200 yen.
"Love"
: No love, but the staff will pour the creamer and sweetener syrup in your ice coffee or tea for you, and you are greeted as you arrive and leave.
Outfits
: The dansou bartender wore a very classy black vest with trousers and white dress shirt. The maids had a kind of mauve school girls' sailor dress outfit.
Photos
: 500 yen for a maid photo
Wireless Internet
: Apparently yes. One person was working on a laptop while I was there. But he could have been using a cellphone link.
Specialties
: A conversation lounge with free drink refills from the regular menu (special drinks don't get refills).
Recommendation
: If you can speak Japanese, this is a great place for relaxing and talking with the staff. The layout is comfortable without being cramped or too spread out, and the staff are very outgoing. Be a little careful of the time, or if you order food, because it can get expensive fairly quickly.