I'm a big manga fan, and currently I'm reading really old back issues of a magazine that initially came out in 1964,
Garo
. It's pretty easy to pick up copies at the Mandarake store in Akihabara, and they have pretty much the full collection, but there are gaps. I wanted to try to find some of the missing issues at the location in the Broadway shopping complex in Nakano, but it turned out that they had maybe a quarter of what Akihabara did. On the other hand, I did discover a maid reflex shop on the top floor of the Broadway building, past the Mandarake shops, near the back, if you're in need of maids giving you a foot massage in Nakano (Nakano is the first major stop on the Chuu-ou Rapid line heading west from Shinjuku).
So I tried going to the Shibuya location, where I discovered that they had even fewer magazines than Nakano did (almost none at all). But, along the way I noticed a sign for a maid cafe, called Ichigo Milk (Strawberry Milk). I was initially thinking that I was running behind schedule and I'd just blow it off for that day, but having come up empty at Mandarake, I changed my mind and went into the building to try to commiserate. That's when I found out that it's really easy to take the wrong elevator and end up dumped in front of a yoga studio.
Ichigo Milk
is about 5 minutes northwest of Shibuya station, near the Parco department stores. It's a little tricky to find so you're better off following
the map
on their site. When you get to the sign on the street, you'll be faced with two entrances, one on each side of the sign. Pick the one on the right, and check for the signs in the elevator to ensure you're in the correct one. It's on the 8th floor. The cafe is pretty small, and if you want to smoke you have to do it outside in front of the elevator.
Ichigo opened in May, so it's still fairly new. The website looks like it's fully up and running, but they don't have scheduled events yet (not including the Tanabata event on July 7). For the most part, this cafe is like a transplanted version of Mai Dreamin'. The cash register is in an alcove on the left, and the restroom and kitchen are behind it. The main cafe space is straight ahead and to the right. There's a tiny pie-shaped stage right in front of the register which is used for the maid photos. The seating is then raised to look down on the stage. The first tier is a short counter with cushioned stools for seating 4 people, another tier with another counter for 6 more people, and then a final tier with a bench running along the back walls for 6-8 more people. When I arrived, there were 2 salarymen, and a young couple.
The walls are white, and covered with advertisements for maid photos, shop hours and menu specials, plus little rabbit dolls wearing cat pajamas. The counters are white formica, and the metal stools have red and white padding.
There's a 400 yen table charge for 1 hour, and a 1-drink minimum order. Soft drinks are 500 yen; alcoholic drinks from 550 to 900 yen; entrees like curry rice, spaghetti, hamburg steak and omelet rice for 800 to 120 yen; sandwiches and snacks from 300 to 500 yen; and 3 desserts in the 350 to 600 yen range. There's also a wide range of games you can play against the maids for 3 or so minutes for about 500 yen. And maid photos. A photo with you and one maid is 500 yen; you and everyone currently on staff is 1000 yen.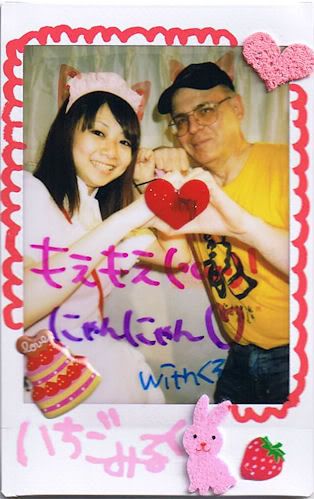 There's the "welcome home master" chant when you arrive, and "the master is leaving" at the end. You can have a design written on the omelet rice in catsup, and there's an added flavor chant when the food is brought out. I decided to get the curry rice, water and a maid photo (with the table charge it was 1700 yen ($19 USD) total). While I was waiting for the food, the maid brought me over to the stage for the photo. She asked what pose I wanted and I asked for her suggestions. The first one was the typical heart pose and when I didn't look that impressed she offered the cats paws pose. We compromised with a combined heart and cat paw pose. She then disappeared to the back tier behind me to work on the photo, which I think came out pretty good. She also handed me a personalized business card, which reads "Thank you for visiting today. Your fluent Japanese surprised me. Remember 'Turn the Kurumi'". (The last part is a play on her stage name, Kurumi; "kuru" means "spin" in Japanese.)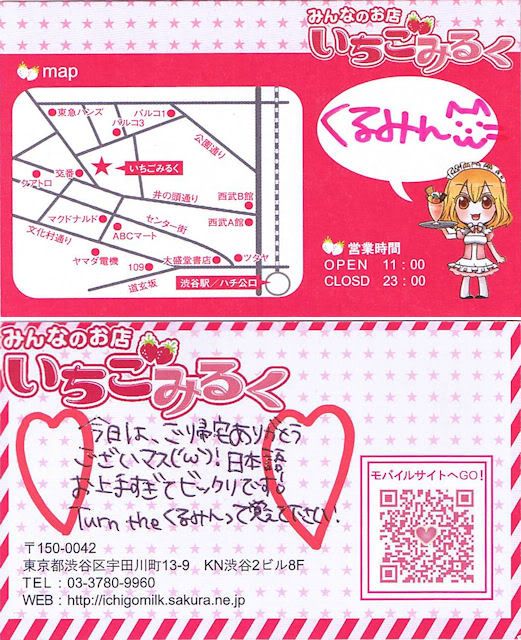 A little later, the curry rice came out. It wasn't a really big serving, and it only had a couple small pieces of beef in it, but it was filling enough, although a little sweet. The maids automatically refilled my glass with water when it became empty. When the maid set the plate down, she told me that she's really weak, so I had to beam energy to her to build her up for the added flavor chant. I did the beaming, and then she did the "oshikunare" (become delicious) chant.
As the other customers filtered out, the maids came over to talk to me, constantly praising me for being able to speak Japanese in any form at all. They do speak a little English, but they're not comfortable with it. I then spent the next 40 minutes discussing the current anime shows on TV, as various anime TV themes played on the speaker system. I asked what kind of events the maids would like to do if they have the choice and they start offering regular events, and the reply was "cosplay". Particularly dressing up as the main character from the Vocaloid games. After that, we talked about Soul Eater, and who their favorite Soul Eater characters are (thumbs up for Maka, Soul and Franken, thumbs down for Medusa and Maka's father).
The points card is 1 point per visit. 5 points gives you a free 1 hour table charge for one visit. 10 points is a free soft drink, 15 is a maid photo, and 20 is a free soft drink with a maid photo.
When I finally left, I was walked to the door and given "the master is leaving" chant. Overall, I enjoyed myself. Recommended. Ichigo Milk also gets high marks for being one of the few, if not the only, maid cafes in Shibuya now.
Summary:
Name
:
Ichigo Milk
Location
:
Shibuya
, about 5 minutes from the JR Shibuya station, near Parco 1.
Price
: Moderate.
Cover
: 400 lets you stay 1 hour (300 for women).
Food
: Soft drinks are 500 yen; alcoholic drinks from 550 to 900 yen; entrees like curry rice, spaghetti, hamburg steak and omelet rice for 800 to 120 yen; sandwiches and snacks from 300 to 500 yen; and 3 desserts in the 350 to 600 yen range.
"Love"
: "Welcome home master" and "the master is leaving" greetings, writing on the omelet rice in catsup, and added flavor chants for the food.
Outfits
: Pink jumper and skirt over a white blouse, plus pink frill hairpiece.
Photos
: 500 yen with one maid, 1000 yen with all of the maids on staff at the time.
Wireless Internet
: (?) (No laptops in evidence when I was there.)
Specialties
: A prototypical maid cafe, in Shibuya.
Recommendation
: This is a good place to visit if you're on the west side of the Yamanote loop, in Shibuya. Recommended.