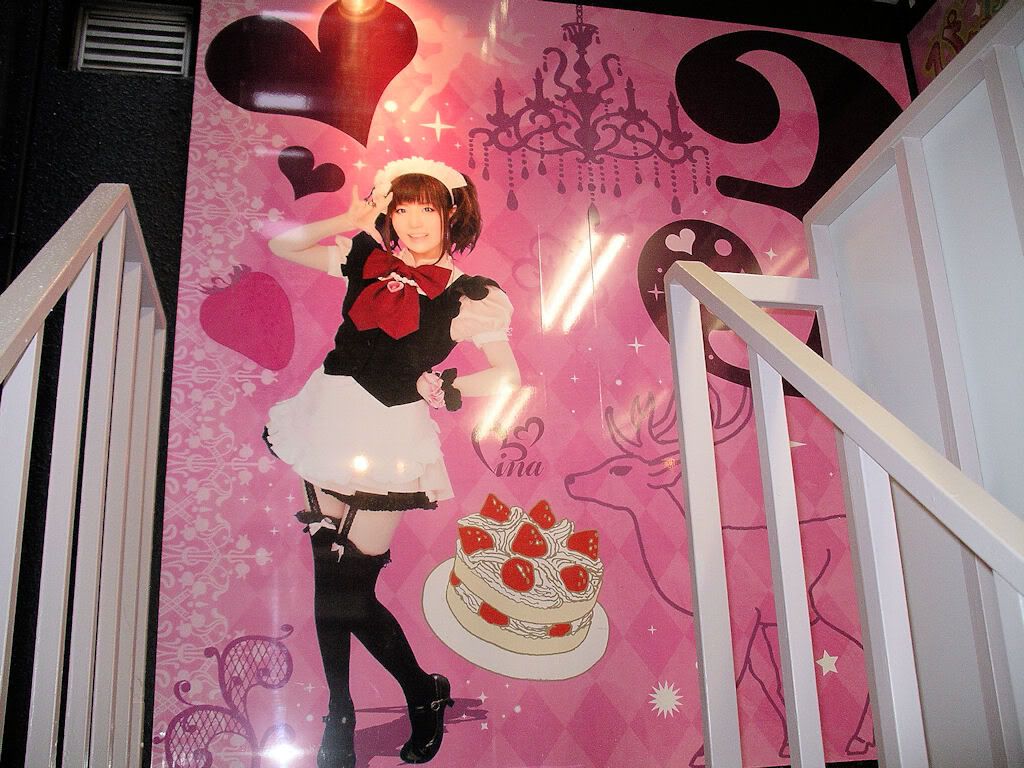 Pinafore #3
is the latest edition to the Pinafore chain, having opened in April in the same building as Royal Milk and Kokomaro Milk, on the third floor. The space used to belong to a TCG gaming group. There's no elevator access from the street, so keep in mind that you'll have to climb stairs to get to the cafe.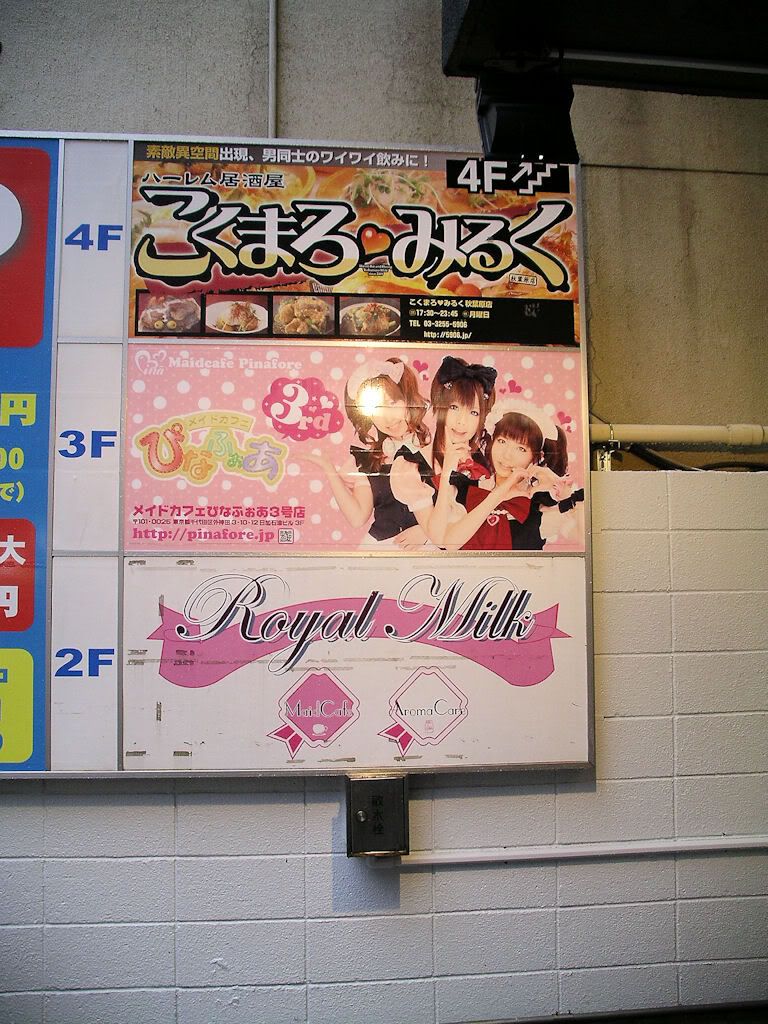 I haven't been back to #1 or #2 since reviewing them so I can't say if they've changed their decor or menus. In trying to find the URL for the website I stumbled across the review of Pinafore #2 from
Akibanana
and it didn't seem like they even got the building right (the Akibanana review talks about the cafe being split over floors 7 and 8, while the place I reviewed (and the one mentioned on the Pinafore website) is on floor 4. Anyway, I'll probably go back and double-check #2 when I get the chance.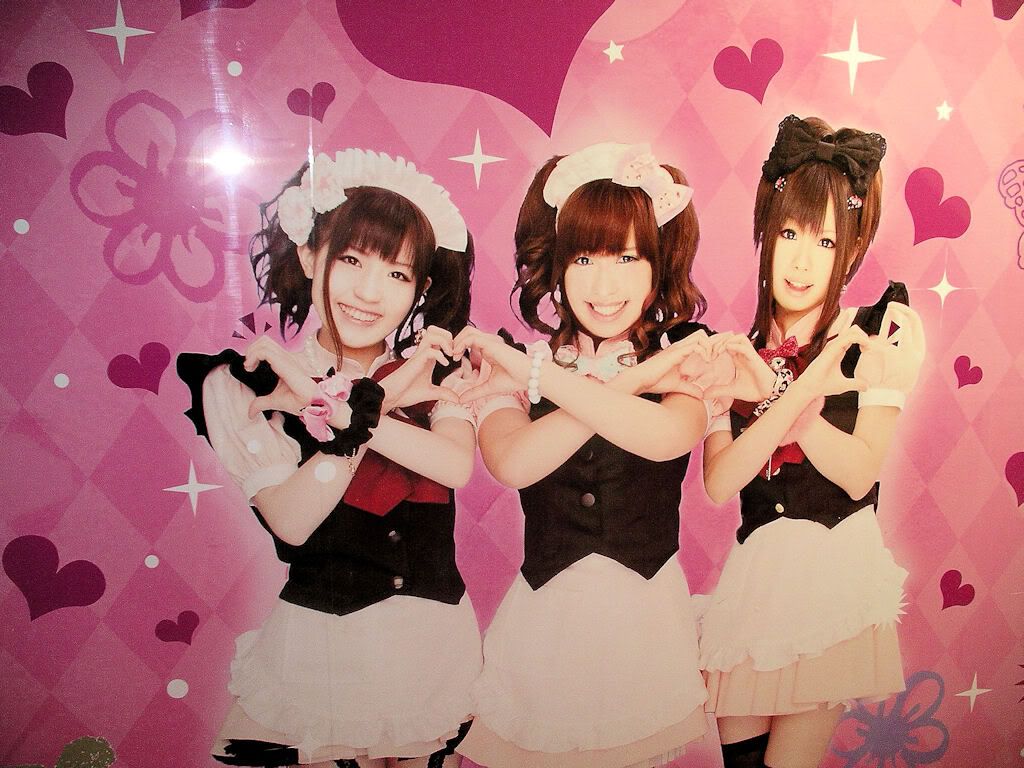 Regardless, the interior of #3 is very brightly lit and perky, with colored dots on the white walls amidst the posters advertising upcoming events. (No display cases showing maid uniforms on the walls, though.) There's a stamp rally going on at the moment - collect 3 stamps and get a branded item. The room's fairly small, with a few tables on the floor and along one wall, and counter seating with 4-5 big stuffed leather chairs along the wall nearest the kitchen. There's a flat panel screen over the counter which ran a little stage drama produced by the maids, but the sound was off while j-pop played over the sound system. I ended up getting charged a 500 yen table fee, which hadn't happened at the other two locations (I don't know if the fee is new, or is just charged at this cafe.)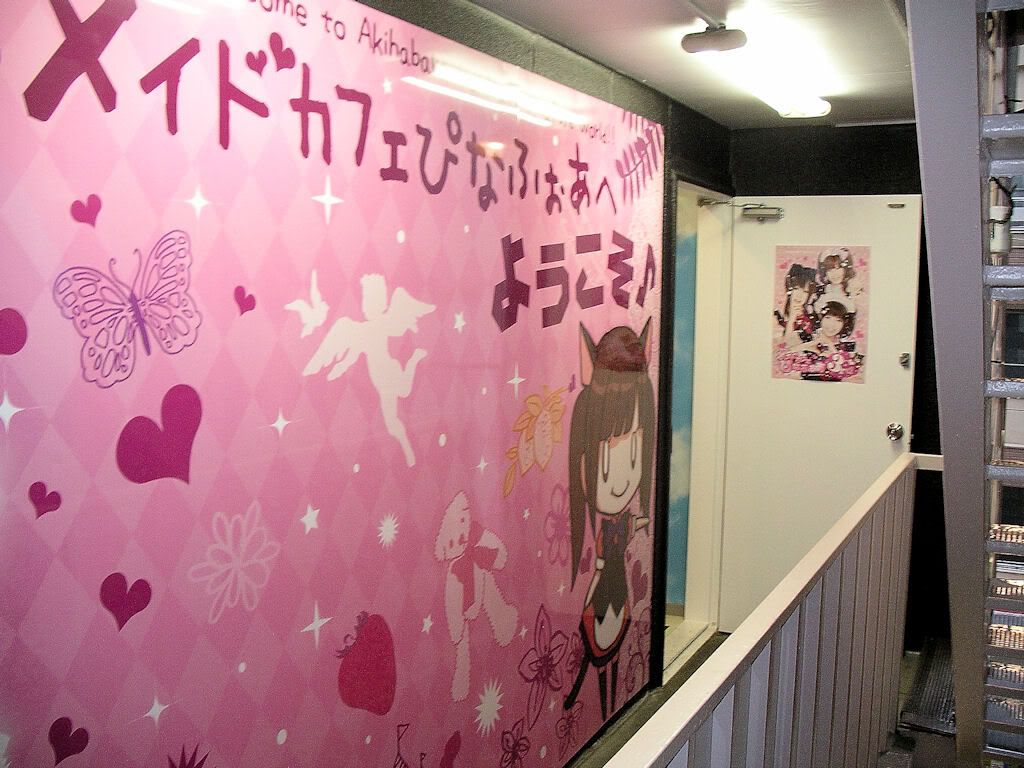 I arrived close to 5:30 PM on a Monday, and there were only 4 other customers during that time - a salaryman, a college student regular, and one couple. There were three maids, so the service was good, and one of the maids kept coming back to me to keep talking. My maid went through the rules card with me, took me to the counter and ran through the menus. There are 3 new set menu items that include an entree or dessert, a 500 yen drink and a maid photo (at least this way you don't have to mess with the seemingly-random points card system for getting a maid photo that I'd encountered at #1 and #2 last year) for around 1900 yen. Coupled with the table charge, the total is a little higher than I'd like, but pretty much average for an Akiba maid cafe.
I'd gotten a flier for Pinafore a couple of weeks earlier, which had a coupon for a free soft drink. I wanted to get an ice coffee with it, but was told that it had to be something from the 500 yen drink menu and the coffees and teas are all 600 yen. So I settled for a melon soda. I wanted the maid photo, so I looked the set menus over. The prices for the three sets are the same, including a curry rice, a hot cake dessert set, and something whose name I don't remember. I decided on the "forgotten name" set, and again tried getting an ice coffee with it, only to be told again that it had to be something from the 500 yen menu. This time, I went with the ice oolong tea. My order came out a little later, consisting of a bowl of rice with nori seaweed, smoked salon and sesame seeds on top. The maid poured hot water into the bowl then had me chant with her "made made Kaori" (made made = not yet; Kaori is her stage name) as she stirred up the dish to make it into a kind of smoked salmon and rice soup. The dish was pretty good, and large enough to be filling.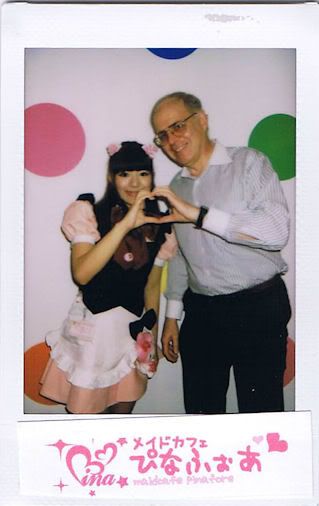 Afterward we walked around the counter to take the maid photo against the kitchen wall. My maid asked me what pose I wanted, and I went with the heart just to be different. The photo touch up was pretty limited, consisting of just the stock Pinafore sticker. However, my maid acted pretty nervous while handing over the photo to me, as if afraid of how I'd react to her touch up work. I'm thinking that her behavior was more related to her appearance in the shot, than to the amount (or lack of) work she put into frillying it up.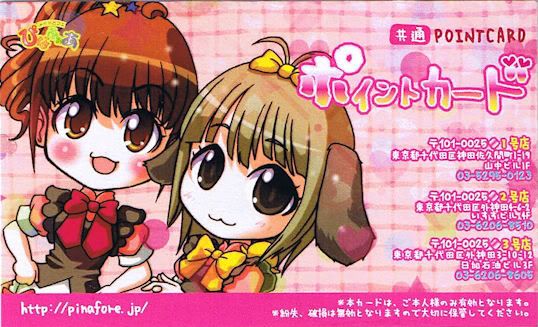 The points card has been redesigned. 1000 yen per point, plus 1 point for a rain day and 1 point for staying less than 1 hour. According to the card, 30 points gets you "a present" of some kind.
I didn't see an English menu and none of the maids tried speaking English. So again, you're going to get the most out of the maid cafe experience here if you can carry on a conversation in Japanese. I did enjoy myself a lot, but the cafe felt more like it belonged to Mai Dreamin' or @Home than to Pinafore.
Summary:
Name
:
Pinafore #3
Location
: 2 blocks north of Kanda Myojin Dori, 1.5 blocks west of Chuu-ou Dori, on the 3rd floor of the building with Royal Milk and Kokumaro Milk.
Price
: Moderate High.
Cover
: 500 yen lets you stay 1 hour.
Food
: The menu tends to change up every so often and there are monthly special dishes and desserts. It's best to check the online menu in advance. But, as of this writing, the entrees are between 1000 and 1650 yen; sodas for 500 yen, coffee and tea for 600; desserts around 900 yen; and salads for 700.
"Love"
: Standard "welcome master" greetings, writing on the curry rice in catsup, modifications on the added-flavor chants for certain entrees.
Outfits
: Peach skirt and blouse, black vest, and white apron.
Photos
: As part of certain menu sets.
Wireless Internet
: (?) (No laptops in evidence when I was there.)
Specialties
: Random 1-day events (cosplay, singing, etc.) Some video game tie-ups. Various branded items (small hand towels, CDs and DVDs) at the cash register.
Recommendation
: Recommended. Pinafore #1 has more character, being the older location, but the staff at #3 are very friendly and easy to talk to. The food's good, but on the pricey side.