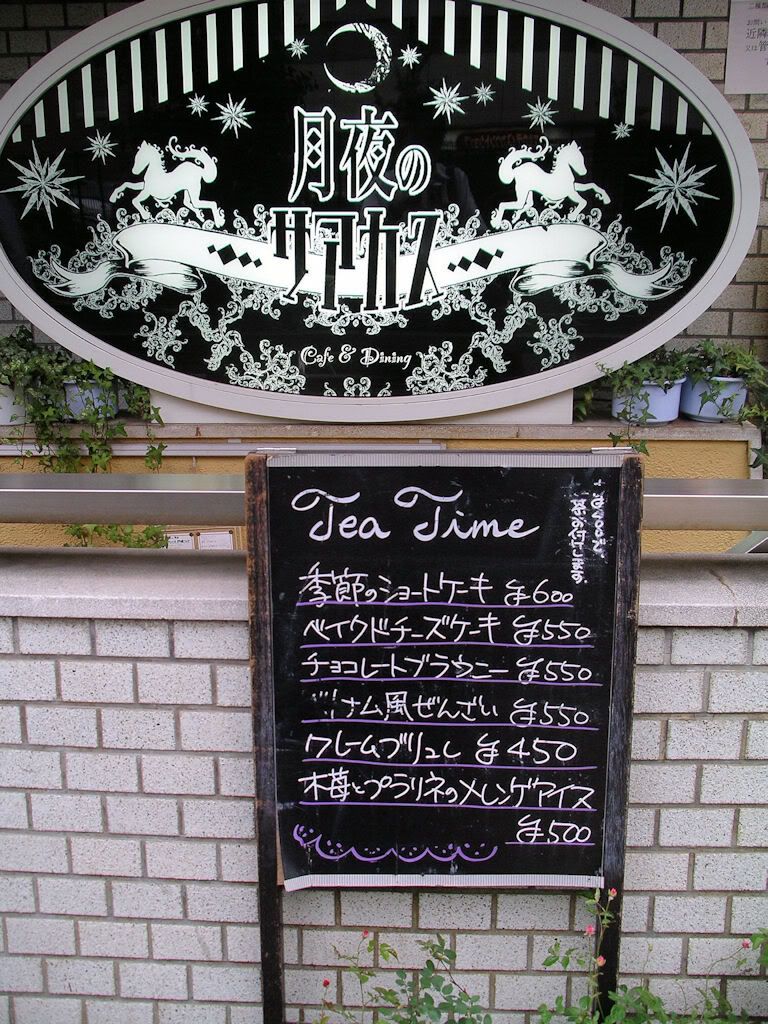 Cirque de la Lune
(Cafe 月夜のサアカス in Japanese) is one of the harder cafes to classify. The location itself is just north of the Akiba district, in the general direction of Hiyokoya. Exit Akihabara station at the Yodobashi side, go north past the taxi circle, then jog a block east to Showa Douri. Continue north past Kuramaebashi Douri one block and you'll see the stairs leading down to it on the left, just past Lawson's.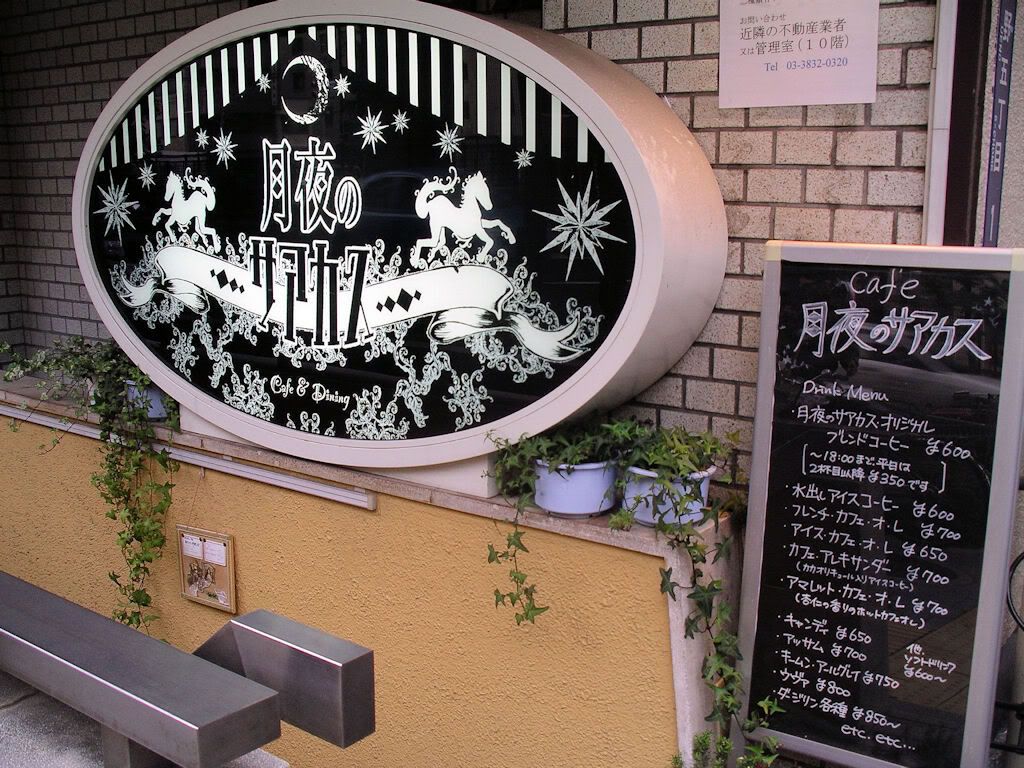 What makes Lune a challenge to classify is that it seems to have several inspiration sources. First, as you go down the stairs to the entrance there's the classic Alice in Wonderland picture. On the other hand, the name is French. The interior has a Victorian feel, with the subdued lighting, fake wooden slat floor, bookshelves all over, and black wrought iron lanterns on the tables for holding candles (unlike Mai Dreamin's electronic fairy candles, these are the real thing).
Dollfie dolls
can be found in various nooks, and complete sets of the "Alice" manga, along with various other shojo titles are on the shelves and in crannies in the walls. The six large round wooden tables, with bench seating on one side and padded rattan chairs on the other can seat 4 people each, and 2 square tables in the middle of the floor can handle another 4 people.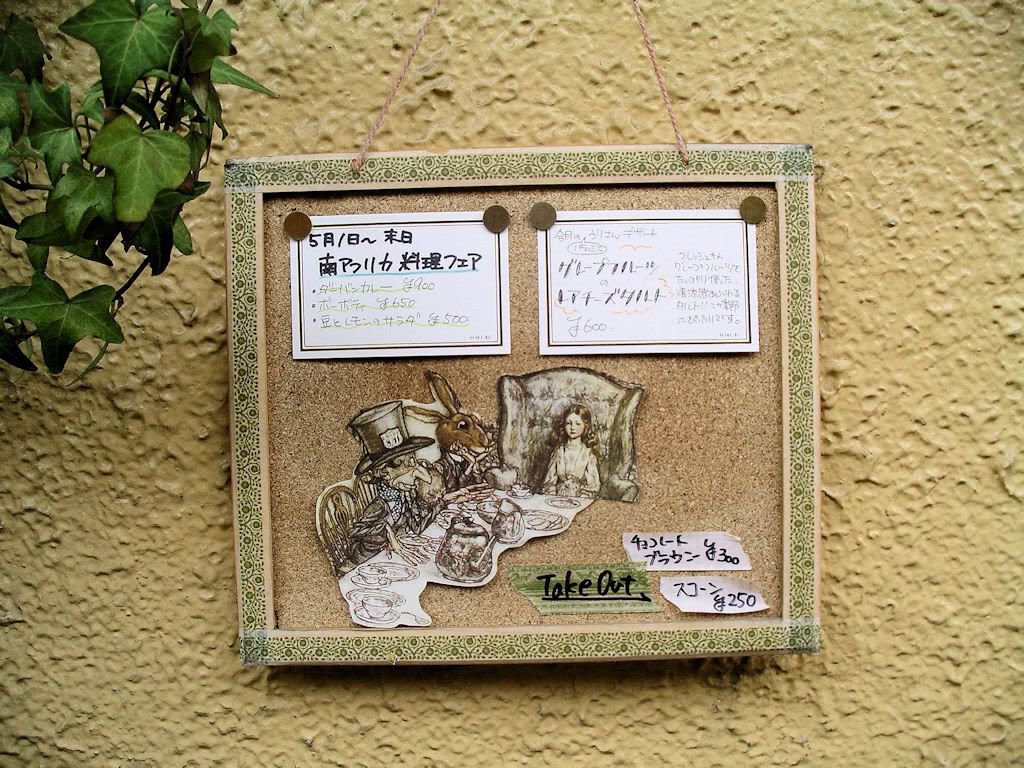 The small kitchen, just past the entrance, is open to view, and one of the maids works at the stove to prepare the food by hand (instead of just microwaving it). Nearby is a stack of various liquors for the mixed drinks. The chef was wearing regular clothes, while the maids taking orders were in stiff-looking full-length black dresses and white aprons. The sound system played an odd mix of Japanese modern classical ambient house music. And, at the back of the cafe is a small fish bowl, next to an antique sewing machine, with a small exotic fish.
The chalk board on one wall advertised the month's specials, which were African-inspired dishes, including an African curry. Regular entrees are in the 800 yen range. Lots of different teas and soft drinks between 600 and 1000 yen. Some beer, and the ability to make upwards of 100 different mixed drinks for 700 yen each. Side dishes for 400 yen, and thick desserts for 600 yen. Lune also has a lunch menu. Normally, I try to visit the cafes on Tuesdays before starting work, but my schedule was about to change and I'd be working later on Saturdays as well. So, I decided to stop by after work Saturday at 5 PM. Lune was already pretty busy, with 5 guys sitting by themselves, and one couple at one of the tables. It was a little early for dinner, so I just got a bottle of French Berry Lemonade, produced by French beverage maker
Lorina
, and a slice of chocolate torte.
There's lots of books to look at, photo albums and manga, so I was standing up and wandering around to see what they had when the food arrived. The beverage was a berry-infused carbonated lemonade, and went well with the torte. The torte, in contrast, was a small thick wedge of bitter chocolate topped with a dollop of unsweetened whipped cream with a sprig of mint and a scattering of raspberry bits. Believe me, it was good. And for 1200 yen total, in keeping with Tokyo prices. There's no table charge, which is good, but I couldn't find anything referring to maid photos.
The maids were kept busy with the kitchen and bringing orders out, so I didn't have much chance to talk to them. For the most part, they stayed out of the way when not busy. The cafe does have periodic events, including one associated with some of the dolls a few weeks ago. The next event will be in June, and is tied in to a new release of a Cirque de la Lune mini album. Just as a note, the one maid taking my order did speak in English, but was obviously relieved when I answered in Japanese. There weren't any tourists in sight at the time, but they are welcomed. There's none of the standard maid cafe stuff - no maid games, "welcome master" greetings, or writing on the foods. But, the maids are very polite and walk you to the door and bow as you leave.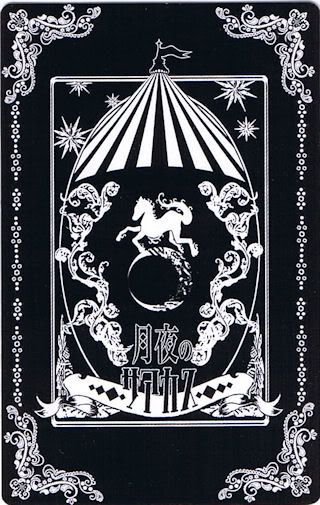 There is a points card, but you have to ask for it. 1 point per 1000 yen. 15 points gets you a one-time 500 yen discount on your bill. And check out the website - the photos for the blog definitely give off a goth vibe.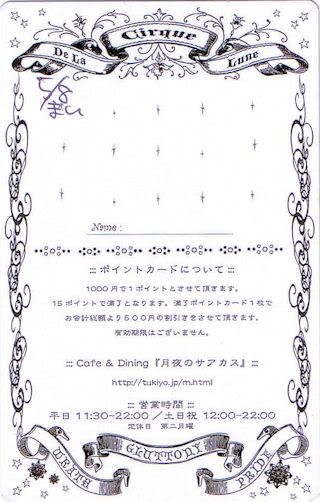 I had fun and plan to go back some time for dinner. I wonder what the African curry tastes like.
Summary:
Name
:
Cirque de la Lune
Location
: One block north of the Kuramaebashi - Showa doura intersection, on the left going down the stairs a little past Lawson's.
Price
: Moderate.
Cover
: No cover.
Food
: A range of entrees in the 800-900 range. During early May, these included African-inspired curry dishes. Soft drinks from 600 to 1000 yen and mixed drinks and beer between 700 and 800 yen. Desserts, including a small slice of unsweetened chocolate cake, around 500 yen.
"Love"
: No love.
Outfits
: Long black dresses with white aprons.
Photos
: Not advertised.
Wireless Internet
: (?) (No laptops in evidence when I was there.)
Specialties
: A French/Victorian-style restaurant with a comfortable setting and odd-looking dolls staring at you.
Recommendation
: For relaxing places to just sit and chill, Cirque de la Luna is great. There's no cover, the chairs are nicely padded, the lighting is subdued, the food is prepared on site (instead of just being microwaved), the prices are reasonable and the ambient music is just vaguely disturbing. Highly recommended.