A while back, I was returning to the Akihabara train station from a work-related event when one of my co-workers noticed me accepting a flier for a maid cafe from one of the maids on Chuu-Ou Dori. My co-worker (Japanese) was stunned that someone she knew would actually look at these fliers. But, it's the only way to keep up with the comings and goings of the new cafes. Thing is, not all cafes have staff out advertising specific shops all the time, so it's still easy to miss fliers for places I haven't been to yet. Fortunately, I recently picked up the flier for Pray, and since I really liked the the artwork on it, I decided to visit the next time I had the chance. The coupon for a free drink helped a lot, too.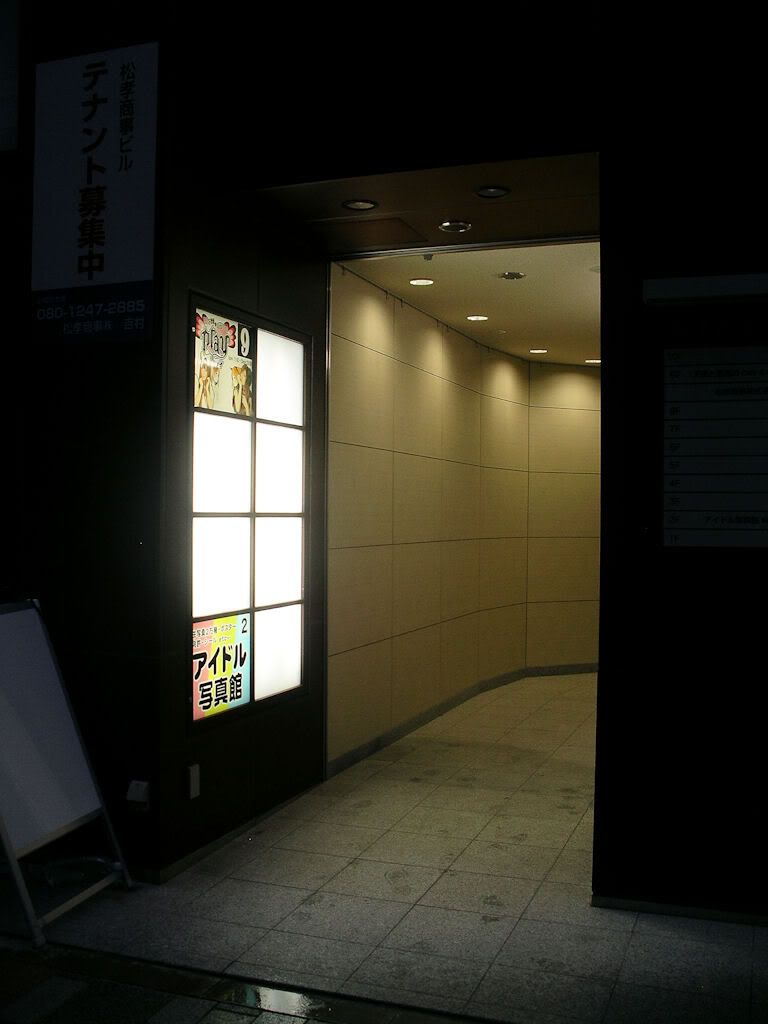 Cafe and Bar Pray
is a themed cosplay bar. Although it says "cafe" in the name, the evening menu is primarily geared for mixed drinks, with a small selection of snacks available for 400 yen. The pricing varies based on the age of the whiskey, the size of the drink, etc. Essentially, it's 600 yen for beer, 700 for a glass of wine, and mixed drinks are 800 yen on up. If you arrive before 6 PM, there's no table charge. You do need to order a drink occasionally. Soft drinks are 400 yen each. After 6, it's 300 yen/30 minutes to sit at the tables along the outer wall; 500 yen/30 minutes to sit at the counter. There are about 4-5 2-person tables and the counter can sit maybe 10 people (to be honest, I forgot to count). I couldn't tell how many customers were on the angels' side because the counter was in the way. The devils' side had one guy in full heavy metal face make up. I think he was annoyed with me because I ruined the mood on his side of the bar.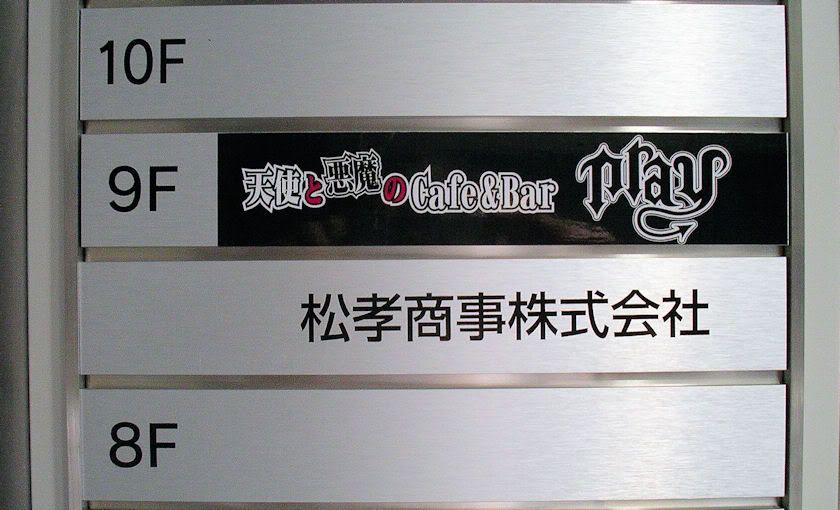 With a name like "Pray", you kind of have to expect some form of religious theme ala St. Grace Court. And you'd be right. The maids are dressed up as angles and devils. One half of the cafe is done up in black, with lace and a painting of the bar's mascot characters. The other half is all in white, with more lace. You decide if you want to be with the angels or the devils. I've always been a little perverse, so I picked the devil's side.
Worked out well because one of the devil's happened to have lived outside of Japan for a few years and could speak fluent English. A second devil, and the one that acted as "my" devil, was very eager to practice English and between the two of them I was able to carry on conversations for the entire time I was there. The menu and rules card are only in Japanese right now, but that may change at some point.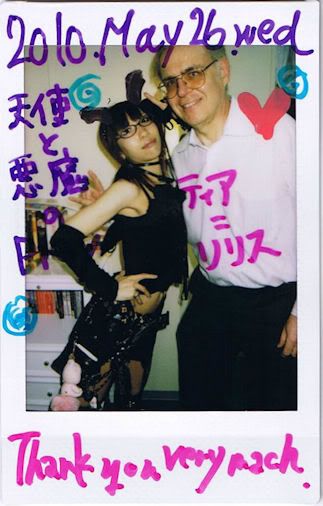 Since I had to work afterward, I just got an ice coffee and asked for a maid photo at the same time. My drink came out quickly in a small, fancy glass, and my devil poured the cream and sugar for me before also stirring it. Almost immediately after, my devil asked if I wanted to get the photo with her. The menu lists the price as 1000 yen for 2 photos, but indicates that it may be possible to only get one shot. However, the emphasis was on the 1000 yen deal, and I decided not to argue about it. We spent a few minutes trying to figure out where to stand in order to get the best contrast (having a devil wearing black in front of a black wall bodes poorly for the resulting photos). Then we also debated what pose to go with. For the first shot, my devil suggested just the heart pose. After that, I described the Detroit Metal City "heavy metal demon horns" gesture, which went over really well. My devil seemed happy to vamp it up for the shot.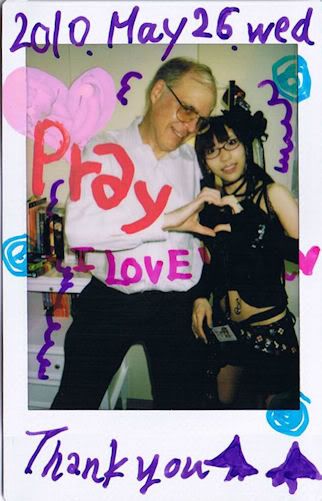 The time flew by pretty quickly and I forgot to use the free drink coupon. I didn't get an itemized receipt so I'm not exactly sure what all I was charged for (1000 for the photos, 300 for the table charge and 400 for the coffee doesn't quite add up to the 2200 yen bill presented to me). I'd gotten to Pray a little before 6 PM and left before 6:30. Prior to 6 there's no table charge and I should have only been charged 300 yen for 30 minutes. But, I'm willing to shrug off the 500 yen overcharge because I did enjoy myself, and I like the photos a lot. Just be aware of the possibility of "mystery" charges and react accordingly.
The points card is 1000 yen per point, with some kind of present for 15 points. There was no mention of extra points for a "rain day" (it was raining that night). One of the devils was excited about my birthday being the same as hers and demanded that I come back for that. So, if my schedule works out, I'll see about doing that. At a minimum, I should go back at least once to get a photo with an angel just to see how the other half lives (and to get the other half of a matching set).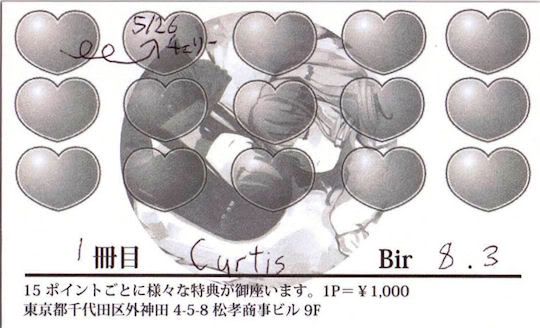 Summary:
Name
:
Cafe & Bar Pray
Location
: Across the street from the UDX Building, just north of the Donkey Building. From the Tully's coffee shop at the first floor of the UDX, head north 1 block. It'll be on your left side on the 9th floor.
Price
: Moderate.
Cover
: Depends on when you arrive. Before 6 PM, seating is free. After 6, table seating is 300 yen/30 minutes; counter seating is 500 yen/30 minutes.
Food
: Although the name says "cafe & bar", Pray is primarily a bar with a small selection of snacks. Soft drinks are 400 yen; a regular beer is 600 yen (Angel/Devil beer is 900 yen); and other alcoholic drinks are 600 yen on up.
"Love"
: Standard greetings when you arrive and leave. Staff will pour sugar and cream in your coffee and stir it for you.
Outfits
: White dresses and wings for the angels, black black outfits with bat wings and top hats for the devils. Mixed outfits for the "fallen angels".
Photos
: 1000 yen for 2 photos with the maid of your choice.
Wireless Internet
: (?) (No laptops in evidence when I was there.)
Specialties
: A bar serving moderately-priced drinks (for Tokyo), with an Angel/Devil theme.
Recommendation
: If you like talking to the staff at maid cafes, and you like cute girls in skimpy outfits, Pray can be a fun place to hang out. At least one of the devils can speak English, and there may be a plan to make English versions of the rules card and the events list (may not happen right away though.) Just be careful about the "mystery" charges showing up on your bill.