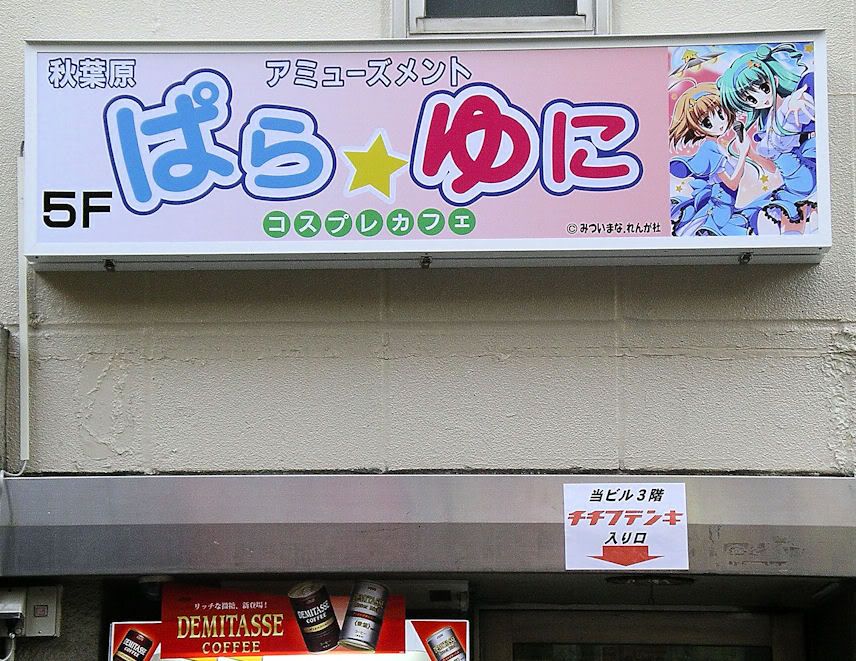 Para-Yuni
is one of the easier cafes to find, being
right across Kandamyojin Dori
from @Home. Actually, it's in the same building as the maid-themed UFO Catcher parlor and @Sweet, on the 5th floor. Back some months ago, I'd initially been planning on going to Para-Yuni first, but as I'd gotten close to the top of the stairs, I heard a male voice shouting out that the food was bad. So I visited @Sweet instead that evening. A little later, I decided to come back and try again, but it turned out that they've taken to having Tuesdays as their night off, so it wasn't until just recently that I was able to drop by on a Wednesday before work.
PY is a prototypical maid cafe, brightly lit with white walls, sheets of paper all over advertising events, maid photos and food specials, and a stage at one end for the photos and various song events. One major difference is that there are a lot of windows on two walls, and they've been painted up to feature the mascot girl character standing in front of a night sky star field. Further, being above a UFO Catcher shop, they've decided to line the counters with the better quality figures from anime like Dragon Ball, Kuroshitsuji (Black Butler), Evangelion and others. A sign near the door asks you to not walk off with the figures. It's a smaller space, with a couple of tables able to seat 4 people each, and then counter seating along the opposite wall.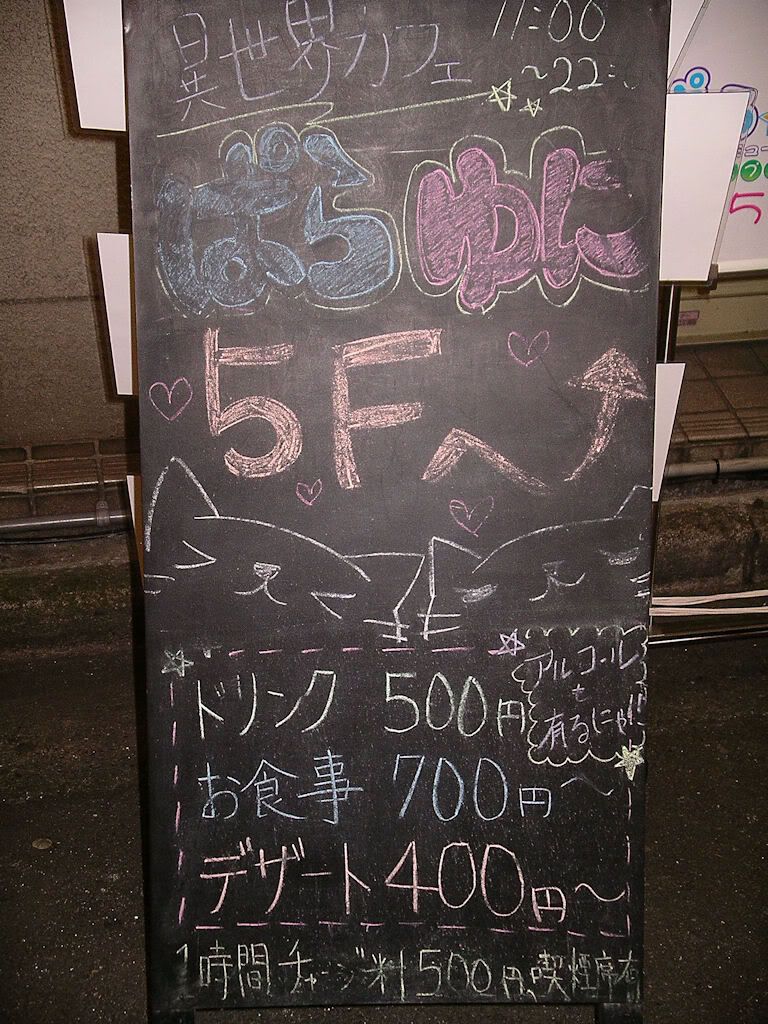 When I walked in, I was told not to come in much past the door, and wait for someone to take care of me. At the time, there was a party of 4 women at one table, although a little later 1 confused-looking young salaryman came in and ordered dinner. A maid approached and ran me through the rules, asking if I'd accept the 500 yen table charge. I was directed to the counter, and they brought out a glass of water right away.
The food entrees include the standard curry, hamburg steak, omelet rice, etc., plus katsu don and udon, in the 800 to 1100 yen range. Some of the dishes can be supersized for a few hundred yen more. Soft drinks for 500-600 yen, mixed drinks and beer for 700 to 800 yen, and ice cream and sponge cake desserts from 400 to 800 yen. I decided to get the curry (800), with ice coffee (500) and a maid photo. Along with the table charge, the total was 2300 yen, which wasn't too out of line.
There were two maids working the floor at that time, and they spent most of their time joking with the 4 at the table. My order came out pretty fast, indicating that the rice and curry had been pre-prepared and was just waiting to be shoveled onto the plate. The maid poured the sugar and cream into the coffee for me, and then ran me through the added flavor chant. The twist here was that she included her name in with the "moe moe oishikunare beam" (cute, cute become tasty beam) chant. It mostly worked - the coffee held up against the ice, but the rice for the curry was a bit mushy. On the other hand, the curry sauce itself was more like beef stroganoff gravy - very thick and creamy tasting, with lots of shredded beef in it. The serving was on the small side, but I could have upgraded it if I'd wanted to.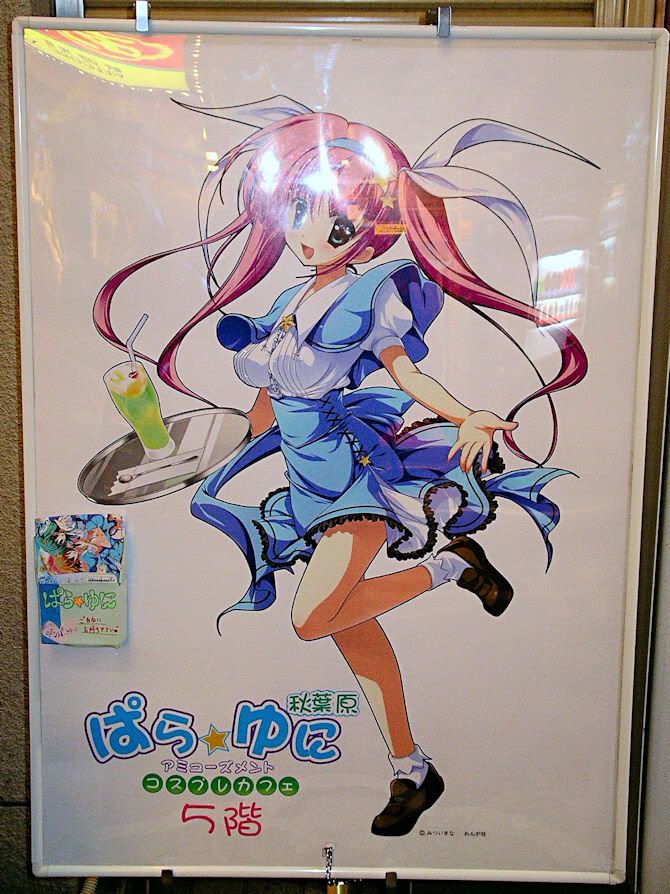 When the other guy's meal came out, both maids teamed up on him, having him go through a "stand on one leg, Ultraman battle action attack" routine for the added flavor chant. The poor guy couldn't understand why he had to do this, and the rest of us egged him on, applauding when he was done. PY is very playful that way.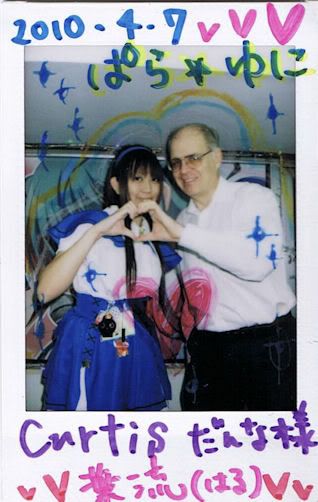 After we took my maid photo, my maid came over to the counter along with a couple packs of markers. This was the first time that the maid actually fancied up the photo at the table with me. The up side to this was that we were able to talk for a while. Some maid cafes charge extra to be able to chat with the maid this way, so I took this as an added bonus to getting the picture. Mostly, we just talked about being in Akihabara, and her hobby of singing anisongs (anime songs). The music playing on the PA came from the CD that the maids recorded and sell for 1000 yen. When she finished the photo 5 minutes later, she asked what I thought of it. I replied that it was very cute, and she sighed with relief, adding that she didn't know what she would have done if I didn't like it.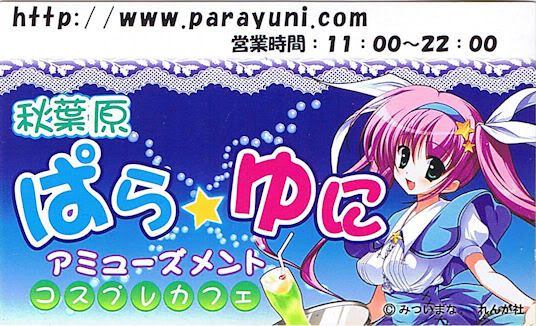 Para Yuni has a points card. 1 point per 1000 yen, plus 1 point for a "rain day". 10 points gets you a 10% discount; 20 points is 20%, and 3 points is a free maid photo and a new card. They have periodic cosplay events, so check the online calendar in advance. We all had fun. Recommended.
Summary:
Name
:
Para-Yuni

Location
:
Kandamyuojin Dori
, 1 block west of Chuu-ou Dori, above the maid-themed UFO Catcher parlor, 5th floor.
Price
: Moderate high.
Cover
: 500 yen lets you stay 1 hour.
Food
: Curry, omelet rice, katsu don and udon for 800 to 1100 yen, which can be supersized for a little more. Soft drinks for 500-600 yen. Mixed drinks for 700-800 yen. Ice cream and sponge cake desserts for 400-800 yen.
"Love"
: Added flavor chants, writing on the food.
Outfits
: Blue skirts with white blouses.
Photos
: 500 yen for one photo. A CD of the maids singing j-pop is also available for 1000 yen.
Wireless Internet
: (?) (No laptops in evidence when I was there.)
Specialties
: Standard maid cafe with more of a UFO Catcher toy figure theme, with cosplay events and singing.
Recommendation
: Para Yuni can be very lighthearted, and is popular with female customers. Recommended.