You (yes, both of you) requested it, and here it is. My first dansou experience. (Yes, they were gentle...)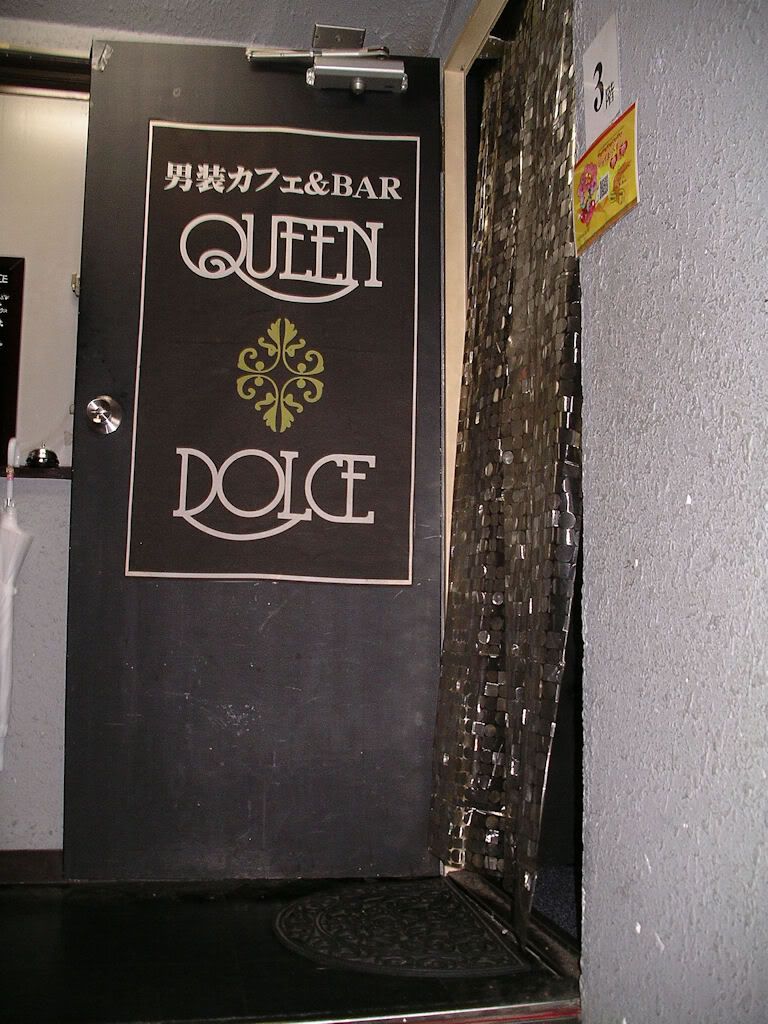 Queen Dolce
is a dansou bar. For those of you not keeping notes, "dansou" refers to women that dress up as butlers (more or less). Most of the
butler/dansou cafes
are located in Ikebukuro, on the opposite side of the Yamanote train loop, but there is one in Akihabara as well, and that one is Queen Dolce. Essentially, butler cafes are the complement to maid cafes, places designed to appeal to a female clientele. Variations on the butler theme are dansou and little brother.
Queen Dolce is probably the most accessible of the dansou cafe/bars in that half the customers can be male at any given night, and their menus and rules cards are in both Japanese and English to support foreign tourists. It's located just off Chuu-ou Dori in with Fille, Cure Maid and Mai Dreamin' 1, on the 3rd floor above Nyankoro, the cat cafe (1000 yen to play with a room full of cats for an hour).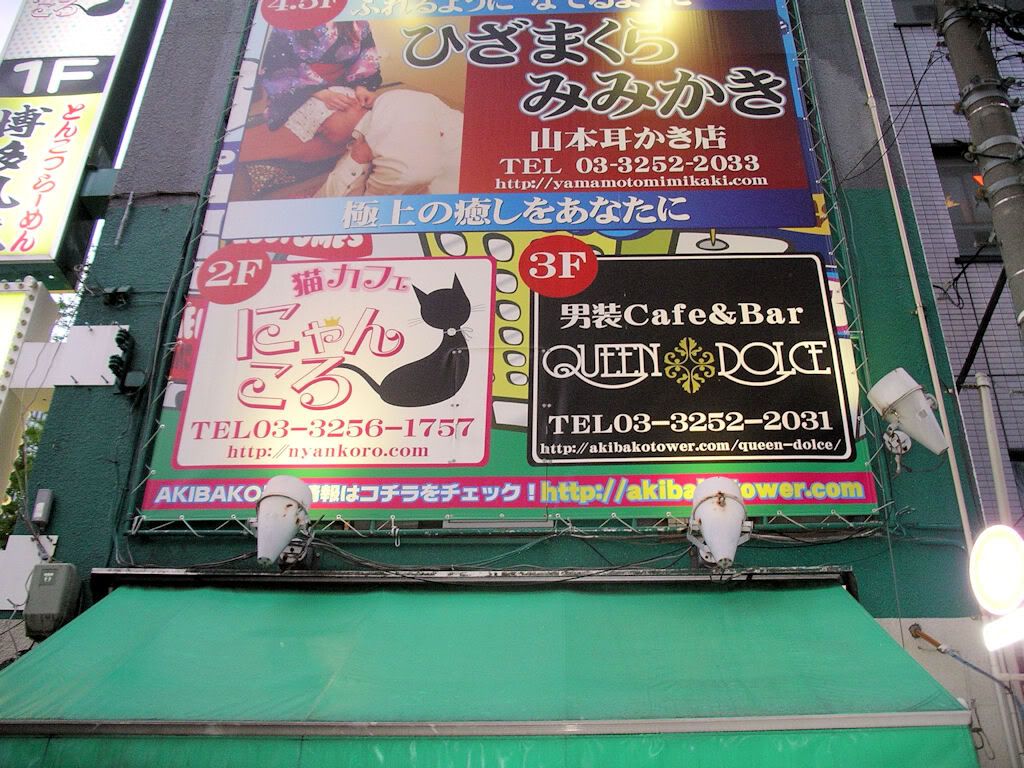 I arrived right around 6 PM on Tuesday night, and the place was already half full. Well, that's actually fairly easy to do because QD is relatively small, with 3 tables for holding 4 people each, and stools for another 5 or 6 at the bar counter. The walls are black and there's no windows. A sign board at the front wall announces upcoming specials or events, and the adjacent wall holds photos of some of the dansou from previous events. Alongside the photos were face cards from a playing card deck. There's something of a playing card theme on the website as well. Anyway, three guys were at the tables, and another two at the bar. There were also two women at the bar but at least one of them seemed to be an off-duty employee. A few minutes later, two more women came in and sat at one of the tables. There's no cover charge for being at the tables, but 500 yen to be at the bar to chat with the staff. There's also a one-time 200 yen fee if you get alcoholic drinks.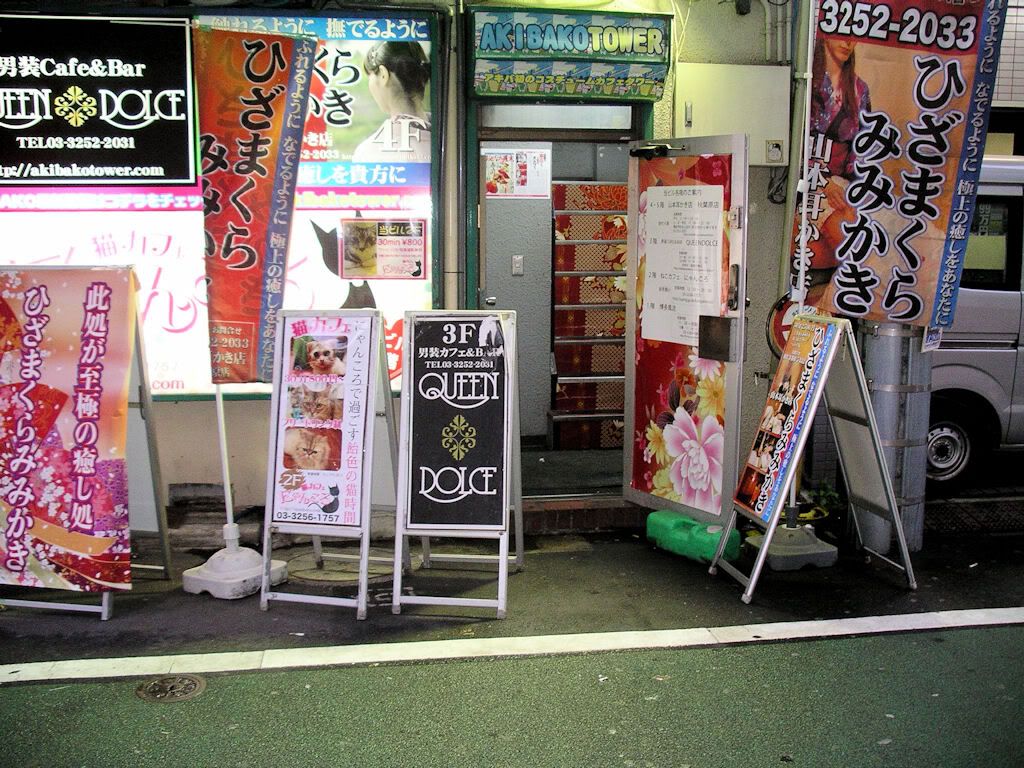 QD is primarily a bar, with a small number of entrees for 1000 yen. Actually, the food comes from the kitchen at Cure Maid next door, and you need to pay in advance so that the dansou can bring the dish back when it's ready. They have spaghetti, curry rice and omelet rice. I decided to get a plate described as a "hamburg don" - a bowl of rice with a huge hamburger patty with gravy on top, a small potato salad and small lettuce salad on the side and a small bowl holding a poached egg for stirring into the rice. I accompanied this with an ice coffee. As usual, the coffee came out first, in a tall, narrow glass on ice. I added so much sugar syrup and cream that I have no idea if the coffee was good or not. But, the resulting mix definitely was good. By the time the entree came out, the coffee was gone, so I followed it up with a hot coffee. The entire meal was good and very filling, and came to 2000 yen (500 per drink, plus the 1000 for the hamburg plate). Not bad for a theme cafe. As I say, the emphasis is on the alcoholic drinks, which are 900-1200 yen. 1000 yen for beer.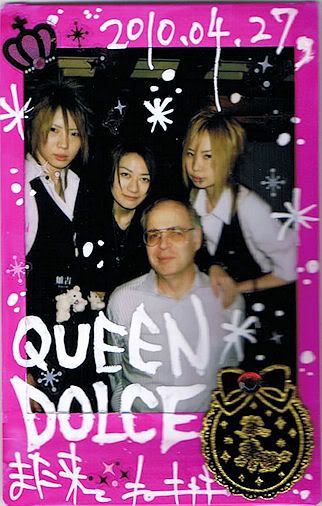 For the most part, the staff stayed at the bar, occasionally coming over to the tables to take and deliver orders and to refill the glasses of water. Every so often, one of the dansou would drop by to ask what I thought of the bar, how I liked the food, and so on. One of them spoke a little English, but it was obvious that Japanese is the preferred language. Finally, someone that I took to be the manager came over and we talked for about 15 minutes, about the dansou concept, and similar places in Ikebukuro, and she showed me a photo book of the various staff members. (On the website, they're referred to as "the cast"). I mentioned maid runner and she said that it was probably all in English (making it hard to read). I commented that I do include photos. That's when she told me that QD offers dansou photos for 500 yen. Interestingly, she said that since this was a special occasion, the entire staff would be included in the shot, which was taken by one of the other women sitting at the bar. Afterwards, one of the other dansou spent 5 minutes touching up the photo, both on the front and the back. I think it came out quite well. (Note, I didn't see any mention of "chekki" (dansou photos) in the menu or on the sign boards, but it is listed in the menu section of the website.)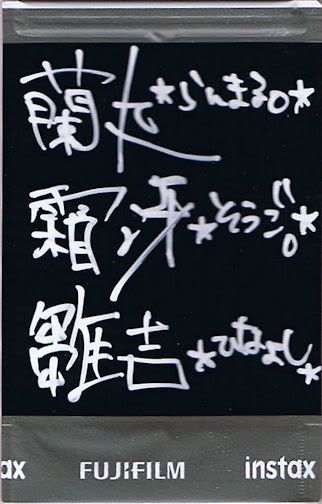 They do have a point card. 1 point per 1000 yen. At 20 points, it's a free soft drink; 40 for a dansou photo; and 60 for a mixed drink.
I had a lot of fun, and the dansou were actually easier to talk to than most maids are at the other cafes. Probably the funniest moment was when one of the off-duty staff was getting ready to go home, and was carrying a big plastic bag with her. It contained a huge plush animal (not sure if it was a sheep or a llama) and one of the other staff members asked to see it. This led to a big "hug the cute plush llama" event, and the decision by one of the other dansou to not return the cute llama to its owner. All the owner could do was hold the bag out, pout and repeat "kaeshite kure" (please return it) for several minutes. I never expected butlers to go gaga over a large soft, cuddly llama. Even dansou have their soft side.
Summary:
Name
:
Queen Dolce
Location
: Next door to Cure Maid, just off Chuu-ou Dori, 3rd floor.
Price
: Moderate.
Cover
: 500 yen to sit at the bar. 200 yen surcharge for your first alcoholic drink.
Food
: A limited selection of entrees (spaghetti, curry rice, omelet rice) for 1000 yen, and some snacks for 300 yen. Soft drinks for 500-600 yen. Mixed drinks and beer for 900 to 1200 yen.
"Love"
: No love.
Outfits
: White shirts, black vests and black trousers.
Photos
: 500 yen.
Wireless Internet
: (?) (No laptops in evidence when I was there.)
Specialties
: Lots of mixed drinks served by female butlers.
Recommendation
: If you're looking for a "butler" experience, Queen Dolce is definitely a great introduction. Friendly staff, and tourists welcome. Recommended. Just leave your large, cuddly, plush llamas at home or you'll never see them again.