When entertainment writers talk about Akihabara, they're referring to a roughly 6-block square spanning from Kanda river to the south, Showa Dori and the expressway on the east, Kuramaebashi Dori to the north, and 452 to the west. Places along 452 or Kuramaebashi are considered to be at the "remote outskirts" of the neighborhood, ignoring the fact that you can get from one corner to the other in about 5-10 minutes on foot. While Akihabara is bigger than the downtown areas of many western cities, you have to remember that it comprises a fraction of the 4 mile by 7 mile oval that is the interior of the Yamanote train loop. This oval is so packed with buildings and stores that you'd never be able to visit them all in one life time. Further, while Akihabara is billed as a haven for electronics, video game and anime fanatics, it's easy to forget that it also has schools, offices, grocery stores, a fire department and at least 2 large police stations. It' s a very dense section of a very dense megalopolis.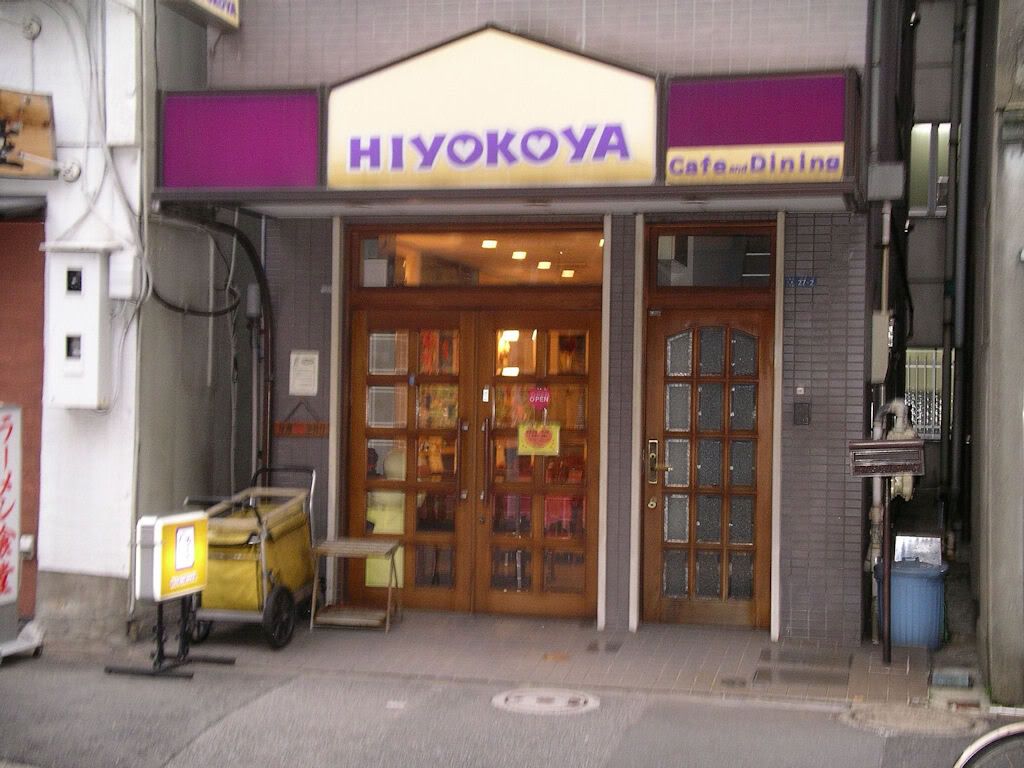 Why does this matter? Because outside this region by a couple of blocks is Hiyokoya, a maid cafe that, the Wednesday night that I wandered by to determine what kind of place it is, was packed with high school girls. Unfortunately, when I did have a chance to drop by shortly after it opened for dinner at 5 PM Saturday afternoon, the place was deserted.
Yes,
Hiyokoya
fails to meet the expectations of most entertainment writers. It's an Akihabara maid cafe that isn't within the Akihabara borders, and it's popular with many kinds of people. On the other hand, it's packed with toys and figures from various anime and action shows (like Dragon Ball, Gundam, Ultraman, etc.) and plush UFO Catcher dolls. There are sign cards along the walls with autographs from wrestlers, artists and singers, and over 20 notebooks with drawings from various customers over the years. Anime theme music plays on the sound system, but I didn't recognize any of it, and the maid couldn't name the songs either. It is an otaku haven, and if I understand the online events calendar right, they even attend Komiket sometimes (although, the event calendar doesn't seem to have been updated since 2002).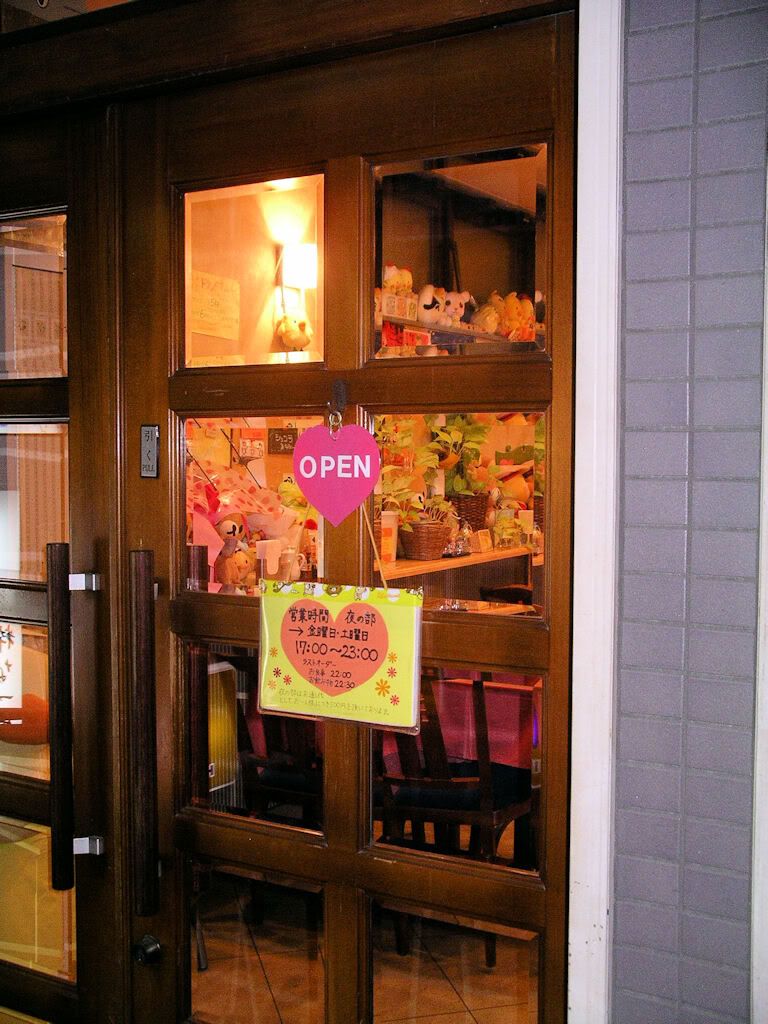 Hiyokoya operates as a full-service cafe, with a lunch service from noon to 3 PM and dinner from 5 PM to 10 PM. Entrees range from curries and pastas, to ramen and udon (600-1000 yen), with soft drinks (400 yen), beer (450 yen), mixed drinks (350-680 yen) and some desserts (380-680 yen). I got the chicken kimchi udon and a glass of Ebisu beer (980 + 450 yen). If I understand the system right, there's a 500 yen table charge for single customers,
which brought the total for me up to 1930 yen ($22 USD).
There's no added flavor chants, or writing on the food. When I entered, I got the standard "irasshaimasu" greeting and a startled look that anyone - especially a foreigner - would be coming in so early. Although, when I left, the maid walked me to the door and bowed me out. The beer was served in a tall glass, and I received a small bowl of edamame as a "service" appetizer. I spent my time looking at the sketches in the notebooks, some of which were close to pro quality. After about 20 minutes, my kimchi udon arrived, boiling hot and swimming in red pepper soup. Lots of chopped onions, mushrooms, and noodles, with a few pieces of meat. Spicy but not completely overwhelming. Tasted really good, but the maid was just a little too eager to take the bowl back before I had a chance to drink it dry.
I didn't see any mentions of maid photos, but with just the (male) cook and the one maid, there wouldn't have been anyone to take the photo anyway, if the place had been more busy. There is a points card - 1 point per 500 yen. 50 points gets an original shop branded present, and a free 1000 yen dinner item. Since the table charge accounted for 1 point, and they round up, it'd be about 12-13 meals to max the card, which isn't that outlandish.

The maid wasn't overly talkative, so I kept to myself for the most part. But, I expect that other staff work various other nights, and the place may become more interesting later in the evening. Like I mentioned above, there were a number of school girls in talking and reading manga a few nights earlier.
At heart, this is a noodle shop that just happens to have manga and maids in it. The kimchi udon was good, and if they'd just get rid of the table charge I'd make it a regular stop for a beer after work.
Summary:
Name
:
Hiyokoya
Location
:
Northwest side
of the elevated expressway. From the JR Akihabara station, take the exit heading towards Yodabashi Camera, and continue east one block to the expressway. Turn left and head north about 4 blocks. You'll want to cross the street to get to the right hand side when you have the chance. At the next corner past the Daily convenience store, turn right and go about 2 short blocks and it'll be on your left.
Price
: Moderate
Cover
: 500 yen for single customers.
Food
: Hiyokoya is a full-service cafe with a bar, that just happens to have maids on staff. Dishes include curries, pastas, ramen and udon dishes between 600 and 1000 yen. Soft drinks around 400 yen. Beer for 450 yen. Cocktails for 350 to 680 yen, plus full bottles for 4500 to 6800 yen. A few desserts between 380 and 680 yen. Lunch service from noon to 3 PM. Dinner from 5 PM to 10 PM.
"Love"
: No love.
Outfits
: Black dress with a white apron.
Photos
: None.
Wireless Internet
: (?) (No laptops in evidence when I was there.)
Specialties
: Food. I liked the kimchi udon. And lots of anime and manga related items all over the shop.
Recommendation
: If you're looking for a place that has lots of food to choose from and toys and autograph boards all over the wall, Hiyokoya is the place for you. It just screams "subculture". If they'd get rid of the table charge, they'd be perfect.