One thing about Akiba is that you can not simply say "oh yeah, now I've seen it all", because there will always be something that you never expected, and which you'll wonder "why didn't I think of that?" just around the corner. Case in point -
Idol Produce Cafe
.
According to the
AkibaToday
page, this was originally
Akiba Tenkyu
, which opened last May, and then underwent a redesign last fall, to reopen in December as Idol Produce Cafe (IPC). The premise is simple - the staff (all young women between 18 and 22 or so) are working to become j-pop idols, singing, dancing and talking on the radio. The customers then sign on as producers and lend encouragement to the staff. There are different events every day, so check the events page on the website before going to see if it's something you want to watch. IPC is somewhat pricey, since along with the 500 yen table charge there's also a one-time 500 yen membership fee to get your "producer's badge" and lanyard. But, you can get some discounts if you have a cell phone that handles the 2D barcodes for visiting their mobile site.
IPC is just north of
Mai:lish
. From the JR Akihabara station, take the north exit from Denki Town, go up to Kandamyojin Dori right in front of the UDX building, and then turn left and go past Chuu-Ou Dori to the next major intersection (you'll see Coco's restaurant across the street). Turn right and go half a block north, past Mai:lish. It's on the right, on the 7th floor. Look for the sign board out front. Actually, the 7th floor is just the kitchen and a waiting area. The cafe itself is up the stairs on the 8th floor.
The cafe is kind of cramped, with three 4-person tables near the stage for non-smoking, and another couple tables for smoking at the back of the room. New "producers" get to sit at the tables. There's counter seating at the bar for 4-6 "seasoned" producers. When I was there, the stage was set up for a 3-person live maid radio show, which wasn't scheduled to start until 8:00 PM, well after I had to be at work for my 7:30 start time. Other events include singing and so on.
There weren't many people when I arrived at 6 PM, just 3 at the bar and another 2 at one table (all young guys), but there were 4 or 5 "idols" on staff, which meant that the idols had time to talk to me. My idol very carefully went through the system, explaining the 500 yen table charge for 1 hour, needing to place minimum orders per hour, and using a cell phone to sign up on the mobile website to get my producer's membership badge. Unfortunately, I have a pre-paid cell phone, and I'm blocked from accessing the net or using 2D barcodes with it (a fact that I'm increasingly unhappy with, but it's cheaper than getting a 2-year contract), so my idol set up my membership manually. She and a second idol also explained the concept of the cafe to me, and showed various magazines and newspaper articles the cafe has appeared in.
The menu and system explanation card are all in Japanese, and the idols didn't really speak English. However, they're located at the outskirts of the Akiba district far from the main crowds on Chuu-ou Dori, so they rarely get tourists or non-native speakers. Which kind of played in my favor, because both idols wanted to learn some English. I had nothing better to do, and kept busy by teaching them a handful of fixed phrases they could use right away (welcome to the cafe, can I take your order, here's your change). I was a little disappointed to not get any discounts because of it, though, although I wasn't really expecting to.
Regarding discounts, one minus against the shop is that they didn't honor the free drink coupon. When I arrived at the 7th floor, there was a table next to the elevator with some free advertising for some "girl capture" video games, and a flier for the cafe. I grabbed one of each and noticed that the flier had a coupon for a free soft drink. When I was placing my order, I asked if I could use the coupon and was told "yes". But, at the end, I was charged for the drink anyway. I knew that the bill was on the high side, but I was having trouble completely understanding the pricing system and didn't want to bother wading through the itemized breakdown at the time and I let it slide.
IPC has all of the standard cafe entrees, including curry rice and omelet rice, plus other dishes in the 700-1200 yen range; soft drinks between 500-1000 yen; ice creams and cakes for 500-1200 yen; and mixed drinks around 700 yen. You can also get alcohol by the bottle between 3000 and 6000 yen (you can leave "your" bottle at the bar and come back to drink from it later). I decided to get the cheapest thing on the menu - curry rice, and an ice coffee. The coffee came out quickly, in a tall glass, and the idol neatly placed a spoon, and one syrup and creamer next to it. The coffee wasn't bad, but became watery because of all the ice fairly quickly. Some time later, the curry came out in a medium-sized bowl. There was no added flavor chant or drawing on the food. Normally, curry can have large chunks of potatoes, carrots and beef or chicken. This time, it was mostly just rice on one side of the bowl, and the curry sauce on the other side, with a couple small pieces of beef mixed in. 700 yen each for the coffee and curry, plus with the table charge came to 1900 yen normally ($21 USD), but with the new members fee was 2400 yen ($26-$27). Since the drink was supposed to be free, and there was nothing happening on the stage, that's 2400 yen for just a medium-sized curry. Ouch. ;-(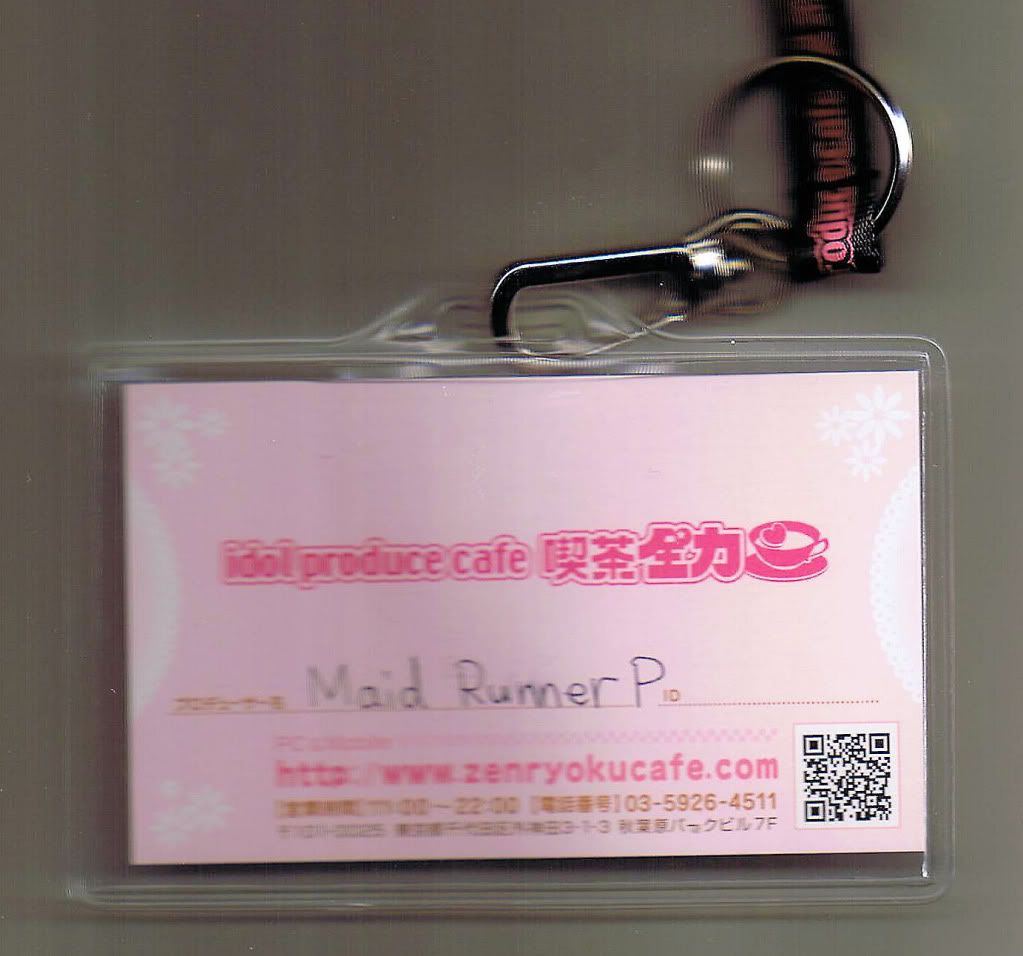 There's nothing on the menu regarding maid photos, and they don't have the maid games here. I'm not exactly sure how the points are recorded, since I just have a paper members card and the bronze and gold cards seem to be plastic. It's 1000 yen per point, and it's 25 points to bump up to the first next level. When you hit gold, you can get a maid photo with the idol of your choice. The levels are bronze, gold and platinum, but there's not much explanation on the website for what each one gives you. If you really like coming here, it's worth getting the member's card and going for the perks, but at roughly $11 per point, $275 USD is a bit much just to pick up a photo.
The staff at IPC was very friendly when I was there, but you really do need to be able to speak some Japanese. And if you like watching young women in school uniforms singing on stage (depending on the event night) then this is the place for you. Just be aware that this dinner theater is not going to be cheap.
Summary:
Name
:
Idol Produce Cafe
Location
: On 452, just north of Coco's restaurant. From the JR Akihabara station, go west to Chuu-ou Dori, turn right to Kandamyojin Dori, turn left and go down to the next major intersection (about 2 long blocks), turn right again and IPC will be on the right about half a block down, just past
Mai:lish
. On the 7th floor.
Price
: Moderately high.
Cover
: 500 yen lets you stay 1 hour, and there's a one-time 500 yen fee for the membership card.
Food
: Standard cafe entrees like curry rice and omelet rice in the 700-1200 yen range, desserts (cakes and ice cream for 500-1000 yen) and drinks (500-1000 for soft drinks; 700 for mixed drinks; 1000-6000 for bottled alcohol).
"Love"
: No added flavor chants. Basically, "welcome home, producer" and "please return soon, producer" chants when you arrive and leave.
Outfits
: Light pink blouse with plaid bow tie and skirt college girl's uniform.
Photos
: Nothing on the menu. Maid photos are available if you get enough points on the points card.
Wireless Internet
: (?) (No laptops in evidence when I was there.)
Specialties
: You get to play "idol producer", where you support and encourage one of the staff to become a j-pop idol.
Recommendation
: This one's a little tricky. The food's pricier than normal, plus there's the table charge and the 500 yen charge to become a "producer". The main draw is to watch the events, but there's not something going on all the time every night. Check the events calendar first. However, if you want true "Akiba dinner theater", with singing or a live radio show, this is one place to find it.