Ok, I'm writing this review from memory one week after visiting the cafe, so it's necessarily going to be a little sketchy and shorter than normal. I'm not sure when/if I'll be able to get the original review off the drive of my old PC.
Candy Fruits
is one of the more eclectic chains in Akihabara, consisting of a glasses shop (Candy Fruits Optical), a reflex shop (Candy Fruits Reflex Club) and the cafe - Candy Fruits Strawberry. I've mentioned the first two previously (CFO is near
Little TVG
, and CFRC is on the third floor of the
Schatzkiste
cafe). It'd taken me a while to track down Strawberry, but it turns out I'd seen it before - it's in the basement of the building housing
Pash Cafe Nagomi
, near
Mermaid
. Just go straight west from the JR Akihabara station, past Chuu-ou Dori 2.5 blocks, and veer slightly north towards Kandamyojin Dori. Look for the Pash Cafe sign and go down the stairs rather than up.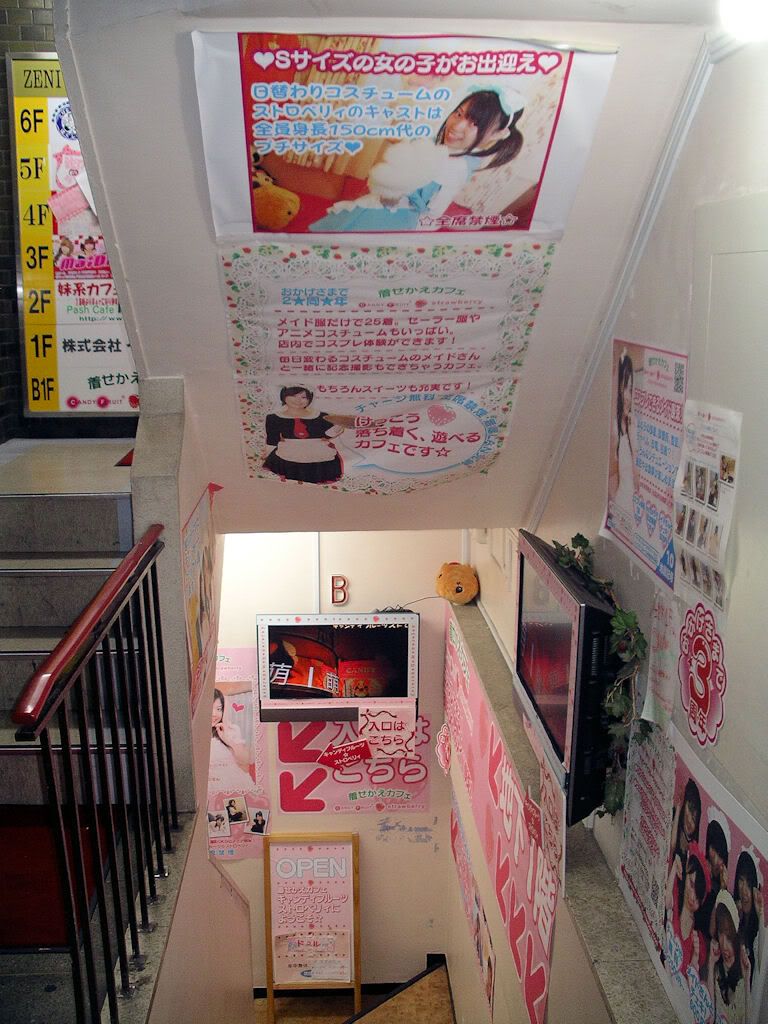 Strawberry is, at its heart,a dress-up shop. The room is long and narrow, with school desks at the front end for seating 10 people, and a few more tables along one wall to hold another 6-8 people. At the back are rows of clothes racks holding a wide variety of uniforms and costumes. Female customers can play dress-up for 1000 yen, and have their picture taken as they like. Or, for 1000 yen, you can spend three minutes taking photos of a maid in the outfit of your choice with your own camera. The front end of the room also has a small couch for posing for photos, or you can take the shots at your table.
To hide the fact that you're underground, the cafe has fake window boxes in the walls showing various outdoors pictures, and a monitor wall plays footage of trains entering and leaving a small station. With the bright lighting and faux external views, it's easy to forget that it's night outside.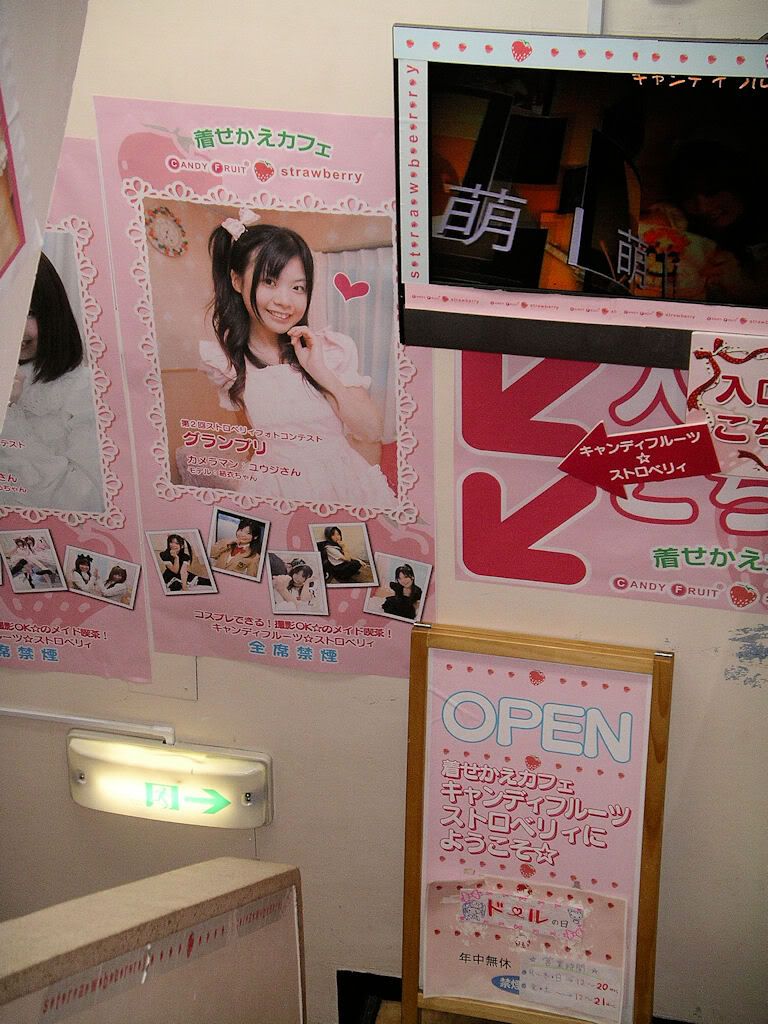 The menu has the standard cafe fare - omelet rice and curry, as well as some rice bowl dishes. Set entrees are 1100-1200 yen. Drinks are 500-600, and mixed drinks become available after 6 PM. Ice cream is 500 yen, and sponge cake desserts are 600-1100 yen. I decided to get a deluxe cheese cake drink set for 900 yen, plus a maid photo for 600 yen, coming to 1500 yen total. There's no table charge, which is good, but it does mean that individual menu items will cost a bit more. The hot cafe au lait was a very strong roast, and complemented the large slice of chocolate sponge cake. The cake itself was mostly air, but the 2 layers of frosting were fairly thick and almost cream cheese-like. A small bow tie was drawn in strawberry syrup on the plate, and that added a little fruit flavor to the dessert. Overall, not bad for a maid cafe. No added favor chants or requests for drawing on the food, though.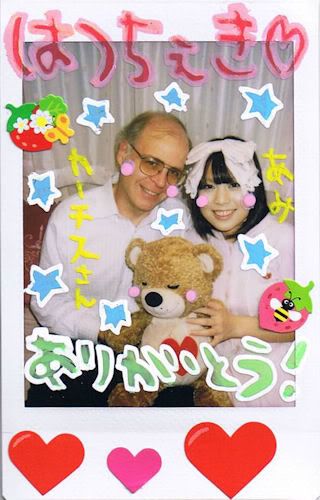 For the photo, I had the choice of standing near the clothes racks, or sitting on the couch. The maid immediately grabbed a plush bear from the large box of props near by, and we went without any of the standard cutesy poses. Shortly after, one of the other customers, a Japanese guy who spoke some English well, and his foreign friend (maybe German) who spoke good Japanese, paid the 1000 yen for the 3 minute photo shoot. The German sat on the couch with the maid and the cameraman (camera was worth at least $1500) went crazy, taking shots every 10-20 seconds. Then they traded places, with the German and the maid taking turns on the camera.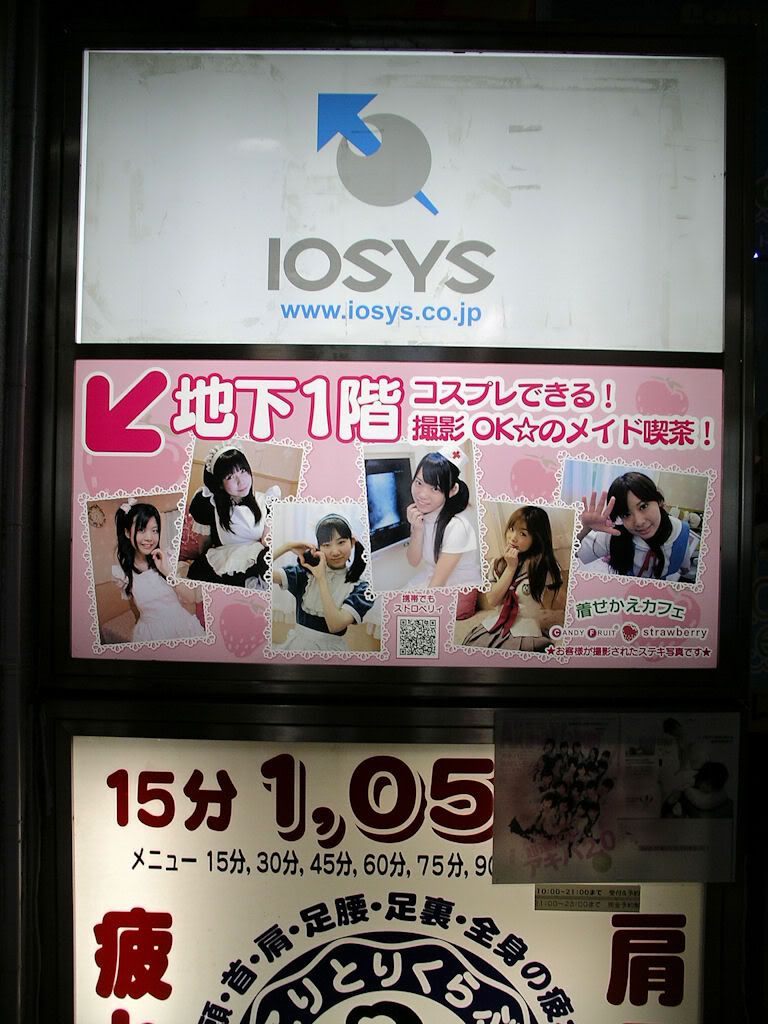 The cafe was never really crowded, but there was a steady stream of customers, with about 8 people max at one point. Customers included two women that were really well-dressed, some businessmen, and a couple college guys. The maids were friendly, talking to the regulars, but mostly leaving me on my own.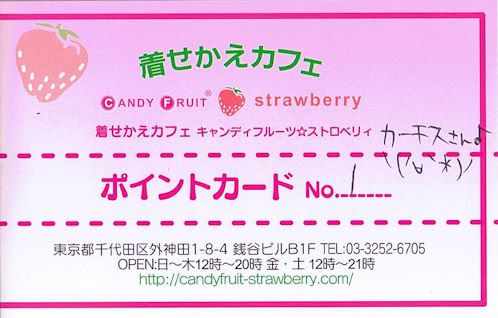 There is a points card. 1 point per 1000 yen. For every 5 points, you can pull a piece of paper out of the drawing box to see if you can win something. I'm assuming that prizes include a free drink, dessert or maid photo. Strawberry is relaxed and has a fun, lighthearted atmosphere. I enjoyed myself.
Summary:
Name
:
Candy Fruits Strawberry
Location
: Basement of the building with Pash Cafe Nagome
Price
: Moderate
Cover
: No cover.
Food
: Curry, omelet rice, rice bowls, etc. Soft drinks and mixed drinks after 6 PM.
"Love"
: Some writing on the foods in catsup or syrup.
Outfits
: No standardized uniforms.
Photos
: 600 yen for a maid photo, or 1000 yen to use your own camera to take photos for 3 minutes.
Wireless Internet
: (?) (No laptops in evidence when I was there.)
Specialties
: This is a cosplay cafe, where you can request the maids to wear the kind of outfit you'd like.If you're female, you can try putting on something from the racks of outfits lining the back wall.
Recommendation
: For a "real" Akihabara experience, with fake trains and cosplay, Candy Fruits Strawberry is worth the visit.