A few weeks ago, I was walking along Chuu-ou Dori next to one of the electronics shops, just a short ways from the Akihabara JR station, when I heard a female voice doing the "added flavor" chant over a PA that's normally used for advertising the electronics store. Looking around, I finally noticed the ad for Mai Dreamin' on the side of the building, but I initially thought that they'd paid to promote one of their other locations farther north up the street. Then I realized that they'd opened up shop 4 - AKA:
Mai Dreamin' Akiba Station
.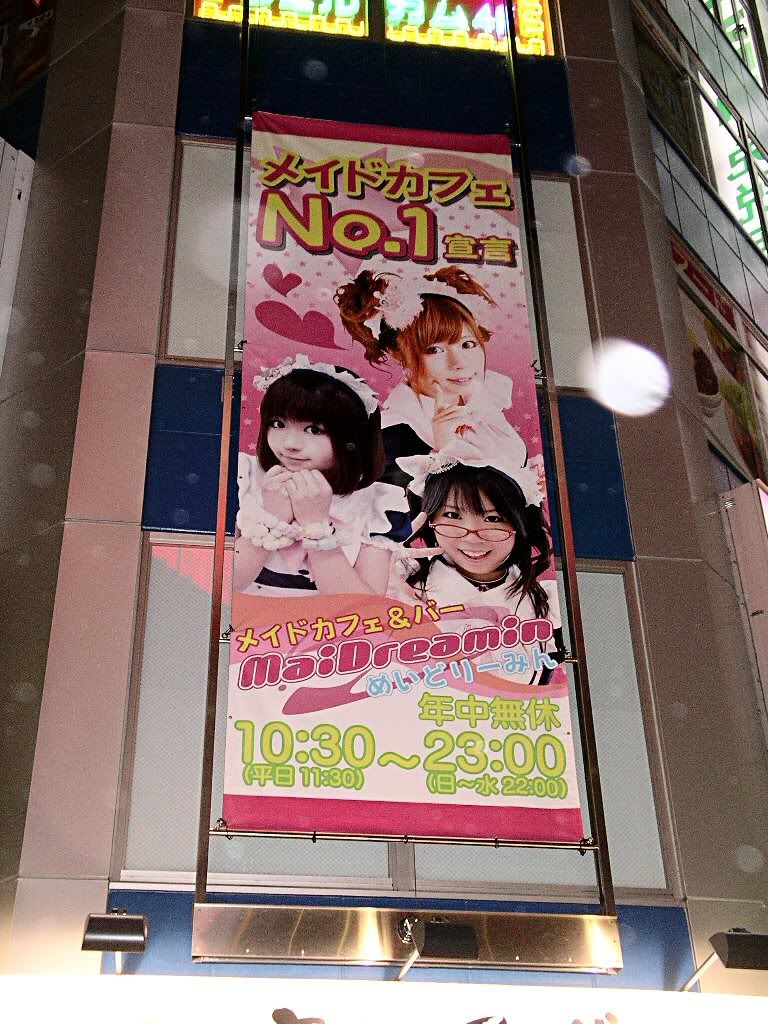 This newest location takes up the second and third floors of a narrow building, and just opened up. Normally, you go to the second floor, and if it's full or if you want the smoking area they take you up to the third floor. But this one evening, there was a sign just inside the cafe saying "go to the third floor". If you like to smoke, that's fine. But I don't, and the area was heavy with it. I just wanted to let you know that I'll risk lung cancer if it means being able to get a review out for you.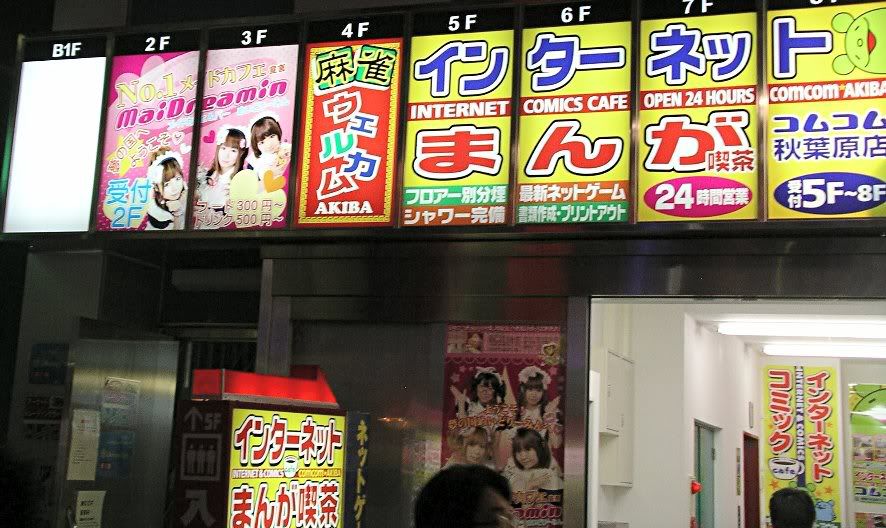 MD Akiba is very similar to MD 1-3, except that as I say, the rooms are smaller and broken up over 2 floors. This makes for a cozier setting, and you're closer to the stage when they have events. There were 16 people tops at one point, making the room about 75% full. There are 2 counters, at the front and back of the room for 4 people each, and the rest of the space is for 2-person tables. Initially, everyone there was male, and mostly salarymen. Later, a foreign couple came in, probably from Australia, and what looked to be a group of 3 Japanese women dressed up in drag, at least one of whom seemed to know the bartender.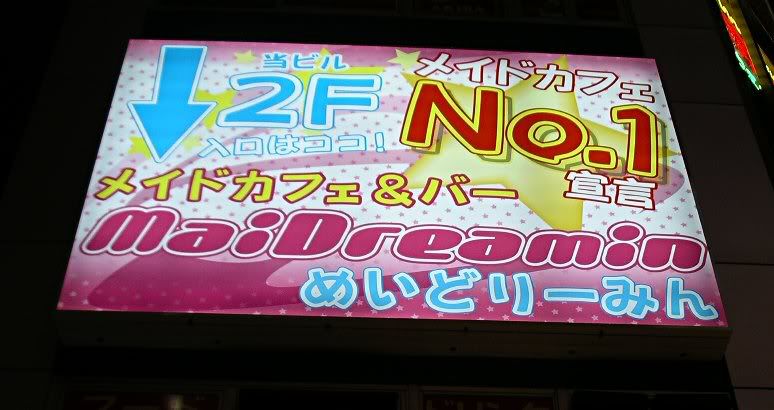 The staff is friendly, wandering the room to see if you need anything, but few of the Japanese customers wanted to talk to them. So I ended up spending a lot of time asking a couple of the maids questions about the place, and in teaching one of them a couple English phrases. They get a fair number of tourists and they want to be able to use English for those times. The stage is mostly for taking the maid photos, but there are occasional live events that cost either 4000 or 8000 yen to attend. The maids will also run a few variants on "rock, paper, scissors", with the winner getting a free photo, dessert or something similar.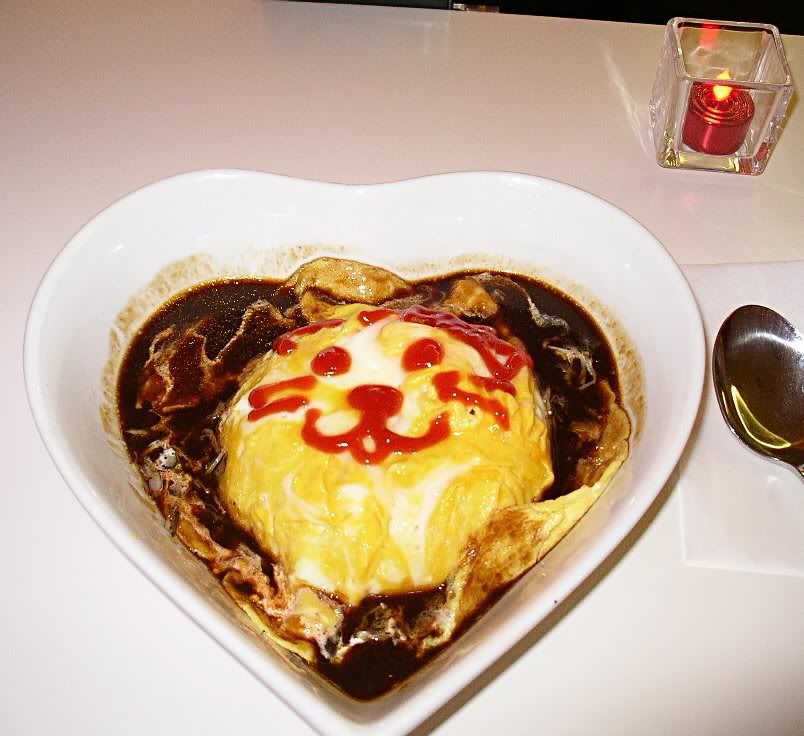 I decided to get the omelet rice, soft drink and maid photo set for 2200, and with the 500 yen table charge for 1 hour, the meal came to 2700 yen (about $30 USD). I got the ice coffee, which smelled really good, and came in a big glass, but started tasting watery as the ice melted. The "omrice" came out in a big heart-shaped bowl, with a mound of spiced rice and a scrambled egg placed over it, with curry-like gravy. The maid conducted added flavor chants for both the coffee and omrice, and drew a picture of a cat over the rice in catsup for me. The omrice was good, and there was enough to be filling. The maid tried to sell me some ice cream for dessert, but I passed, since it would have been an additional 200 yen for just one or two small spoonfulls.
The maids are willing to do a variety of poses for the photos, including something like Street Fighter, and "cute cats". I decided to go with the Ultraman "beam" pose.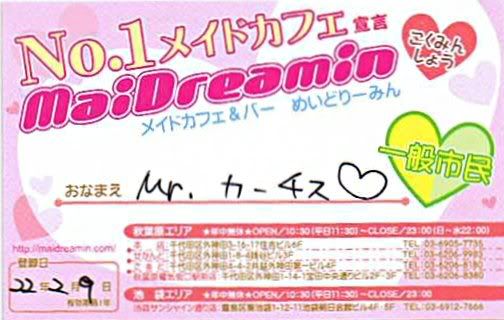 Afterwards, they offered me a points card. This was the first time I've heard anything about MD having a points card, and it would have been nice if I could have used it at the other shops. 1000 yen per point; 10 points gets you a free soft drink or beer, and 50 points gets you a "rank up".
I generally have fun when I'm at Mai Dreamin', so I do recommend it, especially if you're a tourist looking to experience a maid cafe. I just wish they'd get rid of the table charge.
Summary:
Name
:
Mai Dreamin' Akiba Station
Location
: Just west of the Akihabara JR station on Chuu-ou Dori, 2nd and 3rd floors. When you're in the station, take the Denki Town exit, which has exits facing north and south. It's probably easier to go out the south side and turn right to go west. When you get to Chuu-ou Dori, the cafe will be on the corner to your right. If you go out the north side of the station, turn left, then left again at Chuu-ou Dori, and the cafe will be on the left just before you reach the next corner.
Price:
Moderate-high.
Food:
Large-serving specials for the omelet and curry
, as well as regular-sized entrees of the same type. Hamburger patties and pasta. Entrees in the 800 to 1000 yen range. Soft drinks are 500, cocktails and wines are 1100 yen. Desserts include parfaits, cakes and smoothies, in the 700 to 900 yen range.
Service:
Very friendly and outgoing.
"Love":
"added flavor" chants over the drinks; a similar chant is made over the foods and desserts. Drawings of your choice on the food in catsup.
Outfits:
Black dress with white apron and blouse.
Photos:
500 yen, with one maid; or as part of meal or dessert sets.
Wireless Internet:
(?) (No laptops in evidence when I was there.)
Specialties:
500 yen lets you play a game with the maid for prizes (maid photos, etc.) Various events throughout the year.
Recommendation:
Like Mai Dreamin' 2, Mai Dreamin' Akiba is a very relaxed cafe and the maids have no problems talking with the customers. There's no real theme or gimmick here, other than the maids treating you like the master of the house, but the atmosphere is light and the food is good. Recommended.