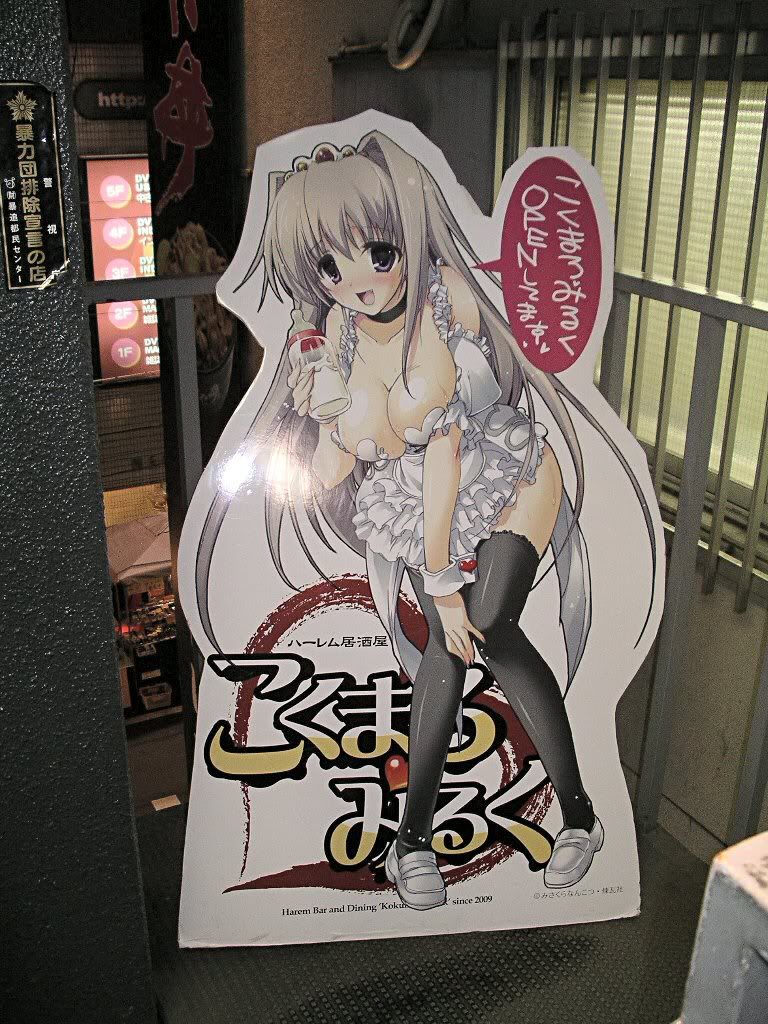 Back in November, when I reviewed
Royal Milk
, I'd taken a photo of the ad board in front of the building, and the banner for Kokumaro Milk on the 4th floor didn't really catch my eye. I remember dismissing it as something not maid related. However, last week one of the maids out on Chuu-ou Dori was handing out fliers for Kokumaro, so I decided to go back and check it out. On reviewing the flier, I noticed that it was also good for one free soft drink, which was a bonus.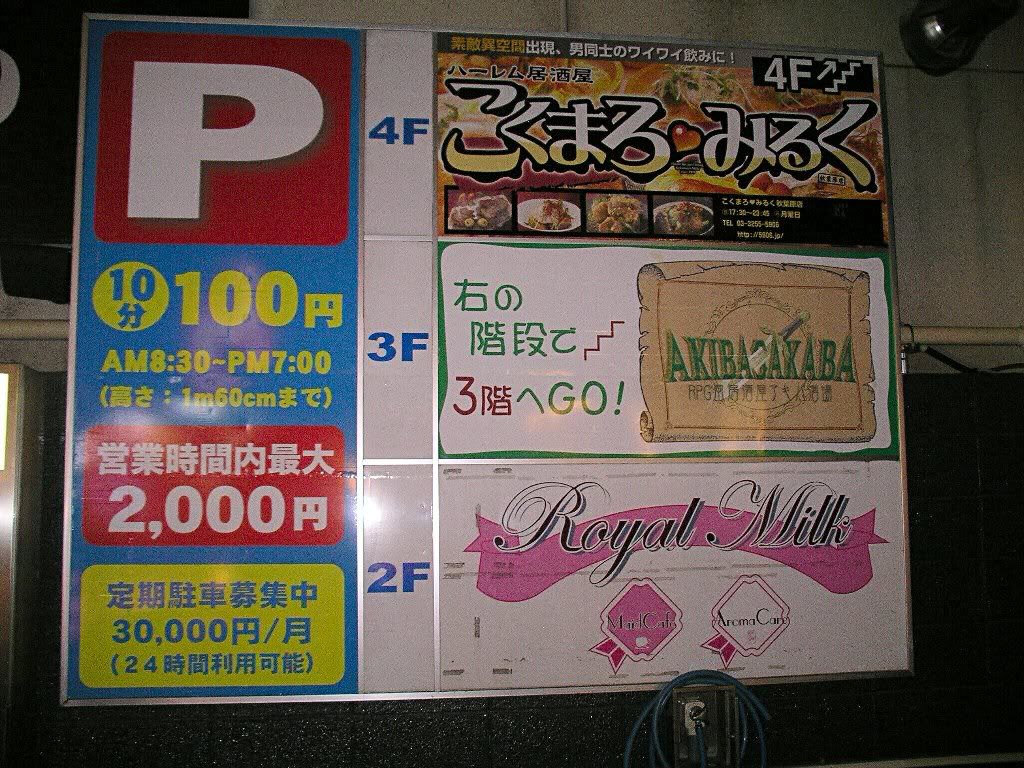 It wasn't until I got to the building shown on
the map
that I realized that it was above Royal Milk. This place doesn't have an elevator, so I took the outer staircase up to the 4th floor. As I approached the door, a maid stepped out to greet me (turns out that the door has an electronic lock, and a bell sounds inside when someone reaches the landing) wearing an off-the-shoulder white dress (kind of like in the poster board in the top photo) not really suited for the slightly-above-freezing temps that night. She mentioned the 800 yen per hour table charge and asked if that was ok by me. Then we went inside and she went through the rules (standard maid cafe rules - no harassing the maids, no cameras, turn cell phone speakers off, etc.)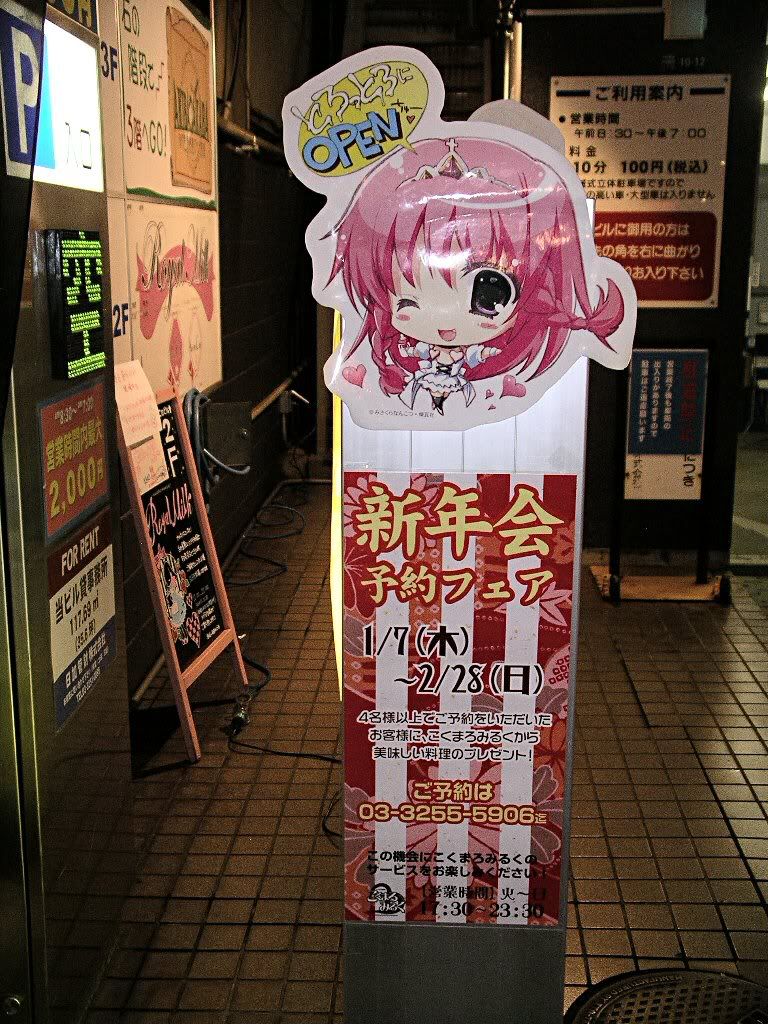 Kokumaro
bills itself as a harem bar, meaning that the focus is on a variety of attractive young women. The hours are 5:30 to 11:30 PM nightly, and I'd arrived just before 6 on a Tuesday, so it was lightly staffed and I only saw one couple a few tables away. They're running an event this month where groups of 4 or more will receive a free food item, so I expect that the bar is more crowded later at night and closer to the weekend.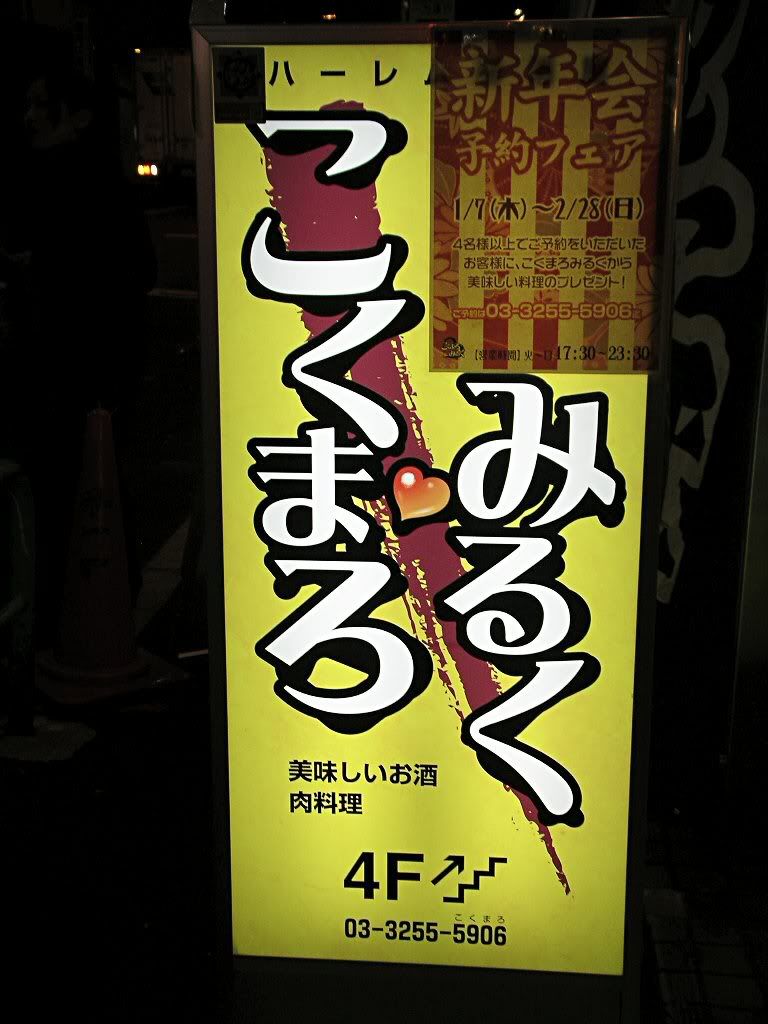 The room is fairly spacious, with seating for 48 people, and a small VIP corner towards the back. There's an 800 yen table charge for 60 minutes, or 1500 for the VIP room. The walls are a dark red, the booths and tables are separated by bead curtains, and the lighting is low to set a more romantic mood. It's kind of like if TGIFridays had been designed as a 1980's date spot. When you sit down, the maid places an electric candle on the table, along with a brass key representing your presence in the bar. The key has your starting time written on it, and you turn it in at the cash register when you leave. The maids are very attentive, but unless you're specifically placing an order or they're delivering your drinks, they stay off to the side and leave you alone. They don't chat with the customers like they do at other cafes.
One of the "only in Japan" elements is the "milk service" portion of the name "Kokumaro Milk". First, there are several mixed drinks on the menu that have a milk base, such as Kahlua and Milk. The menu also has a number of entree items, including hamburg steak and chicken, in the 900 to 1400 yen range. Mixed drinks for 800 to 1000 yen, and beer for 500. Some soft drinks (ginger ale, melon soda, tea) for 350 yen, but no coffee. And a range of izakaya-style single dishes like skewered chicken or fried oysters for 500 to 700 yen. The entree items have slightly erotic names , and I had to get the "sadistic steak" for 1000 yen just to find out what it was. For the free soft drink, I chose a ginger ale. Along with the cover charge plus tax, the total came to 1850 yen.
The ginger ale arrived first in a large glass with a lot of ice. Fairly plain, but a large size for the price by Japan standards. The meal arrived a while later, and it turns out that "sadistic" just refers to the chef's chopping the steak up into small bits. Actually, in Japan, when something is called a "steak", it probably means that it's chopped hamburger reformed into a steak shape, AKA a "hamburg steak". The sadistic steak had a brown gravy poured over the top, and a few lettuce leaves on the side. The maid then introduced the second part of the "milk service". Each maid has a small baby bottle on a strap around their necks, filled with milk. She poured some of the milk over the steak for flavor and then left. Naturally, because it's a large hamburger patty, the dish was tender and juicy, and the gravy was pretty good as well. The serving size was reasonable for the price (again, by maid cafe standards).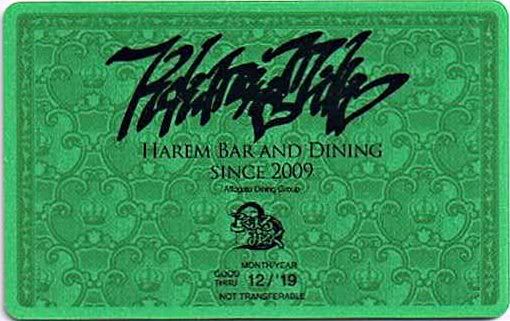 There's no mention of maid photos on the menu. The points card system works just like the
@Home members card
. You start out at bronze level and you get 1 point per visit. After 5 visits you go to silver level, where you get one free food item and a 300 yen reduction on the table charge. At 15 visits you go to gold, for a free maid photo and 2 free food items. Pink Platinum is 25 visits, and the "mystery card level" is at 50 visits. In comparison, it's a lot easier to get the Kokumaro mystery card than it is the @Home Black card (2000 visits). The Kokumaro card is also good for a longer time, until 2019.
Overall, I did enjoy myself, and the food is good. With the free drink coupon, the 1850 yen total was a very good price by maid cafe standards. However, if you're here to drink and party with co-workers, it's going to get expensive fast. Figure 50% to 90% more than at a regular izakaya. On the other hand, if you want a go-to place for after-hour drinks, once you reach gold or platinum level the prices get a little better because of the reduction of the table charge.
Summary:
Name
:
Kokumaro Milk
Location
: 1 block north of Mandarake, 1.5 blocks west of Chuu-ou Dori, on the
4th floor
above
Royal Milk
.
Price
: Moderate
Cover
: 800 lets you stay 1 hour.
Food
: Some hamburger and chicken entrees in the 900-1400 yen range, a wide variety of mixed drinks for 800-1000, finger foods for 600, and soft drinks for 350 yen.
"Love"
: No special chants or greetings.
Outfits
: Low-cut white dress with lots of frills, and 2 white hearts over the chest area.
Photos
: With upgrade to gold membership.
Wireless Internet
: (?) (No laptops in evidence when I was there.)
Specialties
: Kokumaro is a "harem bar", meaning that the focus is on having a variety of attractive young women on staff. The "milk" theme consists of pouring milk from a baby bottle onto the food, and milk-based mixed drinks (ala Kahlua and milk).
Recommendation
: Kokumaro Milk is set up as a low-lighting romantic bar with booth seating and mood music on the PA. As such, it may appeal to couples out on a night on the town. The staff is outgoing and attentive, but not particularly chatty. Recommended.