I've mentioned before how easy it is to suddenly stumble across a new maid cafe to visit when you're not planning on it. But sometimes, you just can't win.
As I've also mentioned, I work in Akihabara teaching English on Tuesday nights, so I'll usually try timing my weekly visits to the cafes on Tuesdays between 5:30 PM and 7:15 PM. Since most cafes can take 30-45 minutes to serve the food, I try to arrive at least by 6:15 so I can get out by 7.
Last week, I got into Akiba at 5:45, and I went up to Chuu-ou Dori from the train station, partly thinking that I might go to the newest
Mai Dreamin'
cafe, or maybe go on to
Misty Heaven
. As I walked north, I didn't see Mai Dreamin' Akiba, so I continued on to Misty Heaven because I'd been putting it off and I figured it was time to get it out of the way. Again, like previously, Misty Heaven had no customers. But this time, it also had no name on the door. Misty Heaven is at the far northwest corner of the Akiba district, just around the block from
Mai:lish
and
Akiba Gakuen Grade 2
, and it's been empty each I passed by
. Deciding to keep moving on, I aimed back towards the train station when, after 2 blocks, I reached Moe Maiden. I hadn't been there yet, so I went up the stairs and just as I stepped through the door, I realized that it's a reflexology shop.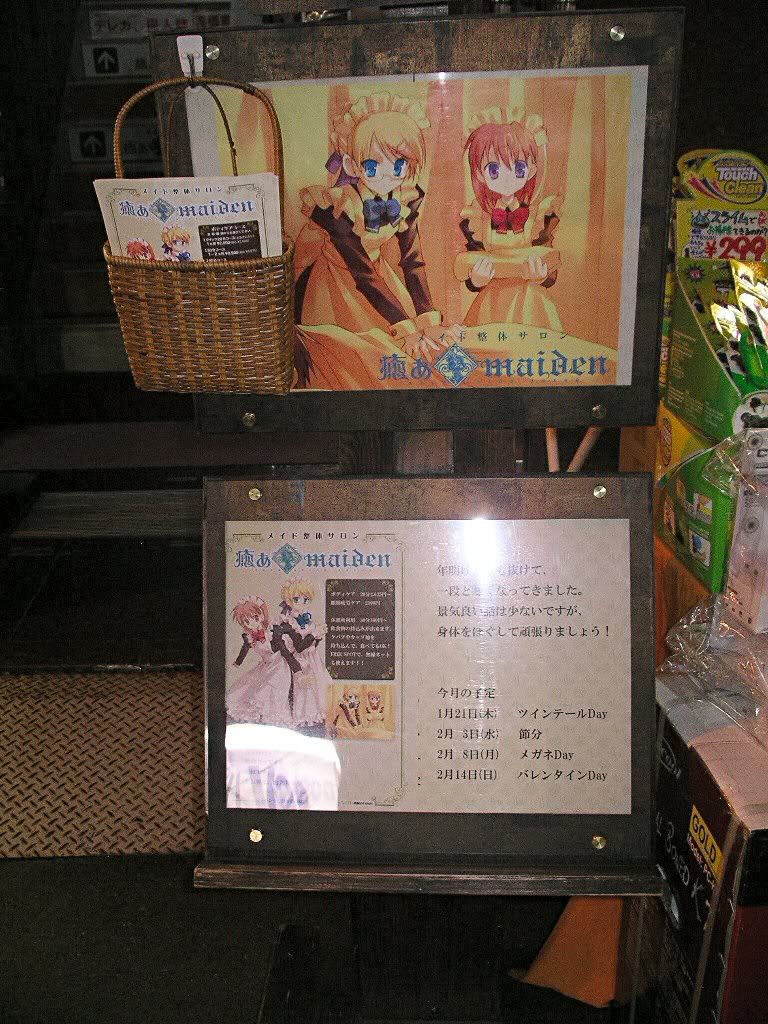 (Moe Maiden)
Reflex shops give massages for $30 to $60 and are generally strictly non-sexual. Most don't serve food.
Moe Maiden
had a couple small curtained tables near the windows, and a table for dispensing chocolate bars and tea in the waiting area. The one maid was wearing a black dress and white apron, and looked really cute. I didn't want to spend $30 just for a reflex session, so I asked a couple questions for a blog review, and the owner came out to show me a laminated card in English with the rules on it (first rule in big letters is "sexually harassing the maids is illegal under Japanese law", which he apparently wanted mentioned in the review). In any event, if you want reflexology, Moe Maiden looks pretty good.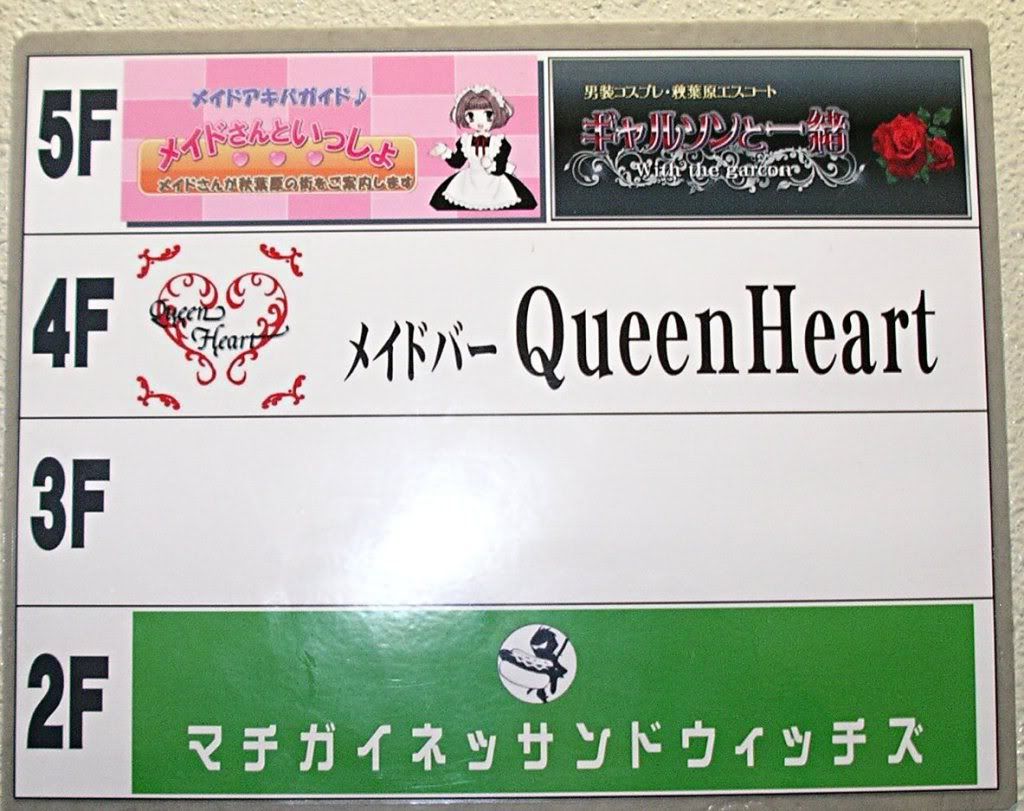 (Queen Heart and Bar with Garcon)
I then tried heading towards Chuu-ou Dori, which took me past
Queen Heart
. I got up to the 4th floor and just as I was opening the door, one of the staff came out carrying boxes. She told me that they're strictly a bar and don't open until 7:30.
Bar with Garcon
is on the 5th floor, but I couldn't hear any sounds coming down from the stairs and I wasn't ready to go to a butler bar. So I went back out to the street.
(Candy Fruits Refresh)
I wasn't that far from Kuramaebashi Street, so I doubled back north to
Schatzkiste
, where
Candy Fruits
is up on the 3rd floor. I know that Candy Fruits has the eyeglasses shop and the reflex place, but they're also supposed to have a cafe. Unfortunately, the cafe's not on my regular map, and the place above Schatzkiste turned out to just be the reflex shop.
(Former Misty Heaven)
So I returned to
Misty Heaven
, and I looked more closely at the chalk board set out next to the door. Seems that Misty went out of business and was replaced by something having a theme night. But again, there were no customers and the staff didn't look like they were ready to open the doors yet.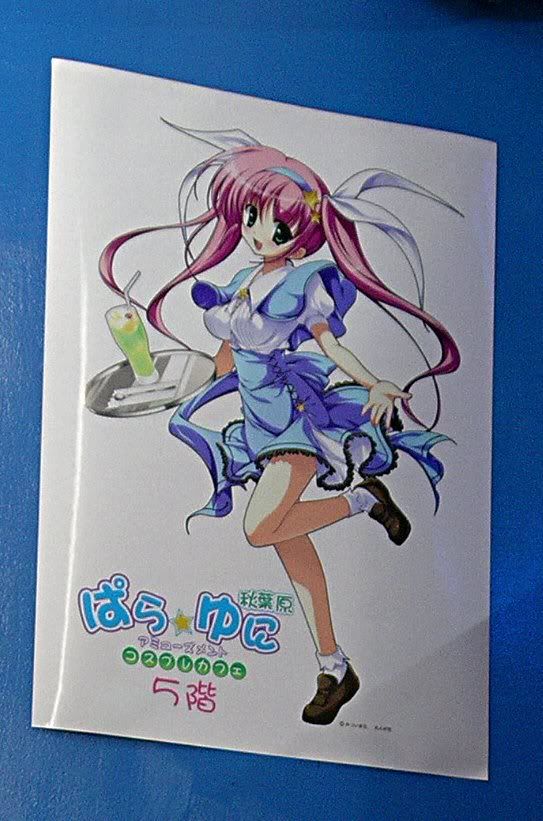 (Para Yuni)
I headed back towards the Mandarake used manga shop. Just past that is the maid-themed UFO Catcher shop, with
@Sweet
on the 2nd floor, and
Para Yuni
on the 5th. I hadn't been to Para Yuni yet, so I took the elevator up, just to find out that they were taking a holiday that day. Closed.
That only left
Mai Dreamin' Akiba
as one of the new places that I could remember at the moment, so I went back to the station. Going one block south from where I'd started, I found the entrance easily enough. But the elevator was stuck on the 5th floor. The entrance to the fire escape stairs was nearby, and I took that up to the 2nd floor, where there was a sign just inside the door saying "2nd floor is closed, please go to the third floor". From here, the fire escape door was marked "no entrance", so I figured that walking up to the third floor might be a waste of time. I went back down to the ground floor where I had to wait for several minutes for the elevator to start moving. When it finally did arrive, two young guys, looking kind of stupid, slowly got out and wandered towards the street. No idea if they had just been standing at the door talking to friends, or if someone else had monopolized the elevator. Regardless, I finally got to Mai Dreamin' on the 3rd floor, which was open and taking customers right away. But by this time, it was almost 6:30, and I was kind of cutting things tight for getting my meal and then getting to work on time. MD has a 500 yen table charge for 60 minutes, and when I was ready to leave, the maids couldn't understand why I wasn't willing to stay longer since I'd paid for the full hour.
I spent almost 45 minutes trying to find a maid cafe for reviewing here on Maid Runner. Sometimes you just can't win. Next time, I'll check my maps in advance, and have 5 places lined up just in case...