M-factCAFE
isn't all that showy or flowery, but it is a nice place to sit and enjoy a cold beer or a hot cup of coffee. It's
on the fifth floor
of the same building that has Pondichery and cafe la vie en rose, at the west end of Akihabara. Actually, you take the elevator up to the fifth floor, then immediately go up the stairs to the sixth floor where the cafe is (the kitchen is on the fifth floor). The space is split into two seating areas on either side of the stairs. Both areas have small wooden tables and chairs for holding a total 24 people each. When I arrived, there were about 6 guys in one area, the other being used only for taking maid photos. The walls are white enamel, and the space is brightly lit. Large plush dolls from various UFO Catcher machines line the window sills. Posters of various young women ("idols") line the walls. The tables themselves have little clear plastic sleeves at one corner to hold manga sketches identifying the table numbers. J-pop plays on the speakers in the background.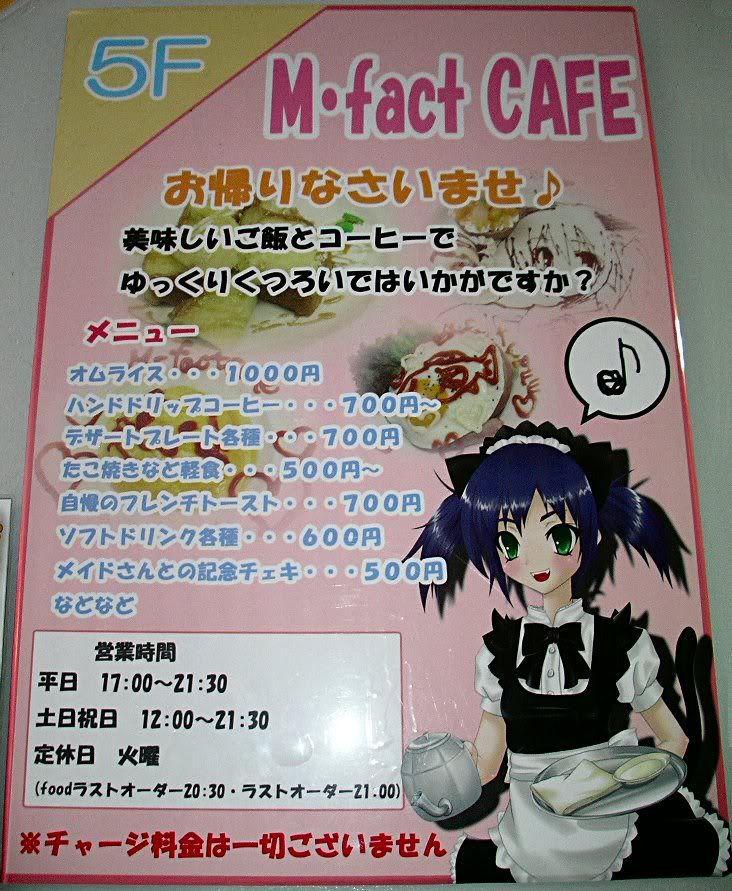 The first time I tried visiting, which was on a Tuesday, M-fC was closed, so I ended up going to Pondichery instead. Looking at the hours listed on the door, I couldn't quite figure out why they weren't open then. So, I came back the following day and got inside with no problems. Normally, one of the maids will be waiting next to the elevator, or going back and forth from the kitchen, to be able to guide customers up to the sixth floor. But, they were all busy with orders when I arrived so no one noticed me until I'd gotten up to the register area. There, I was given the standard "welcome home, master" greeting, shown to the table and given a small laminated card with the menu on it in Japanese. None of the maids tried speaking English to me.
I can't say anything about the lunch service, but for the evening, M-fC is primarily a bar, serving "original maid cocktails", beer and soft drinks. The food entrees consist solely of omelet rice and
hayashi rice
(the poster outside the building implies that you can have the maid write something on the rice in catsup, but I didn't ask). Along with the regular sodas, they also offer "high end" teas, with the featured tea being Earl Grey, and three different coffees, including Blue Mountain. The desserts consist of some sponge cakes, and french toast. I've seen a number of cafes now that list french toast as a dessert item (I grew up with it as something part of a breakfast set) and I finally broke down and ordered it this time, just to have something to eat with my coffee.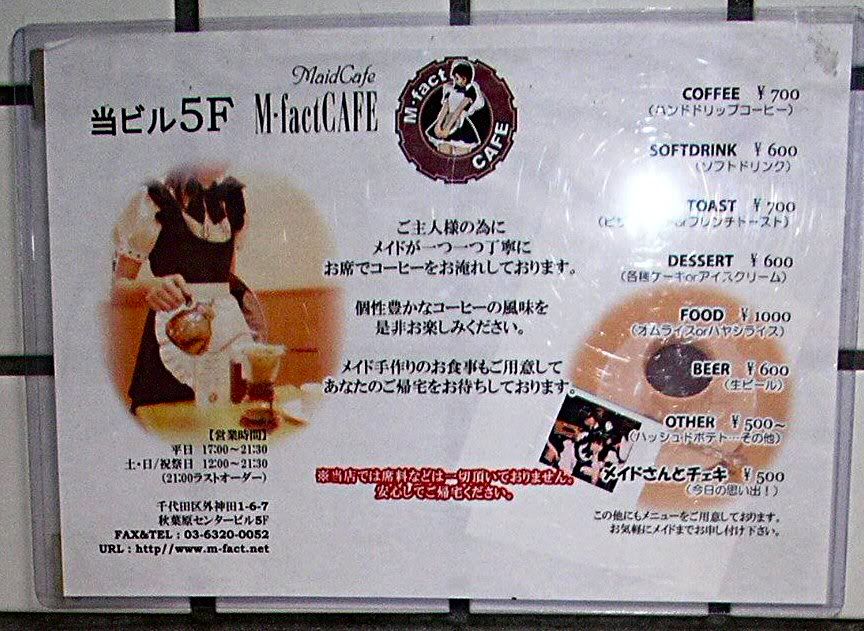 The hand-drip coffee was featured fairly prominently on the menu, so I wanted to see how they'd handle this. First, the maid came over with a small glass carafe with a cloth filter sitting on top, and the ground coffee already in the filter. Then she slowly poured hot water from a small pot over the grounds. The entire process took several minutes, so I started out asking her what M-fC's primary attraction is (contrasted with
Mermaid's darts bar
and
Akiba Itchome's performance stage
) and she replied, "probably the coffee". Of course, I then had to follow up this with "most Japanese prefer tea, do you like coffee?" and she immediately shook her head, saying that it's too bitter. We continued talking for a while. Then, when all of the water had been poured into the carafe, she went to get a coffee cup, sugar and creamer. She poured the coffee from the carafe to the cup, laid the cup, creamer and sugar sticks out on the table and left. By this time, the coffee had started to cool down, but it was still pretty good. No guarantees it really was Blue Mountain, but they charged the same for it as for the two other blends on the menu. One comment: in Japan, Blue Mountain is often abbreviated to "Blue Man".
Then the french toast arrived. They have two flavors - regular and cocoa. I got the cocoa. It consisted of 4 large, thick slices of bread coated in egg batter with chocolate powder mixed in and then grilled, with chocolate syrup and powdered sugar sprinkled on top. The bread had been soaked in the batter and was still soggy inside. But, it was just like eating fried donuts with a liquid chocolate pudding center, so it was pretty good. It was also pretty filling. With the coffee at 800 yen, the french toast for 700, and a maid photo at 500, the evening came to 2000 yen (about $22 USD). A bit on the high side, but still typical for a maid cafe. At least there was no cover.
When I arrived, there were two businessmen drinking beer, and a couple others having coffee. Later, an otaku carrying a guitar arrived to get a beer, and a younger guy in straight street clothes came in for coffee. No female customers at that point. I was running a little tight on time, so I only stayed for 45 minutes. The maids, realizing that I was in a hurry went out of their way to ensure that I got out when I wanted to. Otherwise, they would have been happy letting me stay and talk for as long as I wanted. The staff here was much more open and accessible than Pondichery had been.
For the maid photo, we went to the other seating area and I was told to stand on one side of the tree and do the heart pose again. It's looking like more cafes are settling for the heart pose as the standard default for maid photos now. Afterwards, the photo was embellished and brought to my table. I was also given a points card and asked for my birthday. It's 1 point per 1000 yen. 20 points gets you a free soft drink and a "message card". 40 points gets an unspecified present. I'm not sure I want to spend $400 just to find out what the message card and present are. But, M-fC does make a nice meeting place for sitting around and drinking beer, so if you want to become a regular here, getting the points card is a decent perk. And, if you bring the card in on your birthday, you get a free cake and a message card, or something.

Because I did need to leave quickly to get to work, as soon as my receipt arrived I got up, put on my jacket, grabbed my backpack and headed for the stairs. All three maids were busy with other tasks and none of them noticed me go. But, as I was near the bottom of the stairs, my maid let out a "are, mou inai?" ("what, he's already gone?") and she raced down the stairs to tell me "please be careful, master" and to bow me out when I got on the elevator. Overall, I enjoyed myself here, and wouldn't mind coming back.
Summary:
Name
:
M-factCAFE
Location
:
West of Akihabara JR station 3 blocks
, on the 5th floor of the building with Pondichery. Across the street from
Mai Dreamin' 2
and
Akiba Itchome Theater
.
Price
: Moderate.
Cover
: No cover, but you are asked to order something off the menu every hour or so.
Food
: Limited menu. Entries consist only of omelet rice and hayashi rice; soft drinks; mixed drinks; beer and desserts. Specialties are the Earl Grey tea, and the drip coffee, at around 800 yen.
"Love"
: Standard "welcome home, master", and "please be careful" chants. Writing on the rice plates in catsup.
Outfits
: Dark blue dresses with white aprons.
Photos
: 500 yen for a maid photo.
Wireless Internet
: (?) (No laptops in evidence when I was there.)
Specialties
: I specifically asked what M-factCAFE's specialty is, and the maid answered "the coffee". For the most part, in the evening, M-factCAFE is a bar that has a limited menu list. So, the idea is to sit down, have fun with your friends, drink and talk to the maids. However, the coffee is very good, and is prepared at the table in a special drip carafe.
Recommendation
: M-factCAFE has a simple concept - put cute girls in maid outfits and have them serve beer, and good tea and coffee. It's very similar in look and feel to Mai Dreamin', except there's fewer food items on the menu. Highly recommended.