For those of you not really familiar with how addresses work in Japan, one "cho" ("丁") is a group of city blocks, and "me" ("目") is attached to the end of block numbers. As you travel along a specific street, you go from "itchome" (district 1), "nichome" (district 2), "sanchome" (district 3) and so on. So, Akiba Itchome Gekijou can be treated as "the theater in Akihabara district 1".
Akiba Itchome Theater
(AIT) is a "maidoru cafe" (a play on "maid" and "idol") where the maids sing and dance on the small stage at the back of the cafe. To find it, go out the west side of Akihabara JR station and follow the tracks west 2 blocks past Chuu-ou Dori (to the next street light), turn right and at the next intersection turn right again. It'll be about 50-60 feet down, on the first floor. Right before
Cafe Mermaid
and
Pash Cafe Nagomi
, and in the same building as Mai Cure. In fact, AIT and Mai Cure share the same website. AIT is the cafe side, and Mai Cure offers reflexology. The cafe is in a long, narrow space, with the kitchen in the middle on one side, counter seating on the other, and about 4 tables plus the stage at the back. If you come during a week night evening, try to sit towards the back, so it will be easier to participate in the group games.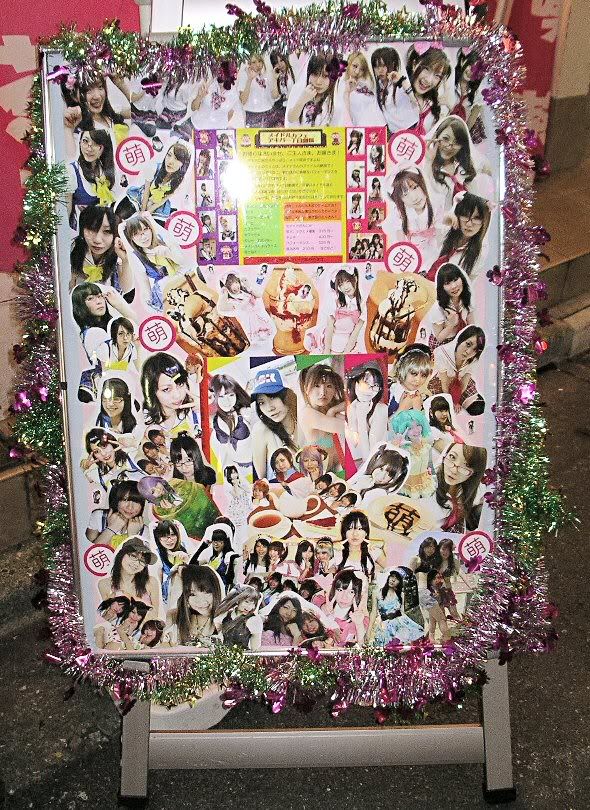 I arrived at 6 PM on a Tuesday, and things were still kind of quiet, the guy running the kitchen was out front preparing to hand out fliers, and was very eager to get me to come inside. The second I stepped in, I was handed over to one of the two maids working at that time and she gave me the standard "welcome home, master" greeting while walking me to the counter. There were two other guys sitting at the back; one left soon afterward but a third guy came in a few minutes later. All three were young salarymen in business suits. I was handed an English menu, which had a few mistakes in the prices and only listed about half the available food items; my maid referred to the Japanese menu for the correct prices. We chatted for a while and then she took my order and headed for the kitchen. Maybe it was the fact that the space is kind of restricted or that there were so few customers, but the two maids were both very friendly and willing to talk during slack periods. They did try using English off and on, but they were obviously much happier when speaking in Japanese.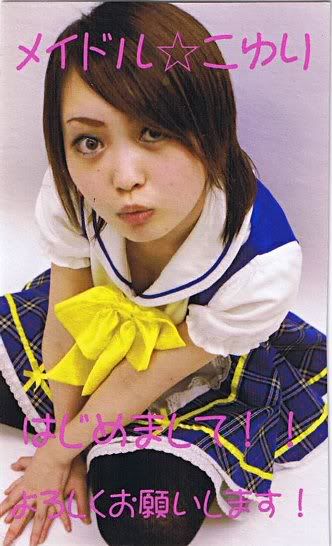 (Front of "idol card".)
There's a small TV up in one corner of the ceiling, playing different anime each day. This time, it was Miyazaki's "Spirited Away", with the sound turned off. In the background were various J-pop songs. My cafe latte was brought out, and the maid poured the sugar in for me and stirred the cup, saying that the coffee was very "oishii", She was right - it was good coffee. Then she delivered my "tiramisu cake". In reality, cakes in Japan tend to be simple sponge cakes with various flavorings. So, my "tirimisu cake" was nothing more than a thin slice of chocolate sponge cake with chocolate frosting, some cream frosting in between the layers, and a dusting of bitter chocolate on top. It was still pretty good, though. Just not a real tiramisu.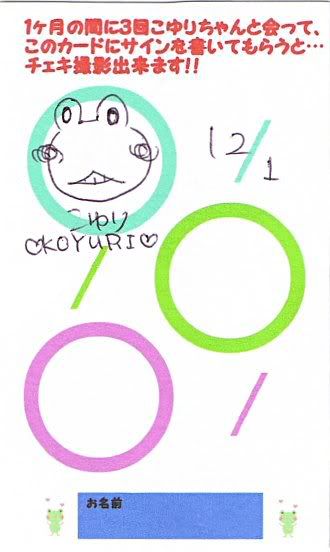 (Back of "idol card".)
At 6:15, my maid came up to ask if I knew "janken" (rock-paper-scissors). After giving me a short demonstration, the maid got up on stage and ran through a short routine with various poses and the name of the cafe thrown in, followed by jan-ken-pon. One of the other customers won, and received a free maid photo using his own cell phone camera. A little after 6:30, we all gathered near the stage again, this time for the night's "mini live". Each mini-live varies from night to night (Wednesday, it's a maid cook-off) and this one was a dice game against the second maid. In the first round, everyone rolls one die; in the second, two dice; and 3 dice in the final round. Person with the highest total wins. I tied with the guy that had won the janken, which the maids claimed had never happened before. We had a 1-die roll off tie breaker and the other guy won another free maid photo.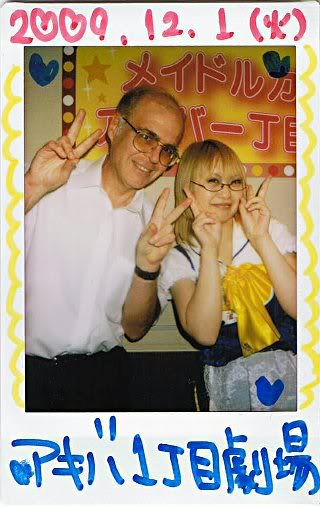 AIT is pretty free with the maid photos. One shot with the maid of your choice is 420 yen ($5 USD), and 2 photos are 735 yen. Winning an event or maid game is another photo, and if you fill up an "idol card" (getting the signature of the same maid on three separate nights within 1 month) is another photo. I did get a photo, which was taken at a small space near the door, rather than at the stage. My maid just suggested the "peace sign pose" so that's what we went with. 525 each for the coffee and cake, 420 for the photo and 315 yen for the cover charge, for a 1837 yen total (about $20 USD). (Actually, there was another 210 yen charge for some odd reason, but I was then given a 158 yen discount for some other reason, which resulted in a slight 55 cent boost to the total.)
(Event card)
They don't really have a point card per se. Instead, you get one stamp on the events card for each mini live, event or maid game you participate in. 20 stamps and you get some kind of present (not explained on the card). I didn't see anyone challenging the maids to a board game or asking them to sing a song while I was there, but both are available for roughly another 500 yen each.
AIT was definitely one of the more fun maid cafes I've been to in a while, and it didn't feel like the maids were having as much trouble understanding me as has happened elsewhere. I recommend looking at the events list before going, in case there's something in specific being advertised that you want to watch.
Summary:
Name
:
Akiba Itchoume Theater
Location
: West of Akihabara JR station about 4 blocks, and north 1 short block. Right next door to
Pash Cafe Nagomi
and
Cafe Mermaid
. On the first floor.
Price
: Moderate
Cover
: 300 yen lets you stay 1 hour.
Food
: A small selection of entrees (chicken rice and chahan, 630 yen; omelet rice, 1155 yen); soft drinks (500-600 yen; add 100 yen for the float version); 900 yen for the maid cocktails.
"Love"
: Standard "welcome home master" and "take care leaving, master" chants, and writing of your choice on the omelet.
Outfits
: Blue top over a white blouse, and blue skirt.
Photos
: 420 yen for 1 photo with a maid; 735 for 2 photos.
Wireless Internet
: (?) (No laptops in evidence when I was there.)
Specialties
: Akiba Itchoume is kind of a performance theater, where the maids sing on stage, and there are little rock, paper, scissors and dice games held throughout the game where the winner gets a free maid photo.
Recommendation
: In terms of just kicking back and having fun, Akiba Itchoume is one of the most relaxed cafes I've been to in months (the last one that was this much fun was
Mai Dreamin' 2
). The maids are very willing to chat, and there are occasional free games that can net you a free maid photo. For 500 yen, you can ask a maid to sing on stage, or play a board game for 3 minutes. Each night there is a different event, such as the maid cooking performance on Wednesday nights. Highly recommended.