Gambling for money is frowned upon in Japan. While for the most part it's considered illegal, the law is enforced sporadically, if at all. Pachinko parlor, which are usually run by the Yakuza, get around the law by doing two things. First, they pay out the winnings in candy bars, packs of cigarettes and cans of beer. Each item has a fixed yen value. Second, they move the payout window a short distance from the parlor, and exchange the chocolate, beer and tobacco for cash. So, no one *directly* wins money from the parlors, but they still get their cash payouts somehow.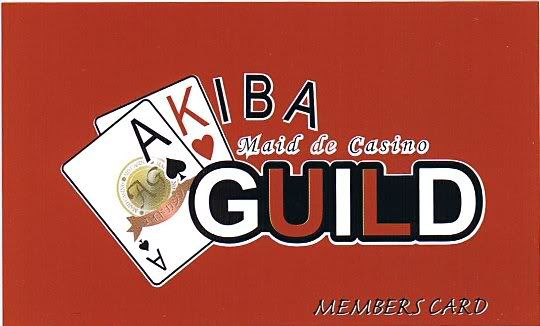 In Akihabara, though, the maid casinos definitely do NOT pay for cash You get the chance to buy branded items (laminated cards or ash trays), and you can advance up the rankings to become top dog of the casino's gambling set. The two casinos I know of so far are
Guild
, and
Tenpane
. I don't play Mahjong, so I don't know when I'll visit there.
Guild
could be considered to be a maid cafe that offers a chance to play poker against the maids, except that no one's there for the food. Instead, this is a casino that offers snacks and drinks while you play poker, roulette and baccarat.
Akiba Guild
(Casino)
Tenpane
(Mahjong)
Just as I was about to write up this entry, the Metropolis decided to run Galbraith's latest drivel. The caption "Japanese fanboys are discovering that luck, too, is a lady" is particularly insulting to everyone involved. Maid casinos have been around for a while, so it's not like they're being "discovered" now (except maybe by Galbraith himself). Most people visiting Akiba Guild are businessmen or office ladies. You don't see the classic "okatu" (as defined by Galbraith as being a socially inept male college student who's only interested in anime, manga or video games). And, the focus of the article is on pachinko parlors that are now installing machines that are designed to attract anime fans - of course, if you target a specific market, you're going to see more of that market arriving for your product or service. In this case, the idea is to get video game fans to come in to spend their money in the parlors rather than at video game stores. Thing is, this isn't a new idea either; anime-based pachinko machines have been around for years and you can find them all over Japan, not just in Akihabara. If Galbraith had just focused on reviewing the machines and stayed away from commenting on the people there to play them, he might have had something to write about.
Read at your own risk.
Otaku Gambling