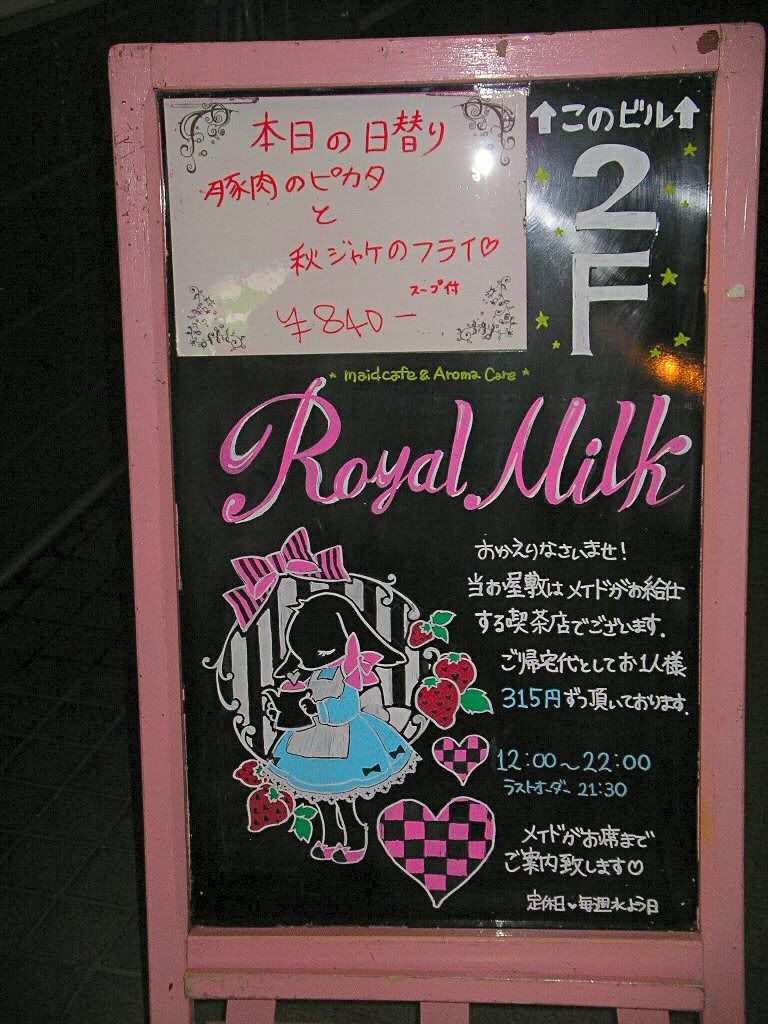 Royal Milk
is kind of a strange beast. They advertise themselves as "Aroma Therapy and Cafe", yet the website doesn't list their menu, events (deactivated button) or links (deactivated button) while focusing on listing the prices for their aroma therapy and reflexology service. Yet, at the same time, the actual location on the second floor just seemed to have the cafe; I didn't see anything related to the aroma therapy. Didn't see anyone walking into strange little backrooms for 10-20 minutes and coming out grinning, either.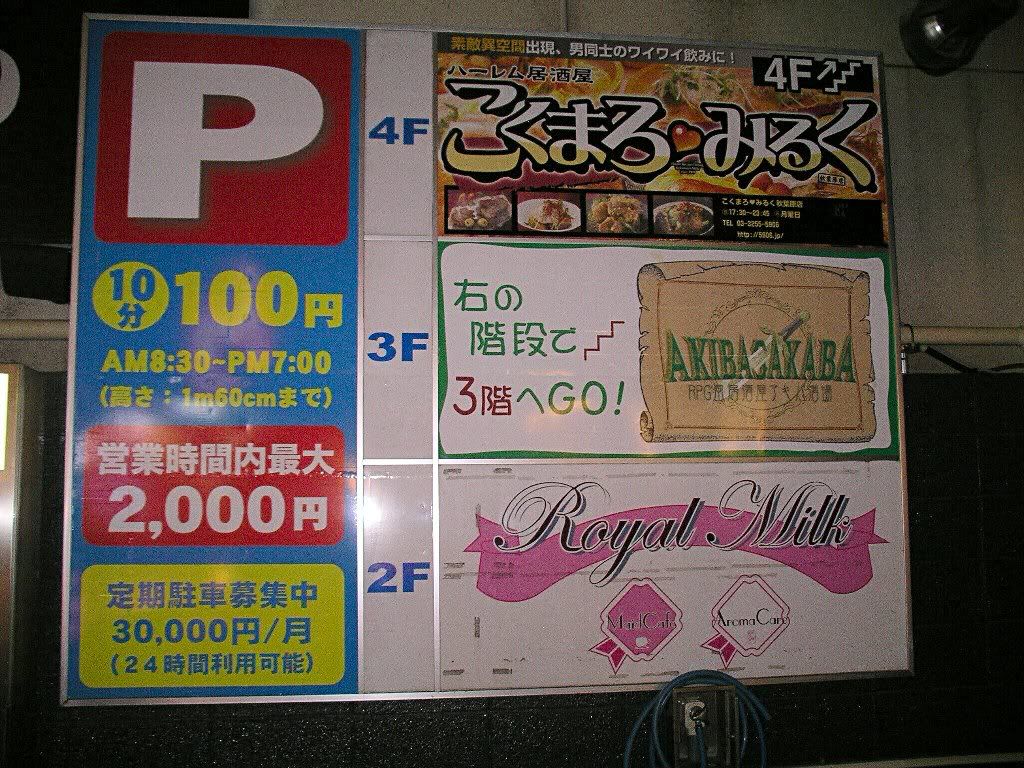 (Sign at street level.)
The cafe is fairly easy to find. Head north on Chuu-ou Dori from Akihabara station. When you get to the corner of the Donkey building, turn left down the side street. Royal Milk is 1.5 blocks down, on the 2nd floor on the right. The cafe is in a medium-size room with 2- and 4-person white Formica tables and wood-and-metal chairs for holding about 30 people. There's no real non-smoking area; the smoke fills up the place even if only one person's lit up. The cash register and goods counter is right next to the bartender's station where the food orders are delivered. One shelf to the side has lots of little anime figures and a weird-looking female tanuki statue. The opposite wall has a case filled with various books if you want something to read, and there are some Pikachu hats scattered about. Opposite the cash register, there's a table with a small grill, where they were slow cooking a fish. I doubt the fish was part of the aroma therapy. At one point, the chef replaced the fish with a slab of some kind of meat, and the maids ate the fish with cries of "oishii".
I was greeted with the "welcome home master" chant when I arrived, guided to a table against the wall, and given a menu in English. The maid told me about the day's specials, and set a small bell on the table for me to ring when I was ready with my order. I decided on the daily special entree, which in this case was a pork cutlet pasta and a cup of soup for 800 yen. The dinner set drink is an additional 300 yen, but only if you choose tea, cola, or melon soda. I got the melon soda. There is a 300 yen cover charge, which they didn't mention when I came in, and they don't offer maid photos. So, the meal came to 1470 yen total (with tax), which was actually very cheap for a maid cafe. There's also "no camera" and "no cell phone" signs all over, so I couldn't get a shot of the food.
The melon soda arrived first, in a fairly large glass with not too much ice. No added flavor chants, though. About 10 minutes later, they brought out a cup of a thick mushroom cream soup that was good but not outstanding. After about half an hour, the maid came over to apologize that the food was so late and that it would be done soon. A couple of minutes later, she arrived with a medium-sized bowl filled with noodles covered in a curry sauce, with 3-4 strips of grilled pork on top. The pork was juicy, the curry slightly spicy and very tasty, and the noodles al dente. Over all, it was just the right amount of food and I decided against getting a dessert.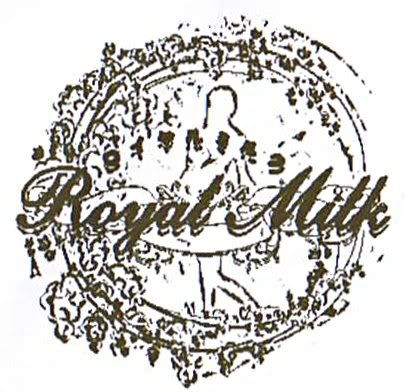 (Logo on the receipt.)
I'd arrived at 6 PM on a Tuesday night, and there were only 5 guys then. Most of them had left when I was done and no one else had come in. A slow night. The maids were fairly reserved, polite but not really talkative to any of the other customers, spending maybe 3-5 minutes chatting. However, when I left, my maid walked me out to the stairwell, told me to be careful and then bowed during the entire time I walked down to the sidewalk.
(Napkin)
There is a points card. 1 point per visit for the cafe; 2 if there's an event. 2 points for aroma therapy; 3 if you spend over 5000 yen. 16 points gets you a maid photo, a 500 yen discount, or some other kind of branded goods item.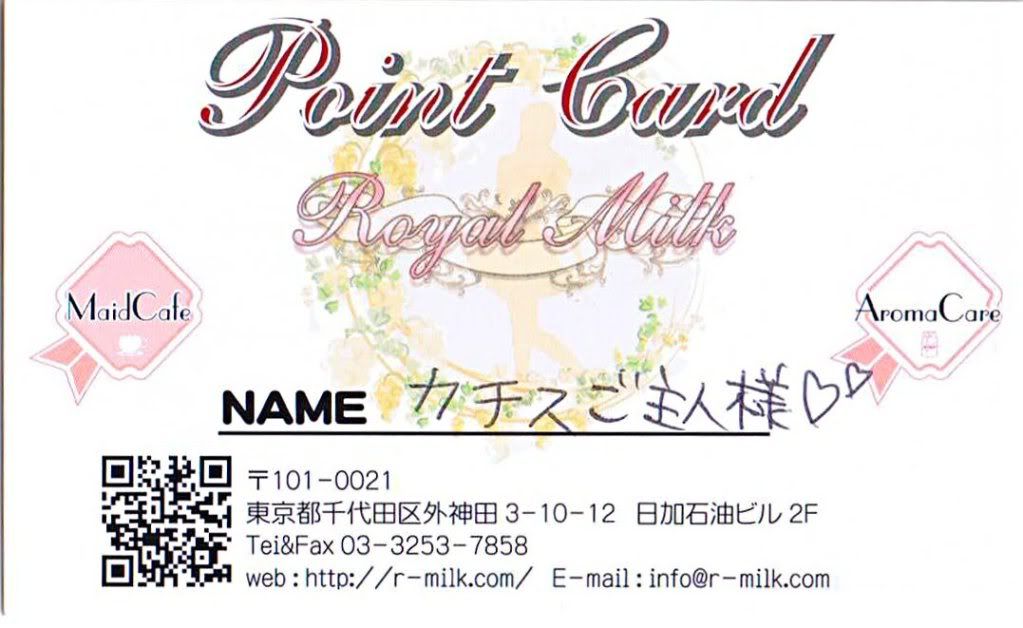 The website does list the reflexology and aroma therapy services. Most are in the 1000 yen to 7000 yen range ($12-$78 US). If I ever go back, I may try asking for the details. As I mentioned above, the food is a very good deal for a maid cafe, and if I just wanted to get something to eat in a maid setting, I'd pick Royal Milk for it. But, I'm a non-smoker, and the heavy smoke in the cafe got in the way of my enjoying the meal. For that reason, I'd rather go to
Cure Maid
or
Eine Burg
instead. Even if it does mean not getting the 16 points for earning the maid photo.
Summary:
Name
:
Royal Milk
Location
: West side of Chuu-ou Dori, down the side street just opposite the Donkey Building, 2nd floor.
Price
: Moderate
Cover
: 300 yen lets you stay 1 hour.
Food
: Some dinner entrees, soft drinks, beer, desserts and mixed cocktails. Entrees include the regular curry, omelet rice and pasta, plus daily specials.
"Love"
: No special "added flavor" chants or drawing pictures on the drinks.
Outfits
: A light pink or dark blue blouse and skirt with white apron and lace.
Photos
: Maid photo only if you fill up the points card.
Wireless Internet
: (?) (No laptops in evidence when I was there.)
Specialties
: This is an "aroma care" cafe, which includes reflexology sessions and aroma sessions. However, all I saw was the cafe, so I don't know where the aroma therapy takes place.
Recommendation
: In terms of maid cafe food, this is one of the better deals in Akihabara. The pork cutlet pasta I ordered was very good, and the soft drink came in a large glass. Although there was the 300 yen cover, it still came to only 1474 yen. Which is a good deal for a maid cafe. I just wish they had better ventilation. Recommended if you're a smoker.