Reflexology
is a popular massage form in Japan, kind of related to
shiatsu
. You can find places all over Tokyo that offer it. Usually, the advertising photos outside the shop show a hand or foot being rubbed. According to the wiki entry, reflexology is an alternative form of medicine that consists of applying pressure to the foot, or maybe the hands, to improve general health. Of course, it's impossible to discuss massage without people immediately thinking "
massage parlor
", especially when talking about places in Tokyo. But, the places listed below are strictly non-sexual (as far as I know, I haven't gotten around to actually going inside them). I'm not reviewing any of the places here, just listing the ones where the staff is in maid outfits.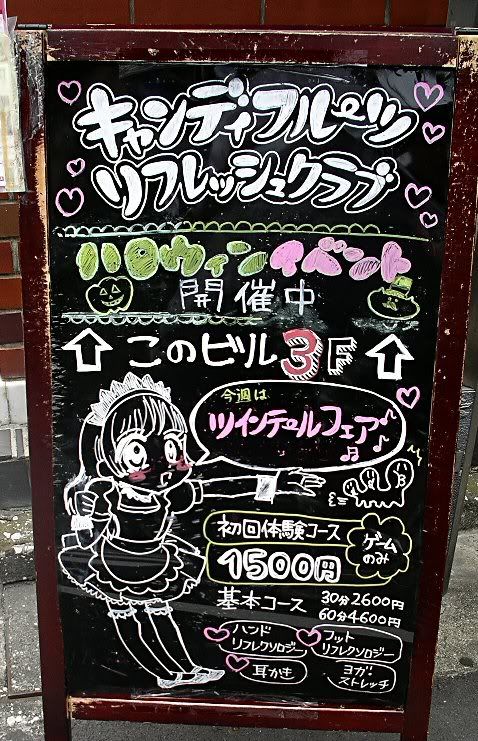 (Candy Fruits Refresh Club.)
Some of the maid reflex shops also offer food, making them "reflex and cafe". The two ear cleaning shops in the previous post may also offer reflexology. I'm having trouble finding a URL for My Cure, since the name is so non-distinct. At some point, I'll have to drop by there and see if I can get a flier.
Akiba Head in Lap Nurse Station
Akiba Treading Girl's Academy
Candy Fruits Refresh Club
Cutie Relax
Angel's Door
Nagomi-ya
(Ear Cleaning)
Happy Honey
Plarna Reflex
MIA Relaxation
My Cure
Melty Cure
Yamamoto Ear Cleaning Lovable Retreat
Your Maiden