Akiba Academy, Year 2, Class 1
is a slight departure from the regular maid and cosplay cafes here, as the staff takes on the roles of second year school girls, uniforms and all. The cafe doesn't quite have a classroom vibe to it, and few schools that I know of have a full bar in the room. Which is a pity, because that would have made most of my classes in school a lot more worth attending.
When I arrived, there were three customers sitting at the counter, comparing maid photos with the staff. I was directed to sit at one of the wooden tables, and then one of the girls came over with the menu. They were very relieved when they discovered that they didn't have to deal with me in English. Doesn't look like they have an English menu. The room is long and relatively narrow, located on the 4th floor of the same building as Eine Burg. To find Akiba Gakuen, head out across Chuu-ou Dori from Akihabara station, and when you reach Tsumakoizaka street, turn right. It's just before you get to Kuramaebashi street, on the right. near
Mai:lish
.
They have a full menu, including curry rice, omelet rice and the rest. The special for the evening was niku jaga (sliced steak and potatoes). You can get the entrees by themselves or as a set with a cup of soup. The prices are a little on the high side, and soft drinks are separate from the meal sets. They do have a range of desserts (between 500 and 1000 yen), beer (700 yen) and mixed drinks (900 yen). I decided to get the omelet rice set, plus hot coffee and a maid photo. With the 500 yen cover charge, the evening came to 2800 yen ($30 USD).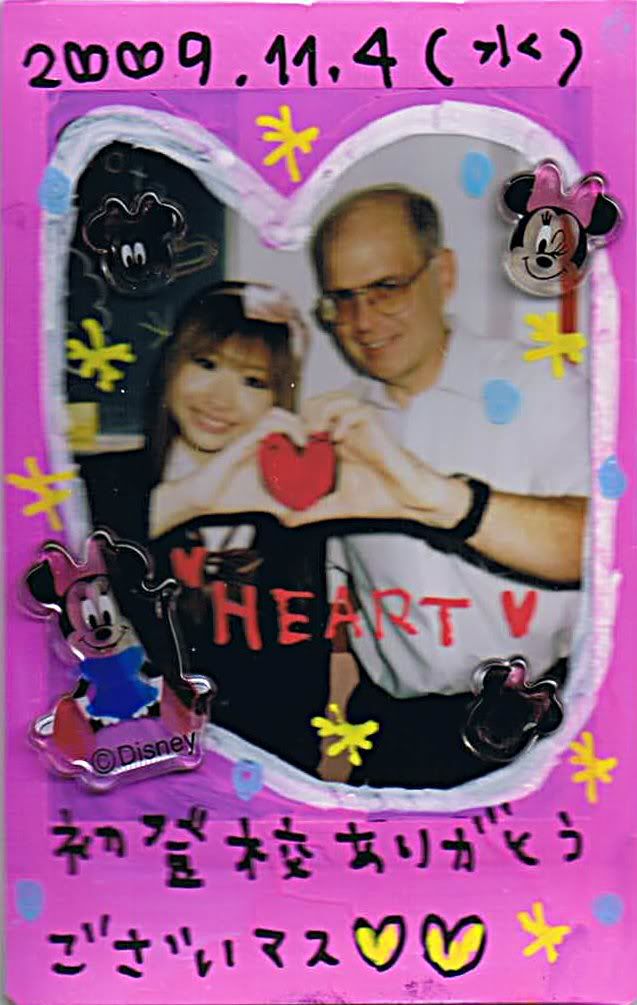 When the coffee came out, the server poured the milk and cream into the cup and stirred it for me, but there was no added flavor chant. When the omelet rice came out, she asked me what I wanted drawn on it in catsup. I figured I'd go with the standard "neko" (cat) and she acted horrified, saying that she can't draw cats. But, she finally settled on Hello Kitty, which came out well. When I asked if I could take a photo of the food, there was a long discussion which ended up with "only if you stand outside the door and shoot into the room". That seemed like too much work, so I passed on that. The coffee was good, as was the omelet rice (just a pile of spiced red rice with a scrambled egg on top). The soup was an onion soup, I think, with bread pieces in it. It was quite tasty. I liked the soup the best.
Maybe it's because the cafe hadn't started getting packed yet, but a couple of the "students" came over to my table several times to talk. This is where knowing at least some Japanese makes a huge difference between just having a meal in a cafe, and being able to enjoy yourself with everyone else there. Mostly, we talked about anime, and about the other cafes in the area. Also having my electronic dictionary with me was a good thing, because I had to look up a number of words I didn't know along the way.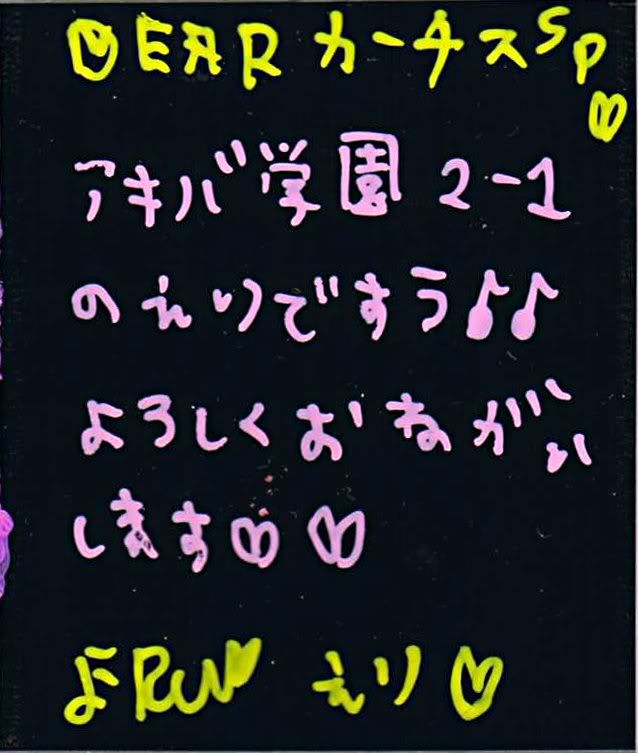 Then came the maid photo. Akiba Gakuen has a slightly different system than other cafes that offer photos. Here, it's 500 yen for just the shot of the student of your choice. If you want to be in the photo as well, it's 800 yen. But, to make up for the extra cost, the servers go to great lengths to spice up the photo. They even have parts cases holding the colored pens, stickers, and other accessories. My student spent at least 15 minutes on the photo, going so far as to write on the back (which hasn't happened at any of the other cafes so far). The reason the photo looks blurry is that it's 3D; the scanner focused on the Minnie Mouse gummies stuck on the photo and couldn't see the photo itself some distance off the scanner bed. Because of the work done on it, my student took another couple minutes to wrap up the photo in a sheet of wrapping paper. It's certainly the fanciest photo I have in my collection.
There's also a points card. I like the design. 1 point per 1000 yen spent on food. Get 21 points to fill the card and get 500 yen off next time. Not one of the better return rates, but if you like coming here often, then the card gives you some benefit, anyway.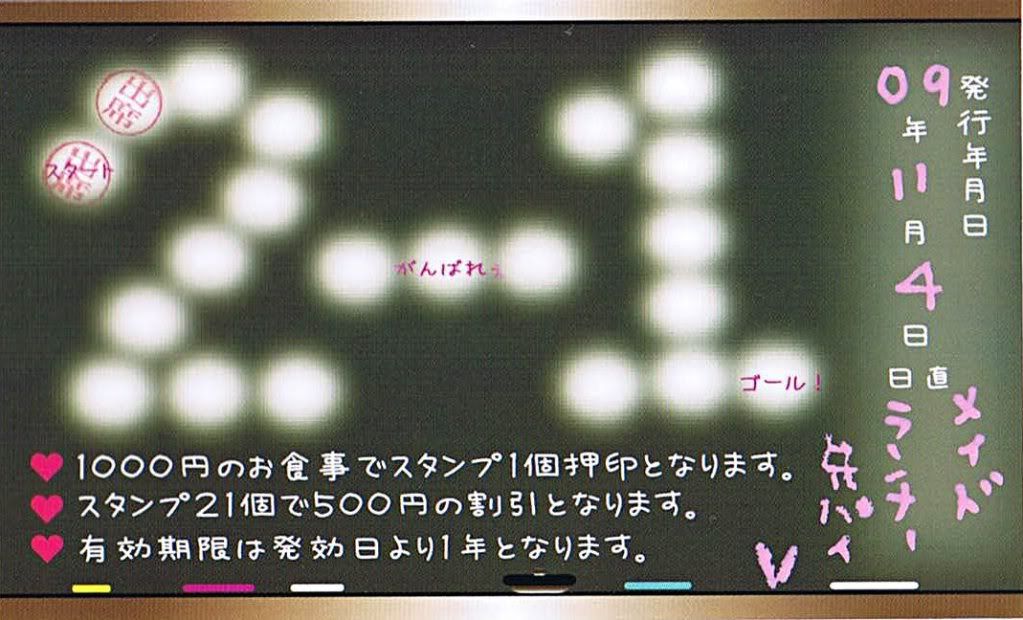 Summary:
Name
:
Akiba Gakuen, Year 2, Class 1
Location
: Tsumakoizaka, just short of Kuramaebashi. 4th floor.
Price
: Moderately high.
Cover
: 500 lets you stay 90 minutes.
Food
: Along with the standards (omelet rice, pastas), they have more upscale dishes. Not quite upscale but filling is the niku jaga (potatoes with sliced steak). Set dishes include a bowl of onion soup. Prices range from 900 to 1600 yen for sets. Soft drinks are 500 yen. Desserts are 500 to 1000 yen. Beer is 700 yen. Mixed drinks 900 yen.
"Love"
: Drawing of your choice on the omelet rice. Staff pours the milk and sugar into your coffee and stirs it for you.
Outfits
: Campus school uniforms (blouses, skirts and blazers).
Photos
: 500 yen for just the maid; 800 if you pose with the maid.
Wireless Internet
: (?) (No laptops in evidence when I was there.)
Specialties
: A recreation of an all-girls campus.
Recommendation
: Akiba Gakuen tends to be more expensive than other maid cafes, but there's much more emphasis on prepping the maid photos. And, if you can speak Japanese they'll carry on conversations with you during your entire stay. Definitely recommended if you like collecting maid photos.