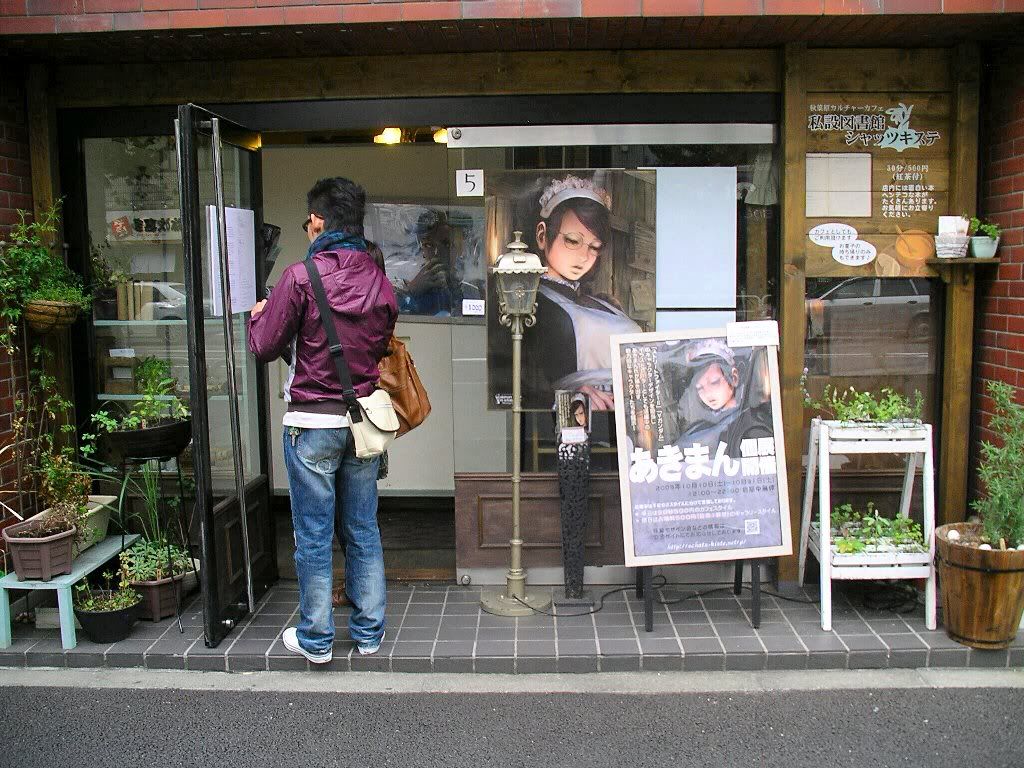 (Day and...)
Schatzkiste
has taken on an interesting motif - a German tea house/library combined with an American board game meeting room.
(... night.)
Schatzkiste describes itself as a German library, and it does have a couple hundred books on the shelves, but they also host gaming sessions for people wanting to play TCGs like Yugi-oh or Magic: The Gathering. They also have a selection of board games to choose from if you want to challenge a friend or stranger. The maids wear "elegant black dresses with white aprons and white lace hairpieces". The floor space is fairly narrow, and you're expected to share the tables with everyone else. Maximum seating capacity may be 30 people. The woodwork is a dark mahogany, and antique clocks show you the time.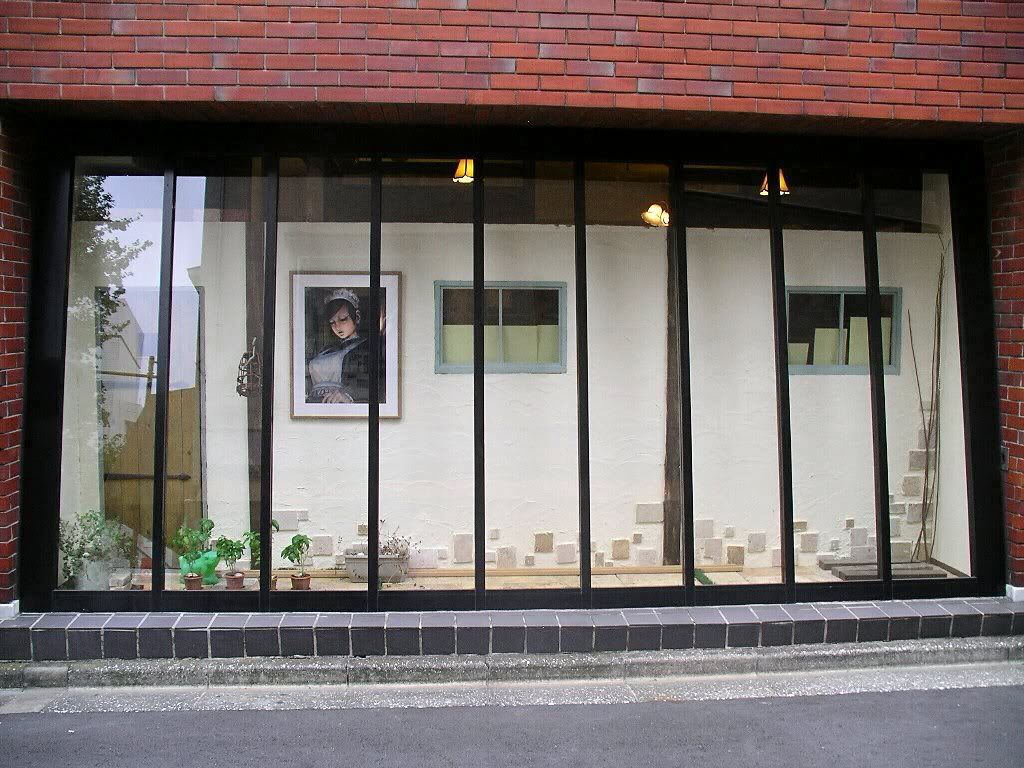 (Around the corner.)
There's a cover charge of 500 yen per half hour, but this includes free tea. While I was there, the hot tea served was a Ceylon. They also have ice tea. The menu is limited, including a plate of tea cookies, some light cakes, and a bowl of hot soup. The soup is so thick that you can eat it with the provided pieces of bread like a fondue. All items are between 300 and 500 yen.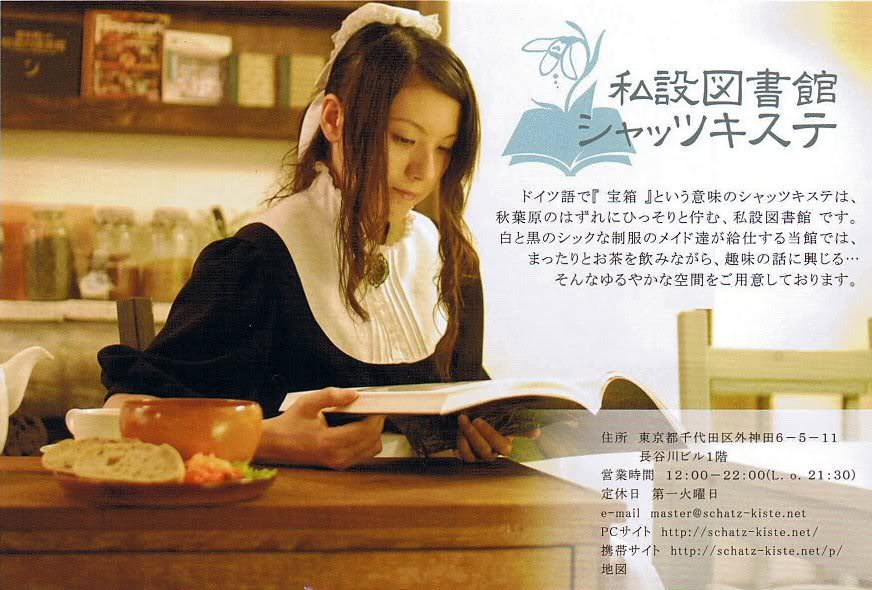 (Flier for cafe)
There's no maid photos here, but they do have a points card. 500 yen per point, and the points have a purchasing power of 5 yen each if you want to get the branded items at the cash register (post cards, tea, etc.) The customers were about 80% single men (salarymen and college students) and the rest mixed couples.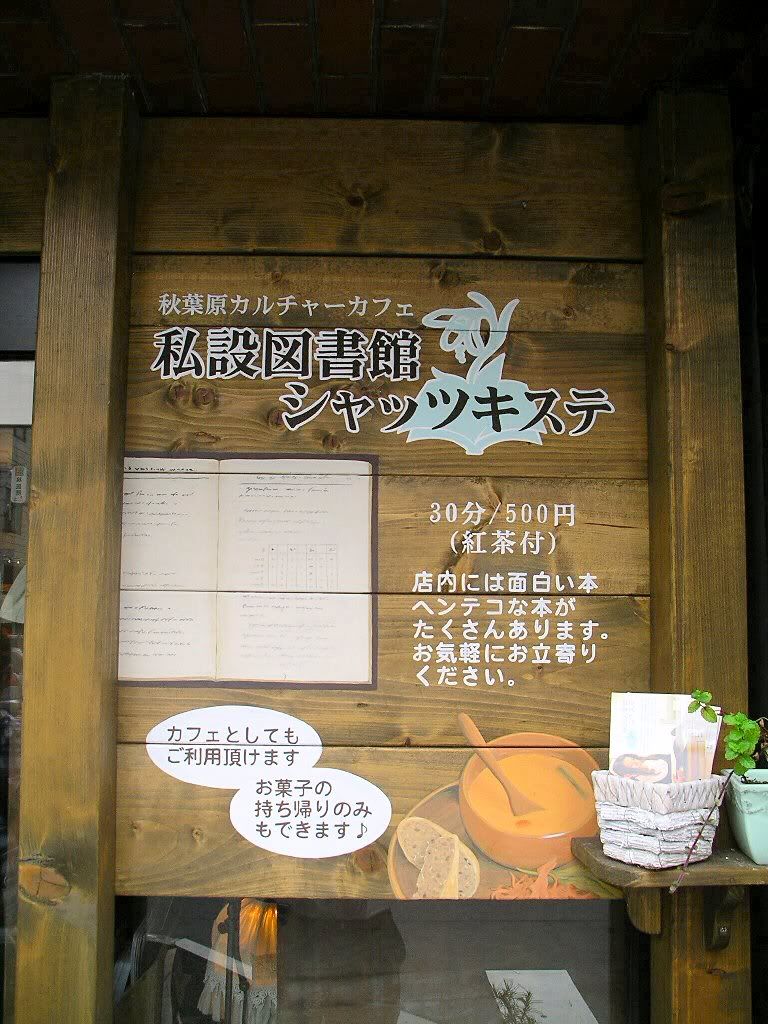 (Closeup of the signboard at the front of the shop.)
The seating arrangement encourages strangers to talk to each other (although, in Japan, talking to strangers is not a normal activity) and to engage each other in the board games. One of the other guys at my table started by asking where I'm from, and eventually got around to challenging me to an older German game called "
Geister
", or "Ghost" in English. Originally released in Germany in 1982, Geister is a
very simple game
that has a very complex strategical element. Two players start out with 4 red and 4 blue ghosts each. The ghosts face the player so the opponent can't tell which is which. Players take turns moving one of their ghosts one square on the playing board (forward, back, left or right). If you land on the square with an opponent's ghost, you take that ghost. The goal is to either take all of your opponent's good (blue) ghosts, give up all your bad (red) ghosts, or be the first person to get a good ghost to the "exits" at the opposite corners of the board and then off the board. It's a bluffing game, and you never know if a ghost that's making a run for an exit is a good ghost trying to win the game, or a bad ghost threatening your back line. We only played one round, but I won by accident (I still had no real idea what I was doing.)
(Points card)
From September to October 31, Schatzkiste is doubling as an art gallery, hosting the works of the famed
Akiman
.
Akira Yasuda
started at Capcom as an artist for the box art on the NES version of "1942". He then worked as a planner on the Street Fighter II series, The Punisher and Darkstalkers, and as a character designer for Gundam: Giren no Yabo. He left Capcom in 2003 to go freelance. He's also credited as a mecha designer on the "Code Geass" anime, and character designer on the "∀ Gundam" anime series. He's done some DVD box art and has had at least one book of his own work published. The pictures shown at Schatzkiste are all incredibly well-executed, with Chun-lee showing up several times, but there is a bit of etchi-ness to a couple of them. I don't know if the following is related to the exhibit or if it's a regular feature of the cafe, but there are several sketch books lying around with artwork from the customers. A large percentage of the sketches are professional grade, and it looks like you're allowed to do your own drawings if you want to.
Overall, this was one of the more fun, relaxed cafes I've been to in a while. There is a refined element to the cafe, similar to Cure Maid, but I haven't really being able to sit down and just play a game like backgammon against someone at a cafe like this since I last lived in Minneapolis.
Summary:
Name
:
Schatzkiste
Location
:
Kuramaebashi
, just east of the Jonathan's at the intersection with Tsumakoizaka. On the ground floor.
Price
: Moderate.
Cover
: 500 lets you stay 30 minutes.
Food
: Some light pastries, like tea cookies and chifon cake. Does include a bowl of soup with bread. The tea is all-you-can-drink.
Service
: Very elegant and friendly, but reserved. The maids don't speak English and there's no English menu. However, the menu does have pictures of the food.
"Love"
: No special "added flavor chants", no writing on the food.
Outfits
: Long black dresses with white aprons and lace.
Photos
: No maid photos.
Wireless Internet
: (?) (No laptops in evidence when I was there.)
Specialties
: This is a library of sorts that lets you sit down, read, play board games or chat with friends. From September to October, the cafe hosted an art display from Akira Yasuda. Future art exhibits may be possible.
Recommendation
: Schatzkiste hosts various trading card game and board game events, as well as just acting as a place for people to sit and play 2-person games ala go and shogi. The atmosphere is refined, and free tea is provided as part of the cover. The menu is limited to cookies, cake and a bowl of thick soup. The cafe is modeled on a German motif. The only caveat is that you're paying 500 yen per half hour, rounded up. Highly recommended.