Of all the maid cafes in Akihabara, several belong to a chain, or at a minimum have more than one location just a few blocks apart.
Pinafore
has 2 locations,
@Home
has 5 (four in the same building), "Little" (Little BSD,
Little
TGV, etc.) has 3 or 4 (depending on if you count all the links from their website), and then there's Mai Dreamin'.
Mai Dreamin'
just opened a third location in Akihabara a few weeks ago. I figured that it was time to fill out the full set, since I'd already been to
MD2
, and was on my way to MD3 along Chuu-ou Dori when I encountered a maid handing out fliers on the street. A quick glance confirmed that the flier was for Mai Dreamin'. I asked her for directions to the original shop, and she told me to keep walking a couple more blocks down the street, turn left at the next signal and to look down the side street just off Chuu-ou Dori. When I got to what I thought was the right area, I couldn't find the desired building. However, I almost immediately ran into another Mai Dreamin' maid handing out fliers, and she escorted me one more block along Chuu-ou, and then up to the cafe on the 6th floor.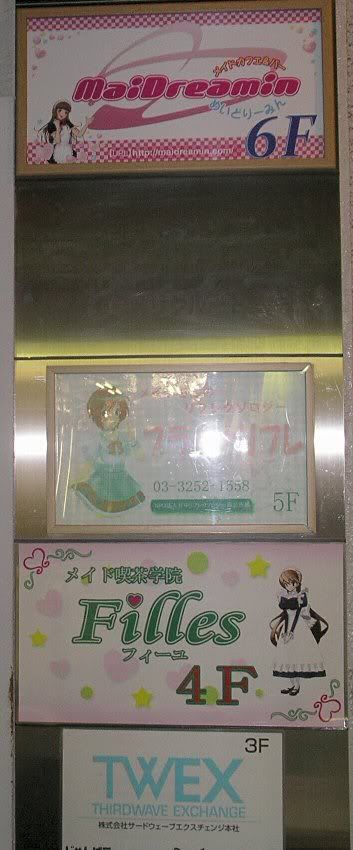 The original shop, MD1, and MD2 have very similar interiors - brightly lit, white walls, white Formica tables, a few booths, and small, flimsy-looking white chairs. One long table along one wall seats about 5-8 people, and the place can hold about 30 people total. There's a 500 yen cover per hour for the one-person seats, and 500 yen per 30 minutes for the booths. A set of shelves in front of the elevator contains the branded goods, like CDs, keitai straps, etc. J-pop (probably sung by some of the maids themselves) plays continuously in the background.
They have an English version of the menu, but it's missing the monthly specials. A couple of the maids enjoyed practicing their English on me, and it was good enough to be understandable if you don't speak Japanese. They greeted me with the "Welcome home, master" chant, used the "added flavor" chant over the food, and sent me out the door with the "please be careful, master" chant. One of the other customers ordered the omelet rice and had a cat drawn on it. Down at another table, some of the customers were challenging a maid to a board game for 500 yen for 3 minutes. A couple maids came by to ask what manga I was reading (Tezuka's "Don Dracula"), and they also chatted with some of the other customers. At 6 PM on a rainy Tuesday evening, the cafe was still rather quiet, with only 5-6 customers, mostly businessmen. My neighbor turned out to be a young Indonesian guy trying to decide which animation school to join as a student.
MD1 has a larger selection of alcohol than MD2 did, and there's more of an emphasis on mixed drinks in the menu. One of the special items is the "God Drink" which includes a bottle of Dom Perignon. Several empty Dom bottles, embellished with hearts and stickers, lined one window sill. Suffice it to say that this is not one of the cheaper things on the menu. Entrees include the standards (curry, omelet, hamburg steak, pasta) in the 800-1000 yen range, and a number of items can be super-sized for a couple hundred yen more. Desserts are 700-900 yen, mostly cakes and parfaits. Soft drinks are 500 yen. I got a dessert/maid photo set for 1400. This gave me a choice from two desserts, and of any soft drink on the menu (no refills). I chose the chocolate panda and an ice coffee.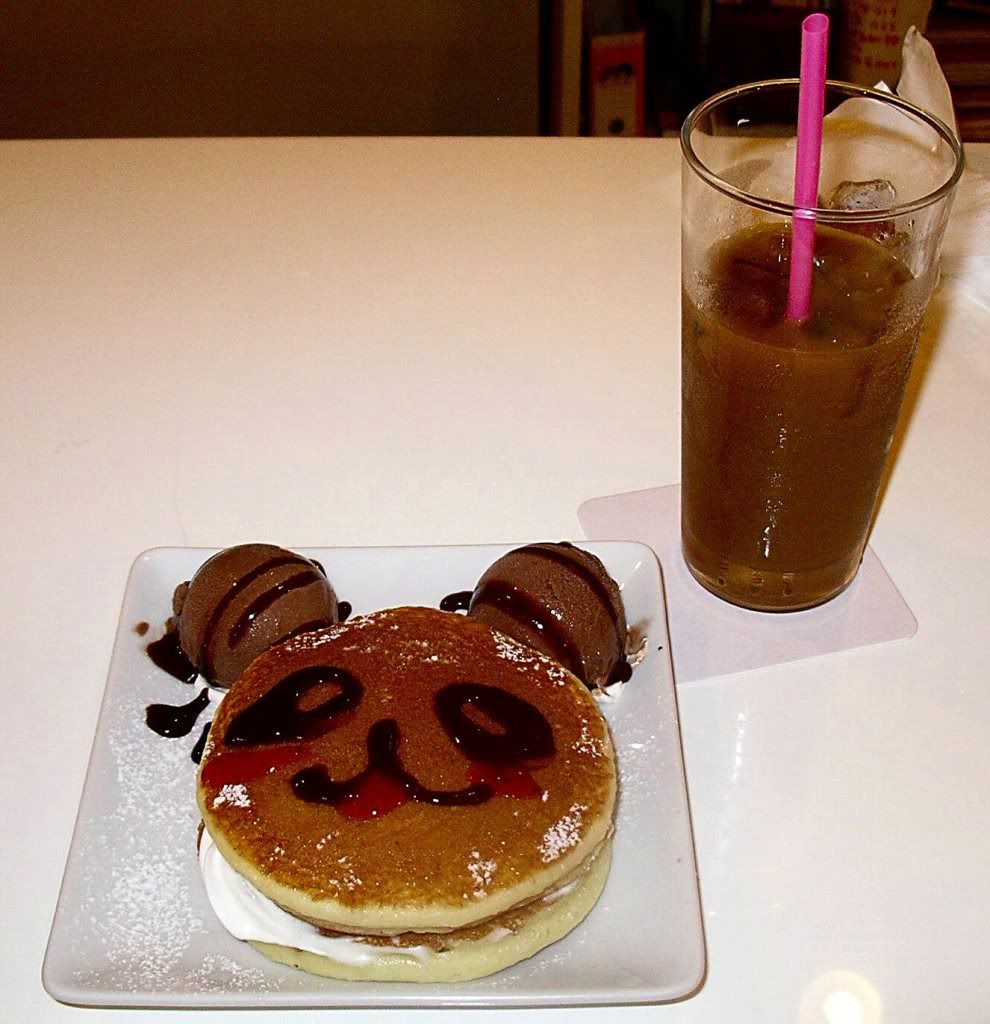 The ice coffee was pretty good sized, compared to other maid cafes, and tasted ok. The panda was made up of two waffles sandwiched around whipped cream and some canned fruit (melon and grapes), with artwork in chocolate syrup, chocolate ice cream for ears and more whipped cream. It was good, but the molten chocolate cake at MD2 was a lot better. In any event, the panda was cute, and Mai Dreamin' does allow photos of the food. At one point, a businessman nearby ordered a mixed drink, and looked very embarrassed when the maid went through a 1-minute "nyan nyan" chant that included the rest of the staff as she shook the shaker. The shaking of the drink ended when the chant finished.
At the end of my meal, my maid came over to tell me that she was ready for the photo, and she had me do the "cat paws" pose. A few minutes later she returned with the embellished photo (I wrote down the word "embellish" for her in case she wants to use it on another customer). The dessert set and cover came to 1900 yen ($20 US), which is a bit on the high side, but is about normal when you figure that the photo usually runs 500 yen by itself. What hurts the most is the 500 yen cover.
It's interesting, the number of cafes that I've gone to lately that don't offer maid photos as a separate, buyable item. It's kind of nice finally being at a maid cafe where I can get one as a souvenir. However, it does look like Mai Dreamin' still doesn't offer a points card. Overall, I had fun, and I recommend both MD1 and 2. Although, MD2 did have more of a party atmosphere when I was there, MD1 would be a better setting for large office drinking parties.
Summary
:
Name:
Mai Dreamin' 1
Location:
Just west of Chuu-ou Dori, 4-5 blocks north from the Akihabara JR station
. On the 6th floor.
Cover:
500 yen lets you in the door to stay 1 hour.
Price:
Moderate-high.
Food:
Large-serving specials for the omelet and curry
, as well as regular-sized entrees of the same type. Hamburger patties and pasta. Entrees in the 800 to 1000 yen range. Soft drinks are 500, cocktails and wines are 1100 yen. Desserts include parfaits, cakes and smoothies, in the 700 to 900 yen range.This location is more of a bar, and features bottles of Dom Perignon.
Service:
Very friendly and outgoing.
"Love":
"hoi hoi gyu" over the drinks; a similar chant is made over the foods and desserts. Drawings of your choice on the food in catsup.
Outfits:
Black dress with white apron and blouse.
Photos:
500 yen, with one maid, or 1400 yen as part of the dessert set.
Wireless Internet:
(?) (No laptops in evidence when I was there.)
Specialties:
500 yen lets you play a game with the maid for prizes (maid photos, etc.) Various events throughout the year.
Recommendation:
Like Mai Dreamin' 2, Mai Dreamin' 1 is a very relaxed cafe and the maids have no problems talking with the customers. There's no real theme or gimmick here, other than the maids treating you like the master of the house, but the atmosphere is light and the food is good. Recommended.