Akiba Guild
takes up two small floors of the building, on Chuu-ou Dori, just across the street from Usagi no Jinja (Rabbit Shrine), on 7F and 8F. On my first visit, I stayed on the
8th floor in the casino
. To get here, just go 3.5 blocks north on Chuu-ou Dori from Kandamyojin Dori (the street that runs in front of the UDX building and SofMap), enter the doorway on your left and take the elevator up.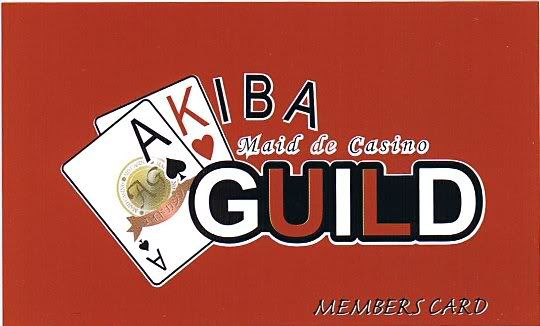 Yes, Akiba Guild is a maid casino where you can try your luck or match your skills against the maids in games such as roulette, baccarat, Texas hold-em, black jack and a couple of others. There are about 5 tables and room for about 5 people per table, so the place can get crowded during peak times. When I arrived, they were over half full with mostly businessmen, although one woman was enjoying herself at the roulette table. There's no English menu or instructions, but at least one of the maids will try to help you out in English. Life does get a lot easier for you if you can understand at least some Japanese.
The rules are simple. 2000 yen gets you $300 worth of chips and a free soft drink (I got an ice coffee, which was pretty good). You can play for 1 hour, after that you're expected to buy another drink. You can get more chips if you want (if I understand the chart right, another 2000 yen will get you $110 in chips).
You're not playing for money.
When you're ready to leave, you can cash out for one of three prize items ($300 in chips plus 300 yen gets you a cell phone screen, $1500 in chips plus 1800 yen gets you an ashtray). Prizes are available on the 7th floor. (The 7th floor is mainly just filled with more tables for playing poker as a kind of overflow room.)
When you pay your entry fee, you get to pick the game you want and then you're led to the appropriate table where you get your chips. The chips are color-coded by player to make it easier for the maids to tell which bets came from which players and printed with the name of the game you're playing. So, if you decide to change games in the middle, the maids have to change your chips around to one of the free colors at the next table. You play until you're out of chips, or when you decide to cash out. You are given one$1 chip that you're expected to give to the maid at the end as a "thank you" present, which lets them know you're out of the game.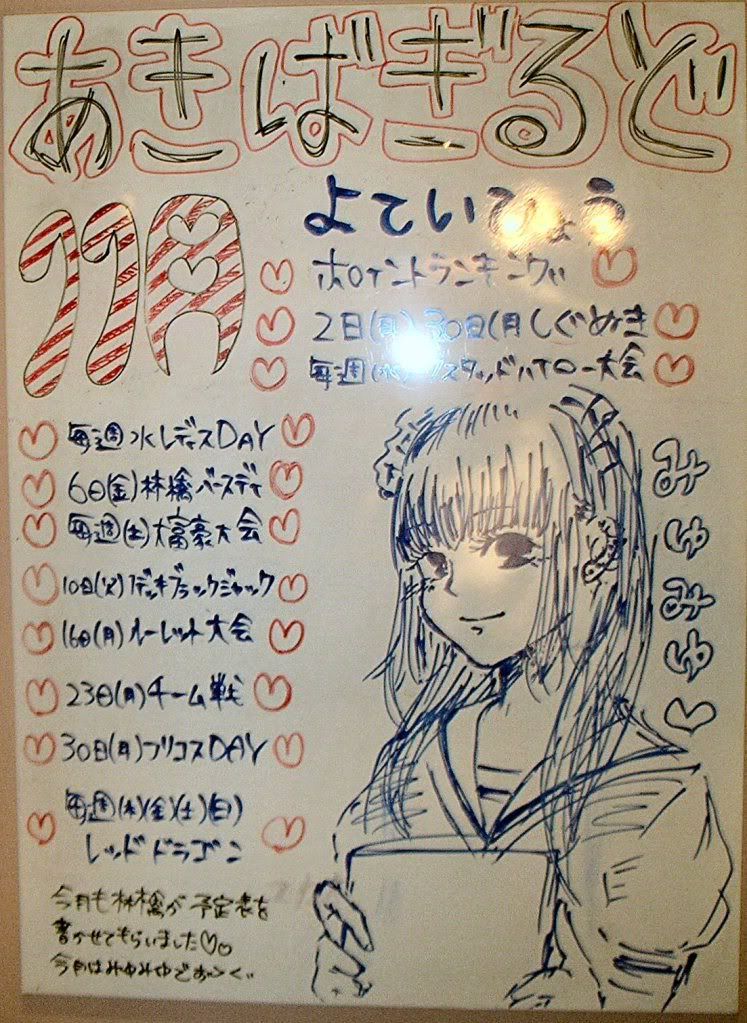 (Events calendar)
There is food on the menu, in the 400 to 600 yen range, including soups, chicken rice and chahan, but I didn't see anyone eating at the time. Soft drinks (cola, coffee, tea and juices) are 200 to 300 yen, and floats (soda, coffee or juice plus ice cream) are 400 yen. Ignoring the fact that you're essentially paying a 2000 yen cover to enter the door, as long as you keep winning chips, the prices for the food are very reasonable.
For the most part, the staff is no-nonsense. The dealers are friendly, smiling when you win and saying "nice catch". But there's not a lot of conversation during the games. However, when I was between games, the maid that greeted me at the door, "Kaeda" (meaning "maple" in Japanese) was very friendly and eager to make sure I understood the house rules. She was also happy to answer my questions at the end when I wanted to get enough info to write up this review.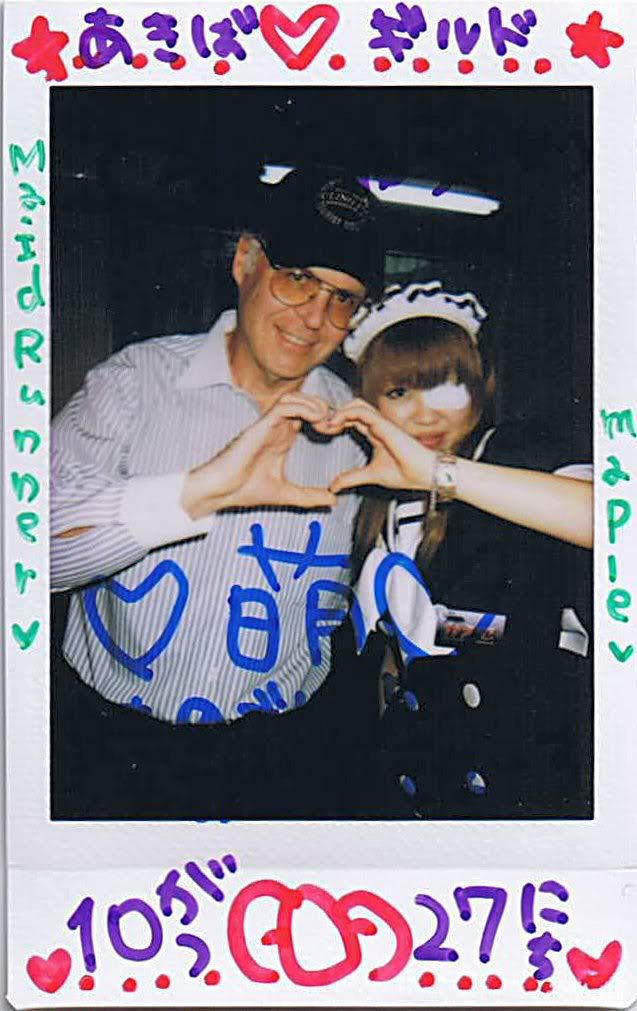 Maid photos are 500 yen. And there is a "members card" that gets you some perks whenever you return to the Guild. There are various events during the week, and tournaments held regularly for those that want to advance in
ranking against the other players
.
I enjoyed myself, but I'm not really a good gambler. I ran through all my chips after about 30 minutes at the roulette table. One of the other players had a very haphazard way of throwing his chips all over the table that generally resulted in his having the biggest stack of chips of the group. The one female player was also holding her own by taking a more conservative approach by playing the corners of the number bets. The players at the card game tables kept quiet, but there was some serious playing going on there.
If you like playing no-stakes games, or if you're new to poker and just want an inexpensive way to get in some practice, Akiba Guild is a good place to go.
For an idea of what the Guild is like, check out the videos on their
youtube channel
.
Summary:
Name
:
Akiba Guild
Location
:
Chuu-ou Dori, near Usagi no Jinja, 8th floor
. 3.5 blocks north of Kandamyojin Dori.
Price
: Moderate. This is primarily a casino, so drinks are cheap as long as you keep playing the games.
Cover
: No cover, but you need to buy 2000 yen in chips to start, and order a drink once an hour.
Food
: Light entrees and soups, but I didn't see anyone eating. Soft drinks and floats.
"Love"
: "Okaerinasai" when you enter. Otherwise, no special chants or drawings on the food.
Outfits
: When I was there, a blue blazer with white scarf and maid cap.
Photos
: 500 yen.
Wireless Internet
: (?) (No laptops in evidence when I was there.)
Specialties
: Gambling. This is a casino where you're playing for the fun of it. No cash payouts. When you cash your chips back in, you can get a cell phone screen or an ashtray. Tournaments are held regularly where you can advance in the rankings against other players.
Recommendation
: If you just want to sit down and have some fun playing against other people for $20 USD or so for an hour, this is a great place to do it. The staff is friendly, but there's not a lot of chatter between players. You're not playing for cash, so don't expect the games to get cutthroat. Games include roulette, poker, Texas hold-em and baccarat. Recommended.