Little TGV
is owned by the same group that has Little BSD, Little MSN and Little PSX.
Little PSX is in the same building
, 3rd floor, and Little BSD is across the street. The common theme is that these are bars that serve some food.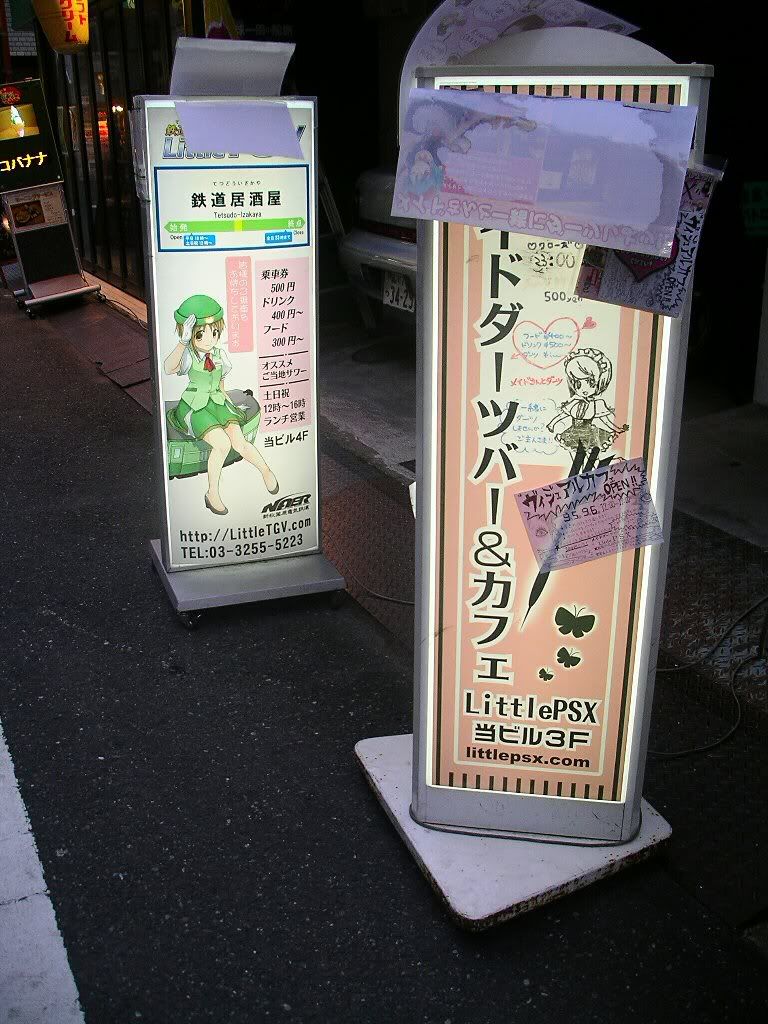 Train chasing is very popular in Japan, and people standing at the end of a platform taking photos of incoming trains is a common sight. A few weeks ago, when one of the older trains was retired, hundreds of people gathered to take one last ride and get photos of it. The event was covered on the evening news. Music CDs have been released with songs aimed at train chasers. So, it's not surprising that a train chaser cafe would open in Akihabara.
Little TGV
is dedicated to the fans of Japanese trains. The serving staff (not really "maids" per se) wear lime green train uniforms, or white sailor dresses. The cafe has dark wood paneling, with wooden benches, tables and chairs for holding about 30 people. Mostly, the seating is for 4-person groups but the atmosphere is of a coffee shop in a 1940's-era station. The walls are lined with transportation maps, photos and signs from different stations. A table is set up in one corner with an N-gauge track running through hills and over bridges. When I was there, though, the train wasn't running. A TV on one wall played a DVD showing some of the maids riding on the trains, and various views of bullet trains. The kitchen is open to the dining area so you can watch the food as it's made.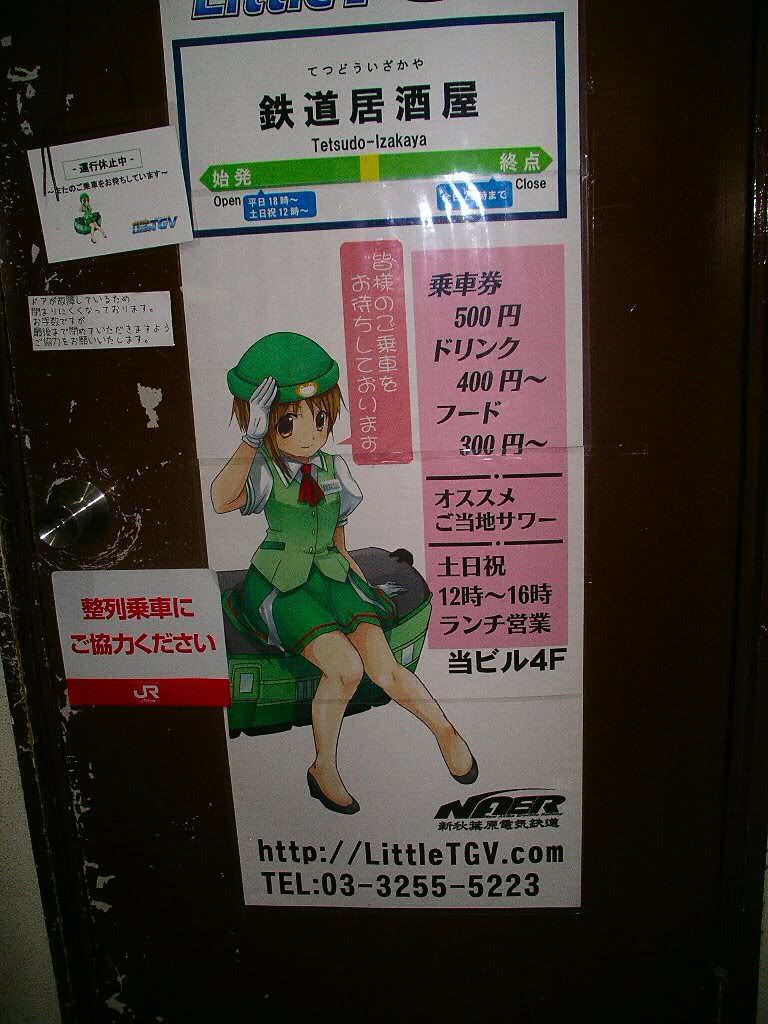 (Notice the train sign on the door that says "tetsudo izakaya" - "train chaser pub".)
TGV does serve lunch, and the hours are noon to 4 PM. But, this is primarily a bar, open from 6 PM to 11 PM (closed from 4 to 6 PM). More correctly, this is an izakaya, where groups of office workers gather to drink. The foods tend to be small plates of fried items and you pay per plate (fried oysters, chicken on skewers, fried onion, and the like at 400 to 500 yen per plate). The drinks include some sodas, beer, mixed drinks and a couple "house specials" that are shaken by the serving staff at your table. The
menu
is designed to look like a version of the Tokyo Yamanote, Chuu-ou, Sobu line map, and all of the items are named after various train lines. If you can't read kanji, just look at the pictures. During the evening, only the fried foods (the A line) plus salads and desserts (D line) are available.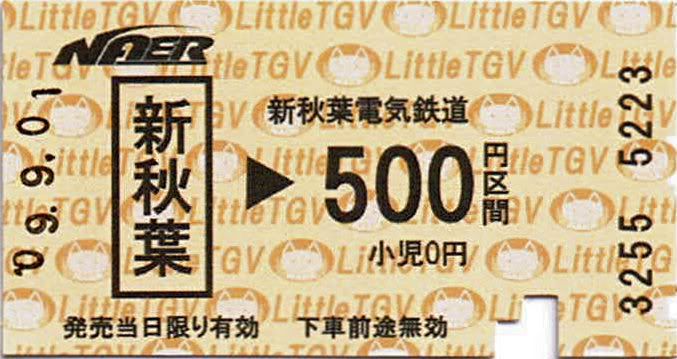 (5 tickets gets you a free drink; 10 gets you a free food item.)
There's a 500 yen cover to get inside, and you receive a ticket when you enter. A staff member comes by and punches the ticket at your table. I ordered two ginger ales, a plate of 5-6 fried oysters and a plate of 2 big cream croquets. The sodas arrived quickly, but the food took a while to prepare. The oysters were heavily breaded, fried dark brown, crisp and juicy. The cream croquets were molten little fried cheese bombs that had a potato-cheese flavor, and hot enough to do searing damage. With the cover, everything came to 2,630 yen ($27). It was filling for one person, but the cost does add up fast.
Next to the cash register, there's a small goods shop that primarily sells music CDs from some of the maids. I can't find an online shop from their website.
I was greeted with a "welcome" chant when I entered, and a "take care" chant when I left. Unlike other maid cafes, there was no "added flavor" chant when the food or drinks arrived, and I didn't see any mention of challenging the maids to board or card games. Since the curry rice is only served during lunch, I couldn't tell if anything gets written on it. The only gimmick phrase was when the sauce was poured on the croquet from a squeeze bottle; the server called out "departing from the station" and when there was enough sauce, I had to called out "arriving at the station" (in Japanese, of course).
The staff is very friendly, and they wander around the room, chatting to the customers for a few minutes each. There's a small book case with train books, maps and manga, and the conversation usually starts out with "what are you reading?" (The answer is generally "a train map".) Since my Japanese is still pretty limited, my conversations don't tend to last long.
I enjoyed my meal, and the cafe is definitely nothing like the run-of-the-mill maid cafes elsewhere in Akihabara. But, like most maid cafes, it is more expensive than going to a regular izakaya, and the setting encourages you to arrive in a large group for an extended drinking session.

(Point card.)
Little TGV has a points card, which seems to be the only way to get a maid photo. It's 500 yen per point, and if you fill one 40-point card, you get the photo. 2 cards and you get a special emblem. 20 cards and you get an "NAER Tour" item. Since it's $200 for a maid photo you can get elsewhere for $5, the only reason for filling up the card is because this has become your favorite drinking party bar.
Summary:
Name
:
Little TGV
Location
:
2 blocks west of Chuu-ou Dori
, 1 block south of Kuramaebashi Dori. 4th floor.
Price
: Moderately high.
Cover
: 500 yen cover.
Food
: The lunch menu includes the standard pastas, curry rice and omelet rice, plus some desserts and salads. But, this is more of an izakaya (bar with finger food) and the evening menu just consists of small plates of fried dishes like fried oysters, shrimp and the like, plus the desserts. The small plates are in the 400-500 yen range each. Drinks are 500 to 800 yen.
Service
: Friendly and attentive. But, you need to be able to speak Japanese to carry on conversations.
"Love"
: No special chants or drawings on the foods in the evening. Can't comment on the lunch meals.
Outfits
: A mix of lime green conductor's dresses, and white sailor dresses.
Photos
: Only available when you fill up a points card.
Wireless Internet
: Yes.
Specialties
: The entire cafe is made up in a train chaser theme, with menu items named after various train lines; DVDs playing on the TV on one wall showing maids on the trains, or just general footage of bullet trains. A small N-gauge train set on a big table in one corner, with tracks running through hills and past towns and lakes. Izakaya setting.
Recommendation
: If you're a fan of trains, and like photographing all of the stations on one line, this is the place for you. Popular with groups that want to sit down, drink and talk, as with any izakaya. If you want a full meal, come during lunch. Otherwise, dinner is just going to be alcohol and greasy finger food.