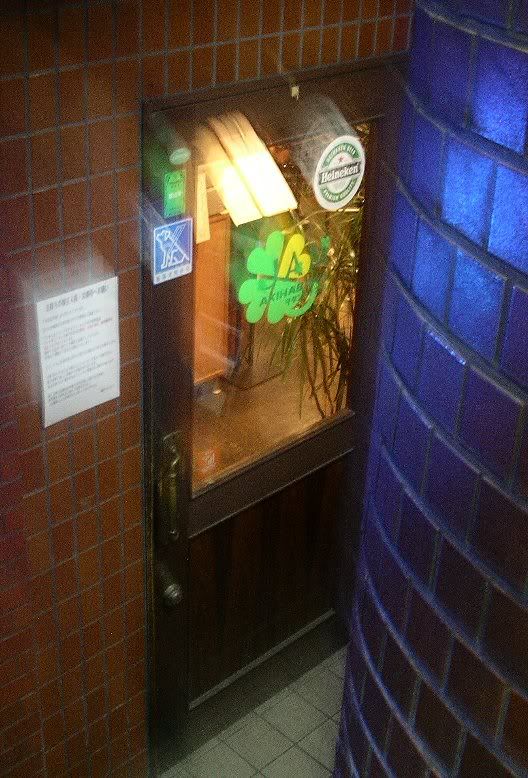 JAM
, is very loosely styled on an Irish pub, as indicated by their four-leaf clover logo. It's in the basement of the Yamaguchi building just west of the Mandarake used manga building on the west side of Chuu-ou Dori, north of Kanda Myojin Dori. There aren't any signs on the building itself - you need to look for the little signboard set up on the sidewalk. Go down the stairs, right around corner and through the door.
The cafe is in a relatively spacious area, with 2- and 4-person wooden tables, and padded metal chairs. I didn't try counting the number of tables, but they can probably seat 40 people. It's a lively setting, and the customers were chatting loudly when I came in. Unlike
MIA Cafe
, the servers at JAM tended to engage in conversations with the customers (although they mostly ignored me). On the other hand, the servers are very attentive, and kept coming over to refill my water glass when it got empty. The walls were covered with posters and photos from past events (such as with the one set of photos with the maids in red Santa suits). The register counter also sold various JAM-branded goods, like cell phone straps, laminated cards and beer glasses. These goods are also shown in their
online shop
.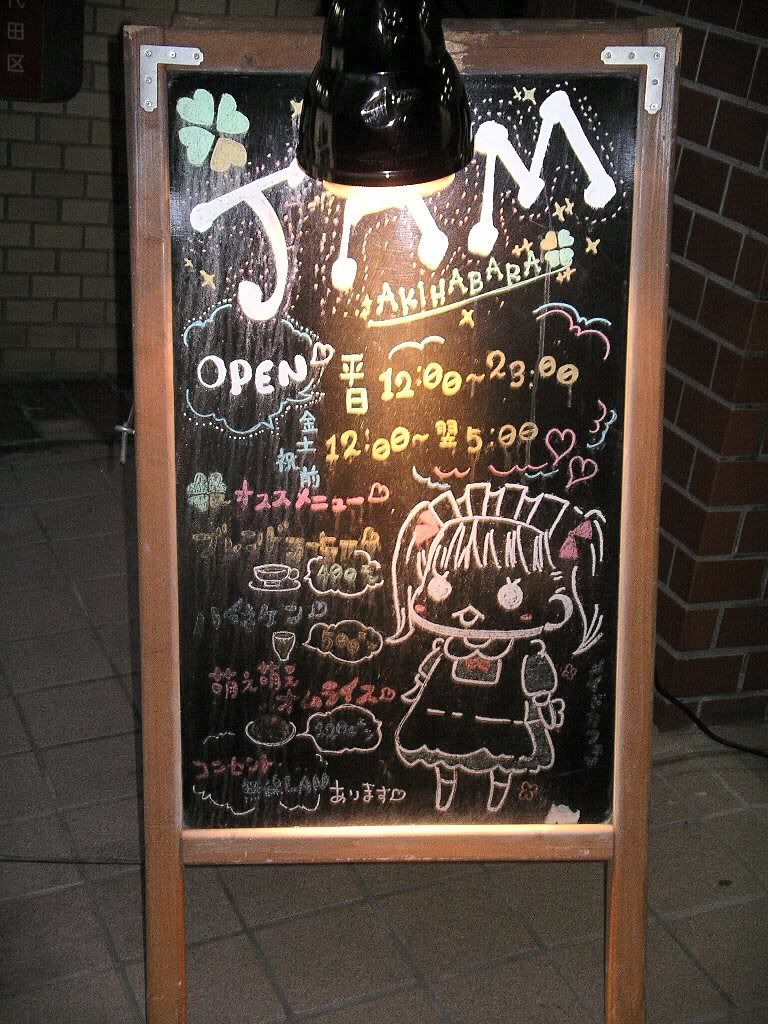 The staff are referred to as "fairies", and their house special menu items are also labeled with "fairy". The fairies are dressed in a dark blue dress with white apron and white lace trim. Most of them wore dark blue knee stockings. They greeted me with the "welcome home master", and sent me out the door with "take care, master". But there was no "added flavor" chants over the food and I didn't see any options for challenging them to a game. Basically, this is more of a straight cafe along the lines of
Cure Maid
.
There is a lunch menu. The
dinner menu
has the standard curry rice, omelet rice, pastas and hamburg (spelled "humburg") steak dishes in the 800 yen range. Desserts are mainly cakes and tortes in the 500 to 700 yen range. They have the standard 500 yen soft drinks, but their strong point is the fully stocked bar. They're the only cafe I've seen so far that offers Chimay on the menu. The dinner special this time was a beef stew with 3 pieces of french toast for 1000 yen, and the flavored ice drinks for 650 yen. The stew consisted of a sweet brown sauce with chunks of potato and beef, sprinkled with a little sour cream. The ice drink, called a "kouri cafe", was mostly a tall glass of milk with coffee ice cubes inside (also available are the green tea matcha ice cubes, and the strawberry juice ice cubes). The coffee kouri cafe was much like a cold cafe au lait, and tasted good with some sugar syrup. The stew was a little too sweet and definitely wouldn't pass as an "Irish stew". But it wasn't bad and it was fairly filling. Total meal came to 1,650 yen ($17 USD).
(Points card)
JAM doesn't offer maid photos. Instead, they have a mostly points card-based goods system. Some JAM-branded items, like a few of the cell phone straps, can be bought outright for 500-650 yen. Other items, like the cigarette lighter, the beer glass and the laminated character cards, are only available when you trade in filled-up points cards. 1000 yen per point, 10 points per card. 5 cards for the beer glass, 10 for the lighter.
Summary:
Name
:
JAM
Location
:
Just north of the Mandarake used manga store, west of Chuu-ou Dori, north of Kanda Myojin Dori
.
Price
: Moderate. Entrees are around 800 yen, soft drinks around 500, mixed alcoholic drinks between 800 and 1000 yen. Desserts around 600 yen.
Cover
: None.
Food
: Standard curry rice, omelet rice, pastas and "hamburg steak" (hamburger patty with sauce) sets; desserts; and soft drinks. They have a full bar, and is the only place I've seen that offers Chimay.
Service
: Friendly and willing to chat with the customers.
"Love"
: No "added flavor" chants. I didn't see anything written on the food. No games against the maids.
Outfits
: Dark blue dress, white apron and lace trim, dark blue knee stockings. Outfits may change for specific events (like Christmas).
Photos
: No maid photos. Laminated character pictures, and various other branded goods, available when you fill in the points card
Wireless Internet
: (?) (No laptops in evidence when I was there.)
Specialties
: This is an Irish (loosely) themed bar that serves some food.
Recommendation
: This is one of the more reasonably priced maid cafes, but the focus is on the mixed drinks, sake and beer. As mentioned above, they carry Chimay. This is a friendly location where people come in to sit, talk and have a few drinks. Recommended.