The
wikipedia entry
on maid cafes lists
Cure Maid
as the first such cafe to open in Japan, giving the date as March, 2001. According to their own events calendar, Cure Maid is celebrating their 8th anniversary on Sept. 12.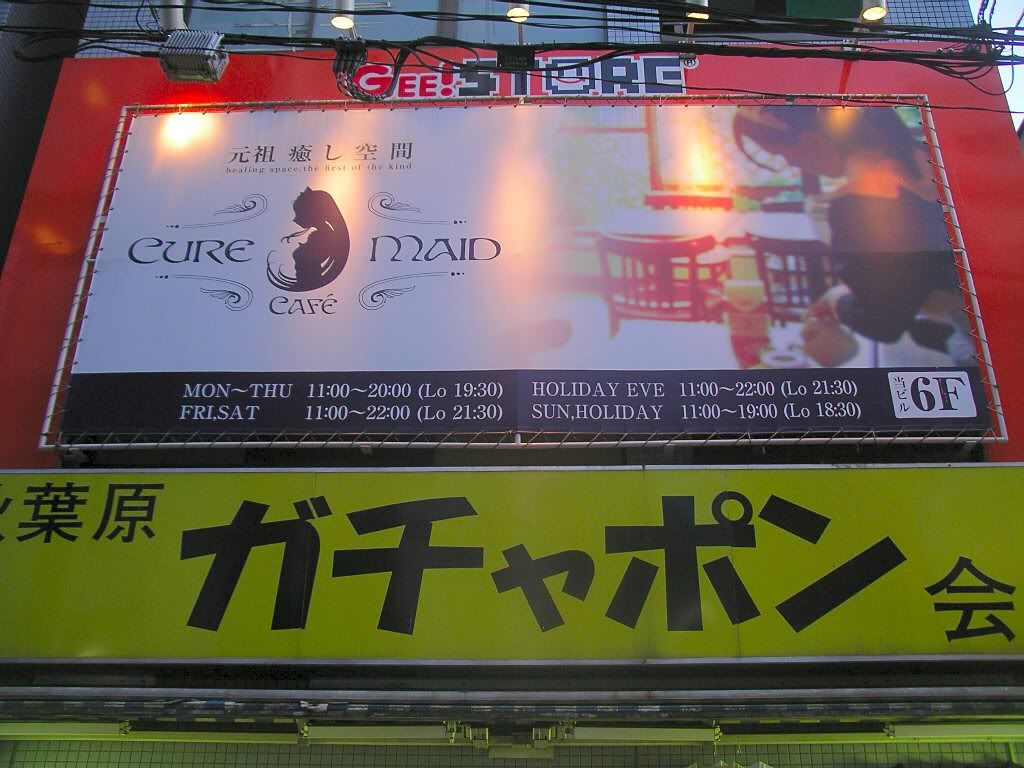 Cure Maid
does not have the "welcome home, master" chant, the "added flavor" chant, games against the maids or even maid photos. So how have they managed to outlast the competition?
In essence,
Cure Maid
is like arriving at an old hotel in England, sitting in the lobby and having crumpets and tea. The refined atmosphere - from ankle-length maid's dresses to the lace curtains on the windows, the deferential bow when the maid approaches or leaves the table, the tea time snack service, from the old dark woodwork to the little candles on the table - all contribute to the sense that you're not in Akihabara any more.
To enter
Cure Maid
, you walk through the capsule ball toy figure shop on the ground floor. At the back, to the right, is the elevator. Take it to the 6th floor. Here, you have a pamphlet rack to the right advertising various t-shirts and anime, the cash register just past that, and to the left the service counter with the dessert display, coffee pots and a line of 8-10 jars holding different loose teas. As mentioned above, the walls are paneled with dark wood, and there are booths and wooden chairs and tables to handle the standard 30 people.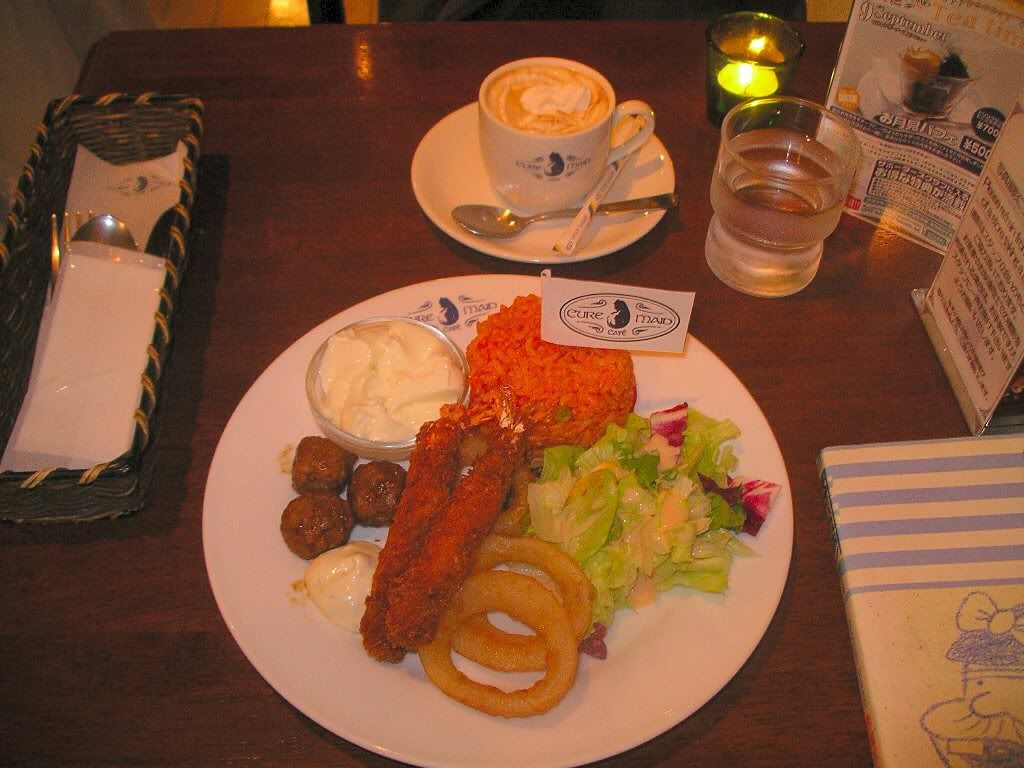 The hours are generally 11 AM to 10 PM. Lunch is from 11 to 3 PM; tea from 3 to 5; and dinner from 5 to closing. The two main meals include the standard pasta, rice and fried dishes plus desserts and hard and soft drinks. Tea Time includes cookies, waffles, ice cream, teas and light cakes. I arrived at 6 PM, so I ordered the Cure Maid Original dinner plate (2 fried shrimp, a salad, 3 meat balls, spiced red rice and milk pudding) and a Viennese coffee (a small cup of hot, strong coffee with sweetened whipped cream on top). The dinner plate was good, but a little on the small side. The milk pudding was unique - I'd never considered milk to be a pudding flavor before, but it was good. The entire set came to 1200 yen ($12), which is cheap, compared to @Home or Little TGV. The only disappointment was that they don't offer maid photos. Fortunately, they do let you photograph the food.
The maids are very polite, bowing when they arrive at the table, and again when they leave. They're willing to answer questions, and they can speak a little English (although the menus are primarily in Japanese only). They're pretty much what you'd expect to find in a British mansion if you were ever invited over for a spot of hunting and pint of bitter afterwards (happens to me all the time).
But, make no mistake, Cure Maid knows that to stay in business they need to partner with anime and video game companies. The first part of September had a tie-in with Full Metal Alchemist, and they have various food- and cosplay-events throughout the year. They also have a live classical music concert every Saturday from 7:20 to 9 PM. They're very big on European classical music, which plays in the background as you eat.
(Paper coaster.)
The cash register displays various branded products, from their signature tea to coffee cups, a small maid outfit with or without the doll, collectors cards, teapots and bags of vanilla cookies. I did get a bag of cookies on the way out, making my total 1,700 yen (the cookies are kind of dry and dusty tasting, but go well with milk).
I didn't see any mention of a points card and the cashier didn't offer one. However, they do have a members club, called the "Tea Time Supporters Club" - details are available online. The website has the events calendar, concert information, the menus, an online store and lots of links to cosplay shops.
I should mention that at least half the customers were women, in groups of 2 and 4. The relaxed, refined atmosphere is a big draw. In terms of a simple sit down meal with lots of class, Cure Maid is the best maid cafe I've been to so far. The prices are reasonable for a maid cafe, there's no cover charge, and I enjoyed the food and coffee (especially the coffee).
Summary:
Name
:
Cure Maid Cafe
Location
:
West side of Chuu-ou Dori, 5 blocks north of the JR Akihabara station
.
Price
: Moderate.
Cover
: No cover.
Food
: A wide selection of pasta, rice and other dishes, with lunch, tea time and dinner services. Dinner entries are 900-1000 yen, and soft drinks are just 200 yen more as part of the set. Alcoholic drinks are 500 to 1000 yen. Cure Maid has a heavy emphasis on British-style tea breaks.
Service
: The staff are incredibly polite and helpful, but not prone to chatting up the diners.
"Love"
: No special writing on the dishes or "added flavor" chants.
Outfits
: Long dark blue dresses with white aprons and frills.
Photos
: No maid photos here.
Wireless Internet
: (?) (No laptops in evidence when I was there.)
Specialties
: This is a simple restaurant setting designed for people that want to sit, relax, listen to classical music and have a nice cup of tea.
Recommendation
: Cure Maid Cafe doesn't resort to gimmicks or cheap tricks to entertain the customers. Basically, this is a nice place to come, sit down, relax and chat with friends. There's no cover charge, the food is good and the prices are reasonable (for a maid cafe). Highly recommended.