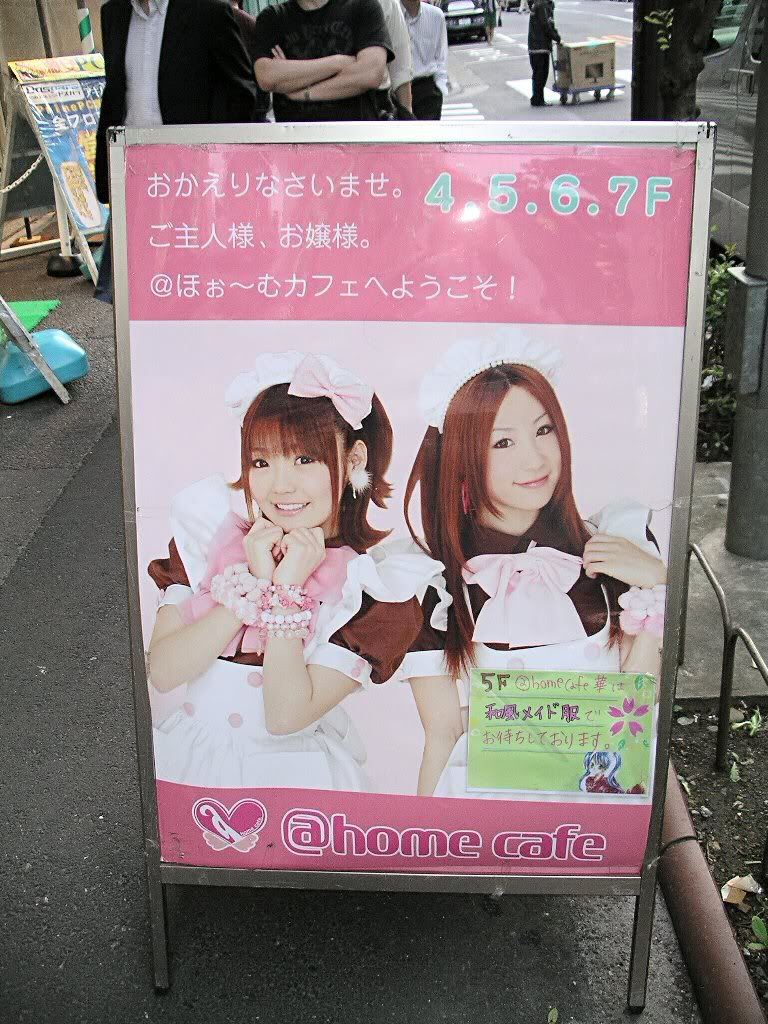 Continuing the pattern of visiting more locations of the same chain, we're back at
@Home
for the second time in 2 weeks, this time it's at
6F
. Slowly climbing up the stairs of the building. Again, the entrance to @Home is just around the corner off Chuu-ou Dori, a couple of blocks north of the Akihabara JR station.
Each of the @Home locations are supposed to have their own unique theme or vibe, but to me,
6F
seems to be very similar to
4F
. The maids circulate, working on one floor one day, another the next, making each location even less unique. In fact, when one of the customers in
6F
was looking at this blog on his cell phone, both he and the waitress recognized the girl in the photo from the
Hana
review. Both
4F
and
6F
are brightly lit, with white walls, a bar to one side with a TV showing videos of the maids giving interviews or doing dance routines, a stage in front, and tiered seating with bench tables facing the stage. An area a little ways back from the stage is set up to allow for seating larger groups. The stage is used mainly for taking the maid photos, but while it's also supposed to host some mini-performance events at random, I didn't get to see one that evening.
(Silver card)
When I arrived, the guy at the door looked at me kind of coldly again, but softened when I handed over my points card. Because a typhoon had been predicted for that day, it was a "rain day" (although the sky had cleared by then) and I got double points, bumping me up to a silver card, and "Familiar Master" level. All the silver card does is reduce the cover charge by 100 yen, but it looks really cool. The real perks start with the gold card, which requires 50 visits. But I did get the reduced cover price immediately. The maid at the door congratulated me on the level up, rang a bell by the door, and I got showered with the "welcome home master" greeting.
I was given the English
menu
, which is mostly dessert-based. No mention of the shaved ice desserts they had in
Hana
, though. There were 3 pasta entrees and 3 rice dishes (omelet, curry and pilaf) in the 1000 yen range. Lots of soft drinks around 500 yen, and if you get a dessert or entree, the drinks are 200 yen off. There's a big write-up at the back of the menu regarding the maid photo (cheki) and being able to challenge a maid at a random games (mostly variants on Uno) for 3 minutes for prizes.
6F
was almost packed when I arrived, but there was no waiting line yet, this time. I saw 1 foreigner then, but he was gone soon after, along with his girlfriend. One big group arrived later, which included at least 5 women that all enjoyed themselves. Otherwise, the crowd was made up of about half college-aged guys, and salarymen in their 20's and 30's. There was a steady stream of guys getting maid photos on stage, and several played Uno against the maids to try to win "moe coins" Each coin lets you get a capsule from a gumball machine, and some of the capsules contain stickers with artwork drawn by the maids themselves.
I ordered the "hot blend coffee" and a chocolate parfait (1100 yen total) plus a cheki (500 yen). With the 600 yen cover, it came to 2200 yen. The coffee came out in a small cup, and my maid carefully laid out the silverware, added cream and sugar, and then had me perform the "moe moe gyu" chant with her for "added flavor". The parfait arrived a few minutes later, and a different maid did a "moe moe gyu, moe moe beam" chant over it. The coffee cup was too small for the price, but it was good coffee. The parfait consisted of a scoop of chocolate ice cream, 2 wafer cookies, some whipped cream and a bunch of corn flakes at the bottom. It was pretty good as well. (Of course, @Home doesn't allow photos of the food.)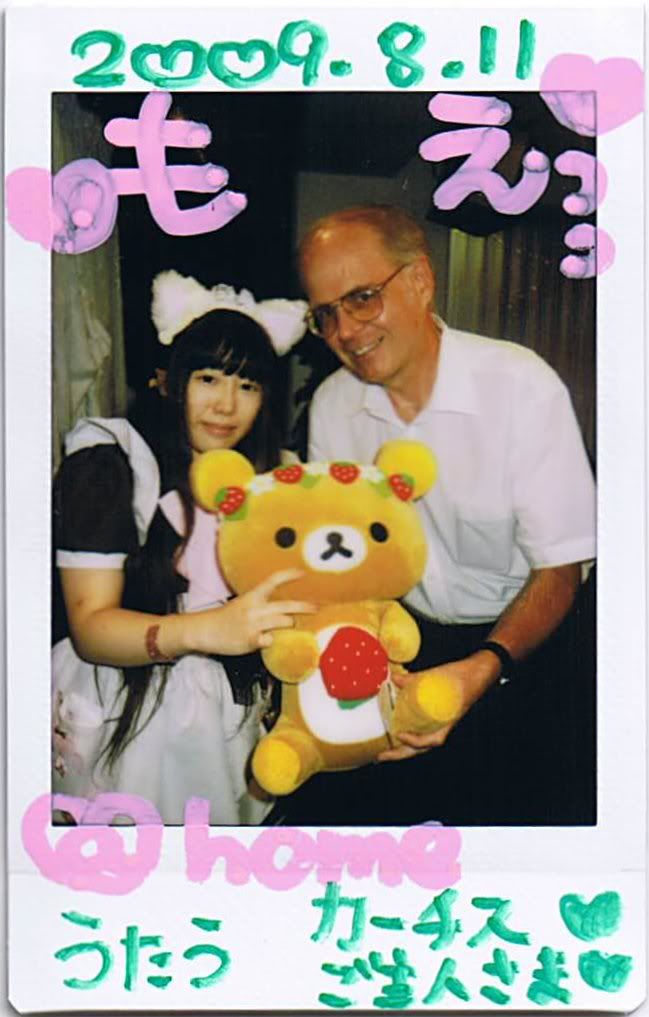 Next to me, one casually-dressed salaryman was having fun. He challenged different maids to several games for the "moe coins", and went up on stage for at least 2 maid photos (normally, you're only allowed to have one maid in the photo, but he had 3 maids posing with him at a time). He was also a talkative person and started chatting me up. Turns out that he's been to @Home at least 50 times, and had a gold card. A regular fixture at the place, and knew all of the maids by name. One maid that was talking to him started talking to me as well, and she turned out to be a big shonen manga fan, describing herself as "a dirty old man". She really likes "Zettai Karen Children", and thinks that the 3 girls are all "cho-kawaii".
At one point, the big group at the back of the room placed their food order, and when the food came out, the maid led them in a 1 minute-long group "added flavor" chant that had everyone giggling in embarrassment. Overall, good times.
Then it was time to go, and this time, each of the maids I passed bowed to me (unlike at
Hana
or
4F
) and I was followed out with "please come back, master" farewells.
Of course, a lot changes when the staff at an establishment starts to recognize you after multiple visits, or if you upgrade your membership card. But, I found
6F
to be the most friendly, upbeat cafe in the @Home family so far. I enjoyed myself, but it's still one of the pricier cafes due to the cover charge (even with the 100 yen discount).
Summary:
Name:
@Home 6F
Location:
Just around the corner from Chuu-ou Dori, near the JR Akihabara station, on the 5th floor
.
Price:
Moderately-High. 700 yen cover just to get inside for 1 hour.
Food:
Standard food and soft drink selection, and quality. Some alcoholic mixed drinks.
Service:
Very friendly and outgoing
"Love":
Drawing of your choice on the food. The "moe moe gyu" chant over your drink.
Outfits:
Brown dresses with white aprons, stockings and bloomers.
Photos:
500 yen, with one maid, or as part of the dessert set.
Wireless Internet:
(?) (No laptops in evidence when I was there.)
Specialties:
Some English-speaking staff; tea house setting. Maids will play games with the customers for prizes.
Website in English
.
Recommendation:
Highly recommended if you want the "full maid cafe vibe". But, there seems to be little difference between 6F and 4F.