Trip 1
I decided to visit
Pinafore #2
right away just to see if I could get the maid photo. No such luck, so I'm now up to needing a fourth visit. Man, my life is just filled with pain and disappointment...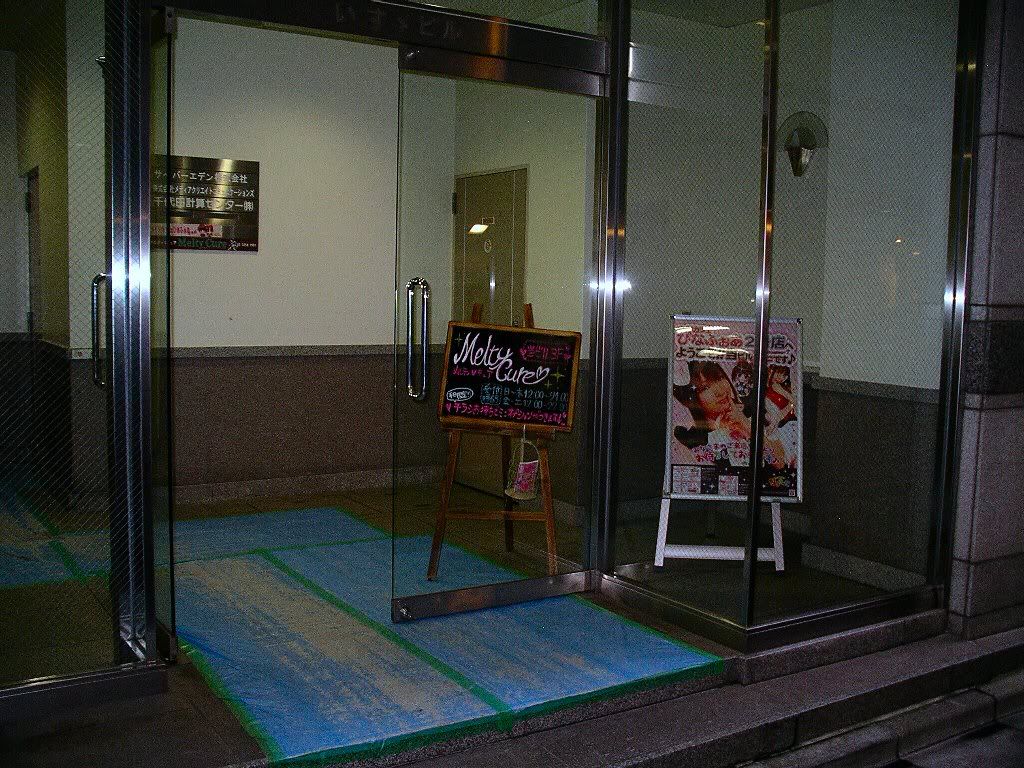 #2 opened around last December, so it's newer and a little more spacious than #1. But, it's harder to find the entrance to it. The cafe is located on Chou-ou Dori, about 4 blocks north of the Akihabara JR station, on the right side of the street. When you get to the AM-PM convenience store (next door to the "
Ore-tachi no Tarou
" signs), go around to the right to the back alley. In the middle of the alley, you'll see advertisements for
Pinafore #2
and
Melty Cure
on your left. Take the elevator up to the 4rd floor and there you are.
The space is brightly lit, with lots of pink and frills, and small white tables, chairs and a bar for seating 30+ people. There are curtains over the window so it's all indoor lighting during the day. Two glass cases on one wall hold maid dresses, and manga versions of the maids cover another part of the wall. The maids themselves wear a pink blouse with a black dress and white apron combination. One had a perky little black hat held in place by a string, another had a cat tail, and the dress of the third was covered with pins that complemented the pair of handcuffs on her chain belt. I was guided to my table with "the master is here".
Pinafore #2 shares pretty much the same menu as
#1
(English version as well as Japanese), so no surprises there, although here some of the maids do try to speak English if it looks like you don't understand Japanese. They have the video game tie-ups as well, but it's not as heavily promoted here. They also have a display stand next to the register for selling the Pinafore-branded products (curry, maid cards, candy, music CDs, etc.)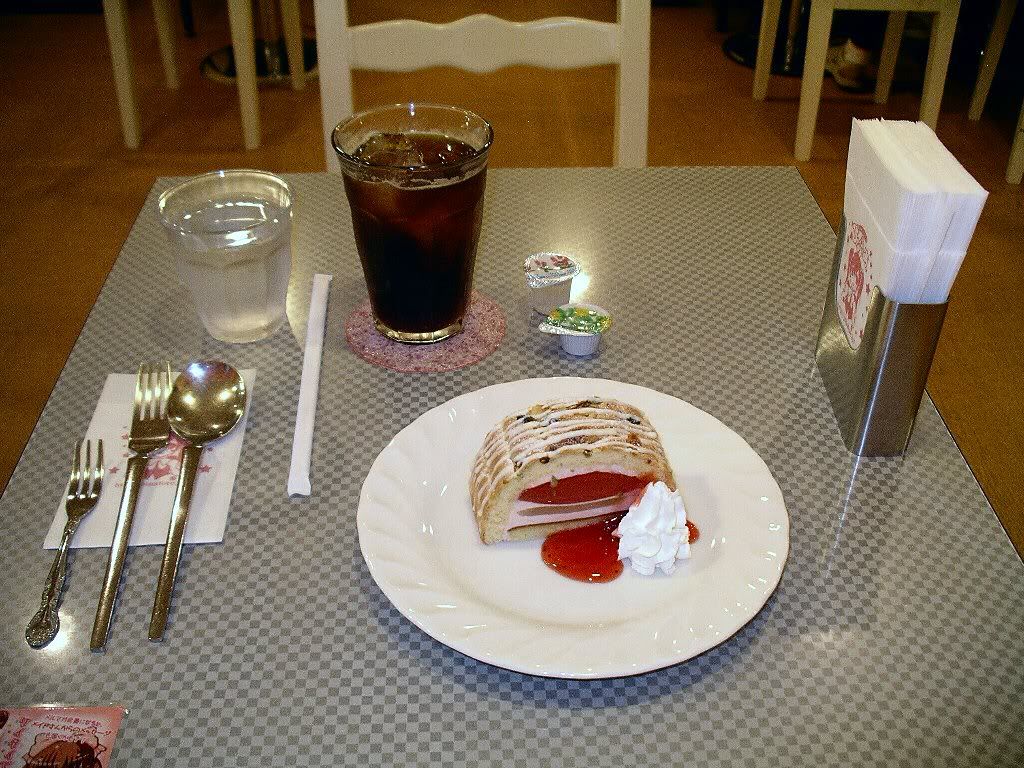 I decided to use the free drink coupon (good for any soft drink from the 300 yen menu) for an ice coffee, then settled on the omelet rice and a strawberry shortcake. However, the maid talked me out of the shortcake in favor of a peach roll-up, and I'm glad she did because it was pretty good. The omelet rice came with a small cup of an onion-like soup (I'm not really sure what it was, but it tasted all right). The Japanese omelet rice consists of a mountain of rice wrapped in a scrambled egg. In this case, it was a spiced red rice with bits of chicken and veggies. Not too bad, but there's not a lot you can do with a recipe like this. I'd probably have added a little cayenne powder and Tabasco sauce. But, it's perfect for "adding love" (lots of flat surface area).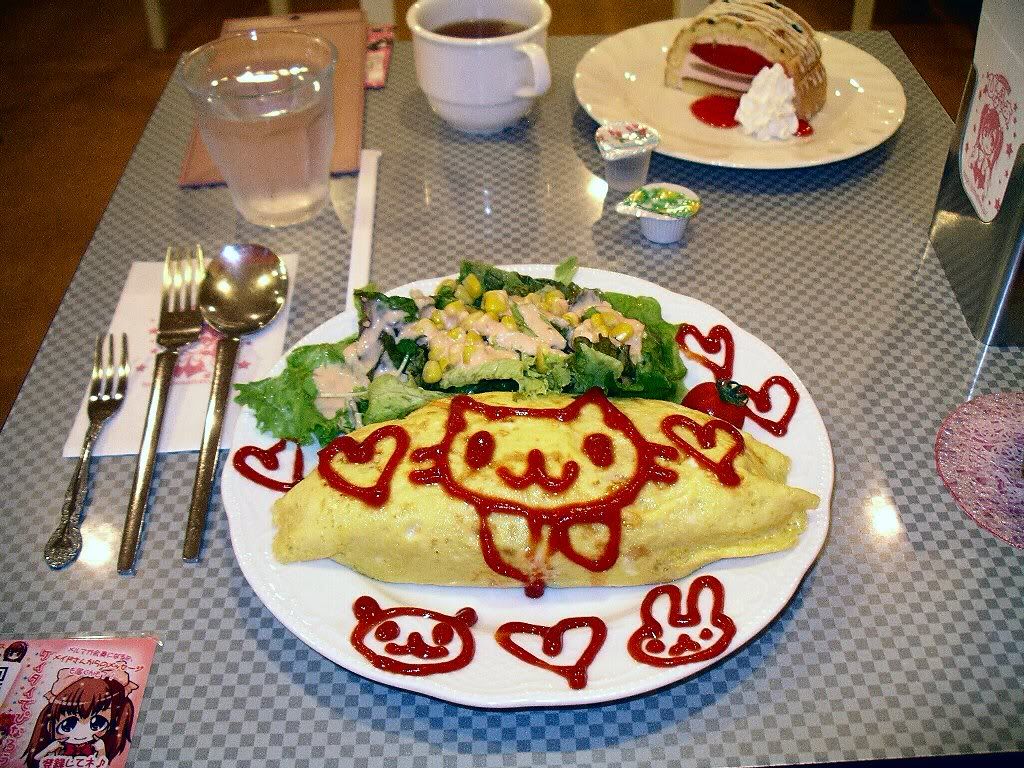 My maid asked what I wanted drawn on my omelet rice, and I broke down and went with the standard "neko" this time. Turns out that my maid likes drawing cats, and so I got a really nice cat in catsup, surrounded by a small panda, rabbit and hearts. Fortunately, Pinafore is one of the places that lets you take photos of the food.
The maids are very friendly, outgoing, and willing to talk with the customers. They're also very cute. My maid was very helpful in explaining the menu, and two of the others were eager to talk about manga and anime. I was reading the last volume of "
Gallery Fake
", so they wanted to test me on my Japanese skills, too.
I still don't understand the point card system. The entire meal came to about 1400 yen, and this only awarded me 6 points (compared to the 20 points I got for spending 2120 yen last time). It looks like if you stay an hour, you get double points, and if it's a "rain day" it's also doubled. I asked how much I'd need to spend to get the remaining 4 points and was told "about 1000 yen".
-=-=-=-=-.=.-=-=-=-=-
Trip 2
That was on Tuesday. Wednesday, I dropped by again to get enough points to get the maid photo to add to this review. The staff immediately recognized and welcomed me back. This time, I asked about the amount I'd need to spend to get 4 points and was told "2000 yen". They ran through the formula and it still didn't make sense. I got the coffee parfait and a hot coffee, which ran me another 1200 yen.
I was treated just as well this time as the day before, and the parfait was again quite good. But, the coffee jelly portion at the bottom of the glass was really bitter, so I stole a stick of sugar and poured it in - the result was just fine. This time I tried to stay as long as I could, but again it was less than an hour. And this time, I only got 2 points. So, it's feeling like I'm getting played...
-=-=-=-=-.=.-=-=-=-=-
Trip 3
This makes five visits to Pinafore - two visits to P1 and three to P2 - just to get one photo. This "reviewing maid cafe" stuff is starting to add up. It's not a hobby for the penniless. Anyway, there's a side benefit to visiting the same cafe several times. The staff starts getting to know you, and they'll come up to your table to talk several times during your visit. Because I always have manga with me, they act surprised that a foreigner, A) can read Japanese; b) likes manga; and C) adult is doing something that you're supposed to outgrow by age 13. Plus, right now, I'm reading old Tezuka stories, so that attracts even more conversation, and we'll end up talking about manga, where you're from, what you like best about Japan, and so on. Granted, you have to be able to speak Japanese in most cases, but if you are able to do so the staff becomes very friendly the more often you visit.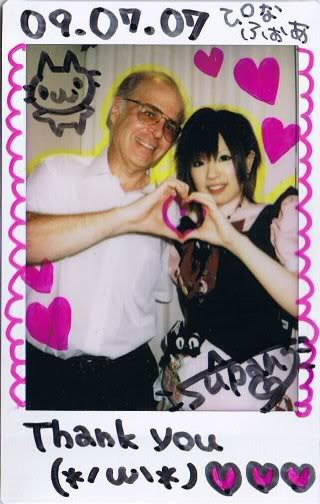 This time, I just wanted the photo, but I needed to buy something to drink while I waited, so I just got an ice coffee. This didn't net me another point card to start over with, but I did finally get my maid photo.
Incidentally, trip 3 occurred on July 7, which is "Tanabata Day" in Tokyo (some places in Japan celebrate it on August 7). Primarily, for Tanabata you write your wish on a piece of paper and tie it to a tree branch for it to come true. When I entered the shop, I was given a piece of paper, and my maid tied it to an artificial tree sitting next to the doorway. My wish was that Maid Runner.... No, you're supposed to keep it secret.
Summary:
Name
:
Pinafore #2
.
Location
: On Chuu-ou Dori, 4 blocks north of Akihabara station, 4rd floor of the Isuzu building.
Price
: Medium-high.
Cover
: No cover.
Food
: Typical maid cafe entries, plus salads, lots of good desserts and drinks.
Service
: Good service, friendly and outgoing.
"Love"
: Drawings of your choice on the plates or food.
Outfits
: Pink blouse, black dress, white apron, plus "flair".
Photos
: Either part of an event day, or for 30 points on the point card.
Wireless Internet
: (?) (No laptops in evidence when I was there.)
Specialties
: Random 1-day events (cosplay, singing, etc.) Next big event will be on Tanabata day (I think that's July 7). Some video game tie-ups.
Recommendation
: Recommended. Pinafore #1 has more character, being the older location, but the staff at #2 are very friendly and easy to talk to. The food's good, and some of the maids are incredible artists when it comes to drawing pictures on the dishes. Just don't get suckered into using the points card for getting the maid photo, unless you go in a group and put the entire bill on one card, or intend to turn into a regular customer.