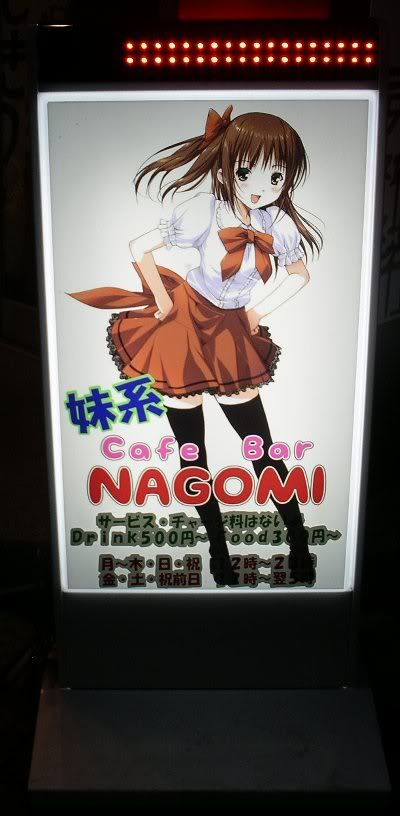 Having had a disappointing experience at
Pash Cafe Nagomi
, I was a little hesitant to try their second location. However, it was close to my office, and on the same block as
Pinafore 2
, so I decided to drop by after getting my Pinafore maid photo prior to heading for work.
As stated in the name,
Cafe Bar Nagomi
is a bar that serves food, and is definitely more of a bar than a cafe. It's on the second floor of the former
Ore-tachi no Tarou
building, on Chuu-ou Dori 4 blocks north of the JR station, right above the
Akiba no Usagi Jinga
. Of course, they don't allow photos, not even of the food. Inside, it's a cosy little place with tables for 4-5 couples along one wall and about 8 people at the bar. The walls are red-lined, and the lighting is subdued, making the place a little dark.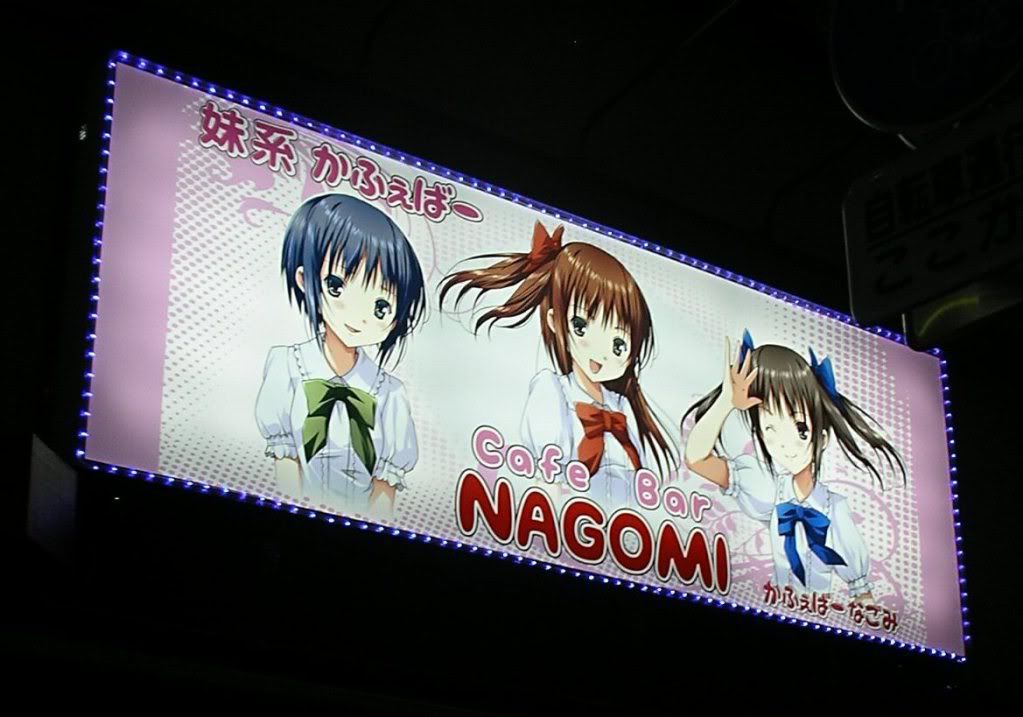 They have various events during the month, and since I came in on
Tanabata Day
(July 7), the two female bartenders were wearing
yukata
. Mostly, it seems to be a
tsundere
bar, with the women trading friendly insults with the customers. There were 6-7 guys at the bar when I arrived and they all seemed to be eating up the treatment. They were drinking shots of hard alcohol but with some beer and finger food. I got the omelet rice and ice coffee, and the maid drew a really cute cat on the omelet. The rest of the bar was also disappointed that we couldn't photograph the cat to preserve it for posterity. The bartender told us that the picture would just have to live on in our hearts.
The omelet rice was pretty good, and the serving size was large for the 800 yen. The ice coffee was a bit small for the price (500 yen or so) and just tasted normal. There weren't any chants over the food or special treatment when entering the bar other than being led to a chair and being greeted with "welcome back".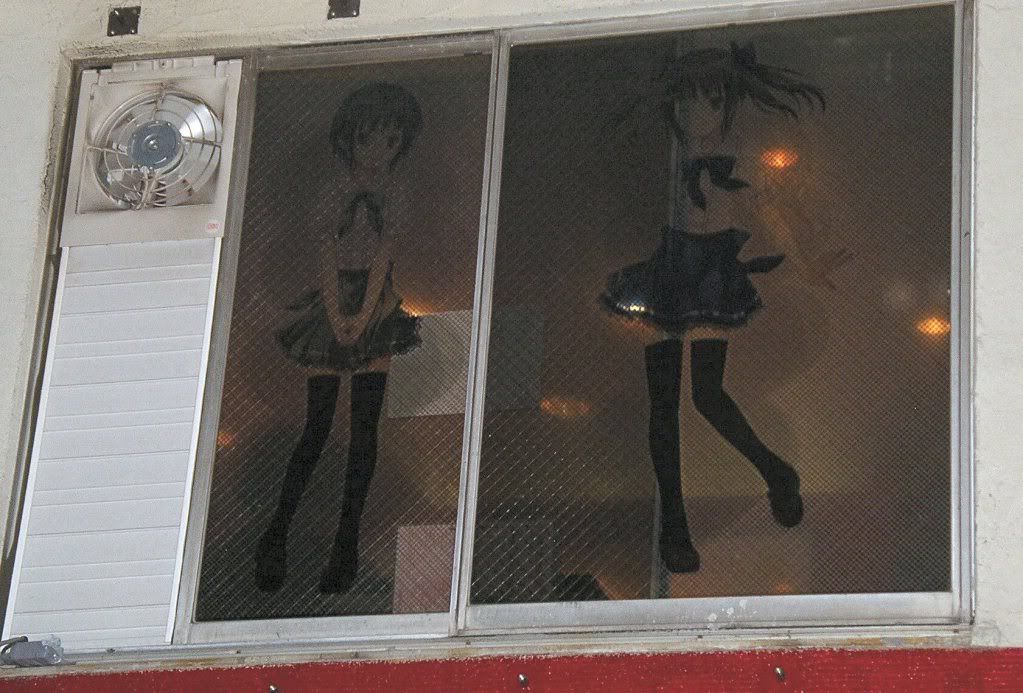 (Outside of main window)
There is an English menu, but it's the Japanese menu that mentions being able to play games against the maids for a small fee to win prizes. When you buy certain alcoholic drinks, the bartender brings out a jar with folded slips of paper. You pull a slip and if you're lucky, you win a free maid photo. Otherwise, you apparently can't just pay to have one taken. Since I needed to go to work afterwards, I didn't bother getting a drink. They also had the capsule ball machines near the door, but I didn't have the spare 300 yen this time to see what the capsules contained (at Pash, one capsule had a maid photo and a small square of cloth).
The customers were really friendly and a few of them struck up a conversation with me during the meal, which was also a departure from Pash Cafe. So, given the choice I'd prefer going to
Cafe Bar Nagomi
over
Pash Cafe
anytime.
Both CBN and PCN offer point cards, but they're not quite the same card design, so I don't know if either card is good in both places. For CBN, you get 1 point for every 500 yen spent, and 30 points gives you one free drink. If you're going to spend $150 USD like that, you better be prepared to turn into a regular patron.
-------------------------
Trip 2
A few nights later, I stopped by CBN on my way back to the train station after work. There were about 10 patrons in the bar drinking shots and mixed drinks, 2 female bartenders plus the guy running the kitchen. The bartenders were dressed in a white blouse and blue skirt school girl's uniform as part of a "younger sister" motif. The menu even listed a "younger sister cocktail". Again, everyone was friendly, but I did feel out of place, being the oldest one in there. I started out with a shochu (distilled drink made from various starch forms - in this case from sweet potato) for 500 yen. Immediately after, I got the "original cocktail", which was a blue mix of vodka, gin, club soda and something blue. For the evening, the drinks were discounted 100 yen, so this one was 600. But when I bought the "original", they brought out the jar of paper slips and apparently I drew one that canceled the discount price, since my bar tab was modified and the total bill came to 1300 yen. Anyway, the drink was good, and I headed back home then.
CBN is a decent drinking hole, and I may occasionally drop by again once in a while on my way home. I just hope that next time I get a more favorable piece of paper...
Summary:
Name
:
Cafe Bar Nagomi
Location
: Chuu-ou Dori, 4 blocks north of the JR station, on the second floor of the former Ore-tachi no Tarou building.
Price
: Moderate.
Cover
: No cover.
Food
: Standard entrees (curry rice, rice omelet), desserts and soft drinks. The omelet rice was good, and a large serving. This is a bar, so it has the full range of drinks and hard alcohol in the 600 to 1000 yen range.
Service
: Bartenders seem to be willing to give you the tsundere treatment, which is friendly but insulting at the same time.
"Love"
: Drawing of your choice on the omelet rice and curry rice.
Outfits
: I went on Tanabata, so both women were wearing yukata. No idea what the standard outfit is.
Photos
: Given as a prize from a drawing when you buy alcoholic drinks.
Wireless Internet
: No.
Specialties
: Tsundere bar that serves food. Seems to have a hardcore repeat clientele.
Recommendation
: Recommended if you're looking for a drink accompanied by the cold shoulder treatment. The food's good, and the bartenders bring your drinks to you within a minute or two of your order.