I like
Gentoukan
. The atmosphere is relaxed and the chairs are comfortable.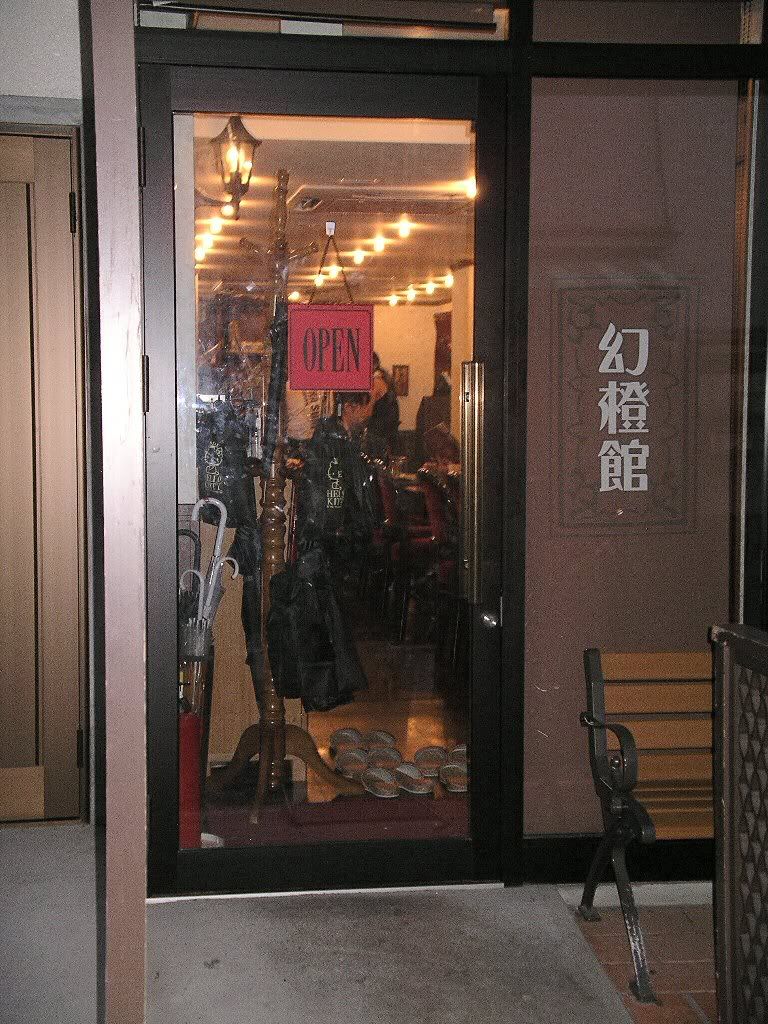 The only real drawback to Gentoukan is in being able to find it. Even with the map on the flier, it took me several trips around the block before I noticed the small sign in front of the building. Probably the easiest path is to take the north exit from the JR Akihabara station to the UDX building, turn left and continue past Chuu-ou Dori to the next set of street lights. Turn right and walk two short blocks. Turn right again and it will be on your right at the middle of this block. Look for the building with the bench on the porch in front.
Gentoukan bills itself as a "retro" maid cafe. You quickly discover what this means when you get inside. As you enter, the maids greet you with "welcome back home, master", then guide you in taking your shoes off and putting on slippers. The room is "L"-shaped, with the bar at the angle of the L. It's a little narrow, maybe 15 feet wide, but long enough to hold 18-20 people at the little dark wood tables. The benches and chairs are also dark wood, with red velvet upholstery. The walls are a subdued beige, with a few old paintings and photos scattered about.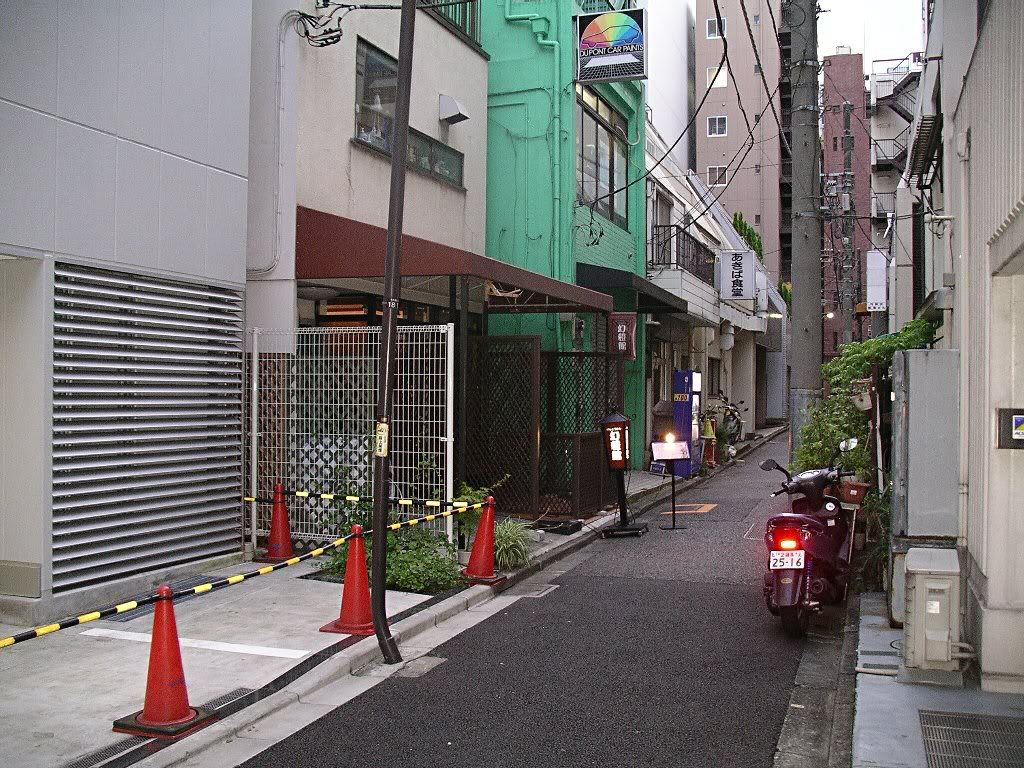 Essentially, this is a 1930's western style Japanese bar, with a flat screen TV on the left wall playing old movies. The one I saw (unfortunately the sound was turned off) was "
Kinema no Tenchi
" (Cinema Heaven, 1986), a look back on the 1930's era of film making in Tokyo, about an unprepared young girl that suddenly finds herself the lead actress in a new movie.
The maids wore a nice outfit consisting of a black dress and apron with red and white trim and white stockings. They were all friendly and outgoing, but obviously relieved when they discovered they didn't need to speak English with me. The menu was in Japanese. Gentoukan is largely a bar that serves a fair amount of standard foods. The menu is given on their website, but there are no photos of the dishes. They have a variety of curries, pastas and pilafs, plus soft drinks, beer and cocktails (alcoholic as well as non-). The prices are reasonable for a maid cafe, 750-900 yen for the entries, 500-700 yen for the soft drinks and desserts, and no cover charge. Based on the reactions of the other customers, everything tasted good.
When I arrived, there were about 10 customers, all male, and about a 50-50 mix of college students and older businessmen. Most were just drinking cocktails or beer, while surfing the net on their cell phones. The place cleared out within about 10 minutes, but there was a slow trickle of people coming in for the dinner crowd.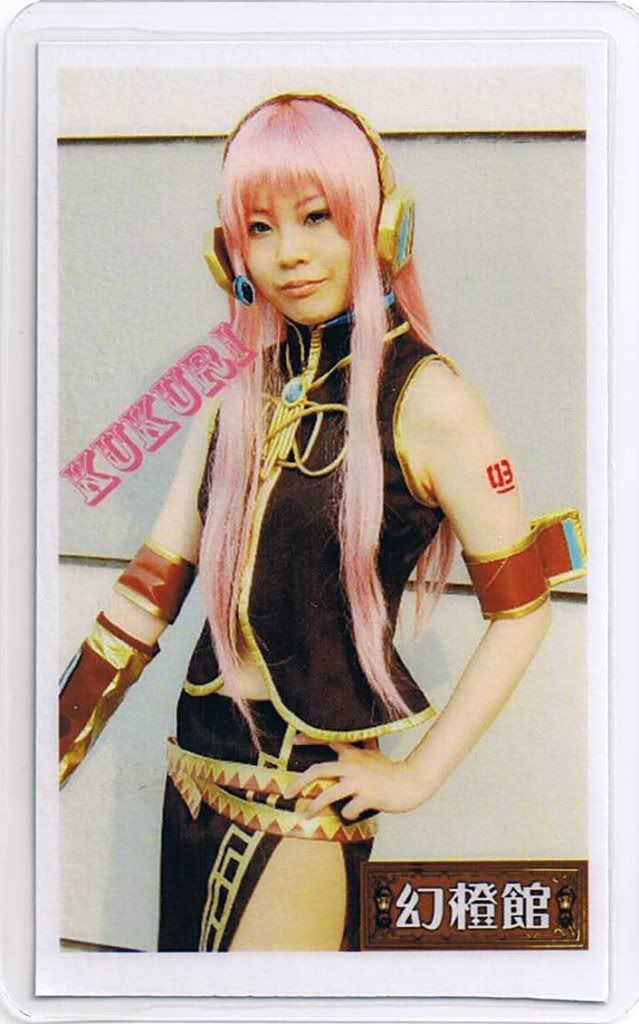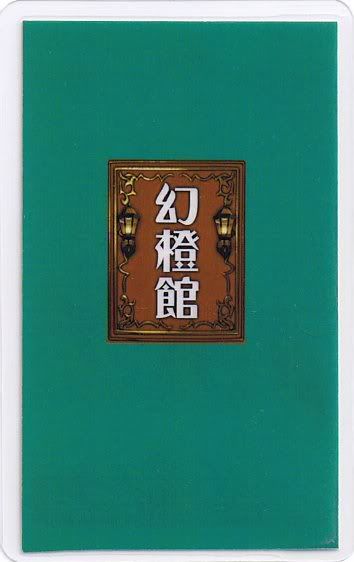 I didn't see a mention of a "cheki" (photo with a maid) in the menu, but there were a number of signs promoting the "ramune" (I think that's the spelling) cards. These are laminated photos of the maids and are primarily available as a "drink set" with the "original maid cocktail" (1200 yen for the drink and card, 1000 for just the drink). I decided to start off with the coffee float (700 yen) and green tea sponge cake (500 yen). The float consisted of ice coffee and a scoop of vanilla ice cream and could have used more sugar syrup. But the green tea sponge cake was good, and they do let you take pictures of the food.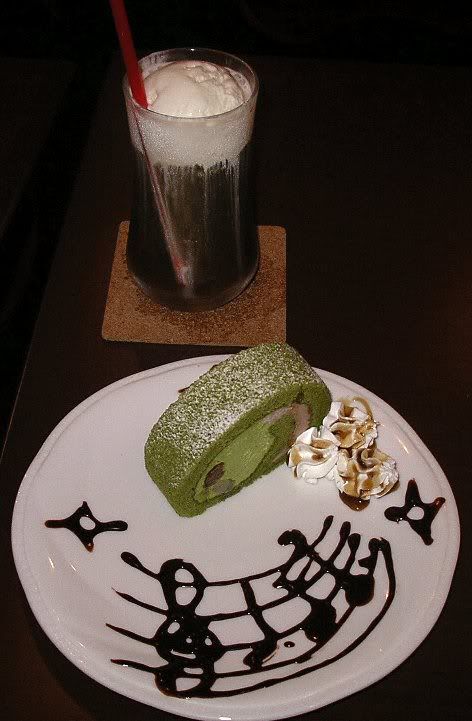 Then I ordered the original maid cocktail, and they gave me the non-alcoholic version because I was about to head off to start work for the night. The drink was made up of blue syrup and some citric fruit juices - a little sharp and not too sweet, but good. It was stirred at the table with a "24K solid gold" swizzle stick. Afterwards, my maid brought out a stack of her laminated cards and gave me one with her in full cosplay. We talked for a while, and she spent several minutes talking about how she likes doing cosplay (she didn't go to the
Cosmode
event at the UDX a few weeks ago, though).

Gentoukan does have a point card. It's 1000 yen per point, and at 40 points you get a free photo (cheki) together with a maid of your choice, and you get a bonus present if you fill up 5 point cards. Ask your server for more details.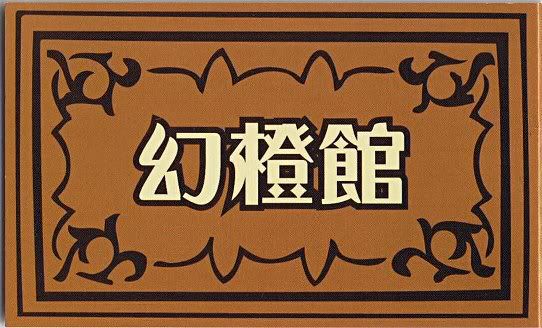 Then it was time to leave, and I handed back my number marker, switched back from the slippers to my street shoes and headed off to work. Overall, it was a pleasant time, and I kind of hated to leave. Fortunately, Gentoukan doesn't have a cover charge, so the entire experience only cost 2400 yen. I may come back again some time to see what other movies they have, and they do advertise various events on their website. But, I'm not inclined to spend the $400 to get the "cheki" at this point.
(If you try to find Gentoukan by walking to the UDX building, taking a left, crossing Chuu-ou Dori and then turning right at the next light, then this the second street that you want to turn at to find the cafe.)
Summary:
Name
:
Gentoukan
Location
: 3-4 blocks west of the UDX building, on the west side of Chuu-ou Dori.
Price
: Moderate
Cover
: No cover, but there is a one drink minimum.
Food
: Full range of entries, soft drinks, desserts and alcoholic drinks.
Service
: Very friendly, attentive and willing to answer your questions about the menu.
"Love"
: I didn't notice any drawings on the food, and they don't chant over your drinks.
Outfits
: Black dress and apron with red and white trim.
Photos
: I didn't see anything on the menu about a photo with a maid. You do get a free maid photo if you fill up the points card, and they offer laminated "cosplay" photos of the maids for an additional 200 yen if you get the house special cocktail.
Wireless Internet
: (?) (No laptops in evidence when I was there.)
Specialties
: 1920's western-style "retro" bar, with old movies, and photos lining the walls.
Recommendation
: Gentoukan is easily one of the most relaxed cafes I've been to so far. The staff is friendly, outgoing and willing to listen to the customers talk (almost too willing, if you want to place an order and they're talking to another customer). Highly recommended.