Edit: Akiba no Usagi Jinji closed its doors in April. The space currently is being remodeled, apparently for a ramen shop.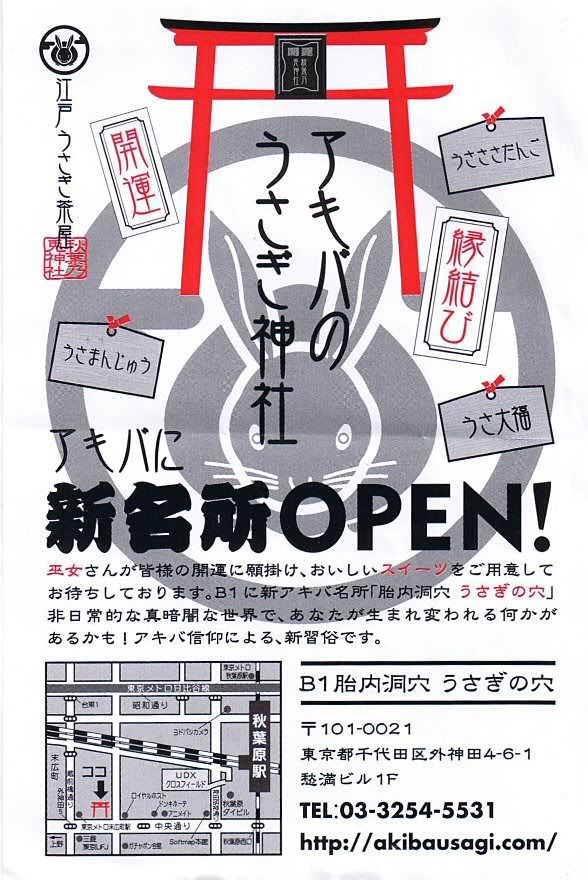 As a whole, maid cafes are supposed to be just that, cafes where the staff dresses up as maids. But within this "genre", there are a variety of subsets that include butler cafes (male staff dressed as butlers), dansou cafes (cross-dressing female staff as butlers), little brother cafes (cross-dressing female staff as younger siblings) and even maid bars. So, it's acceptable to include shrine cafes in the mix.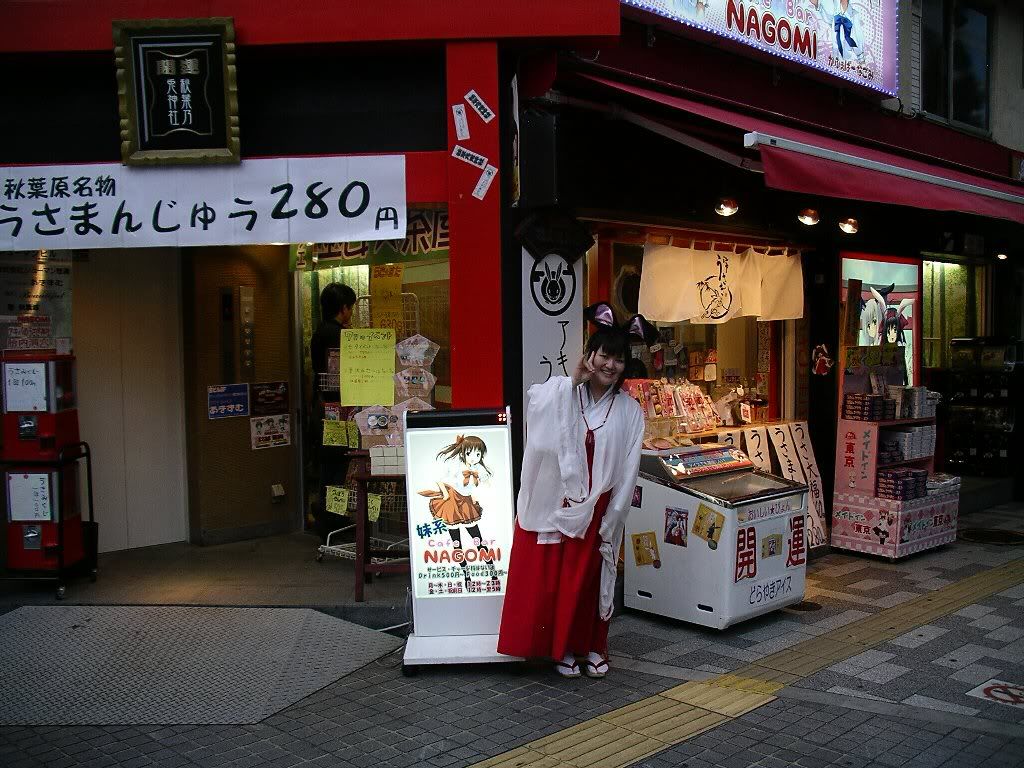 In Japan, Shinto shrines have male and female staff. The female staff are called "
miko
", and they're commonly portrayed in manga as grounds sweepers, exorcists, and gift shop attendants.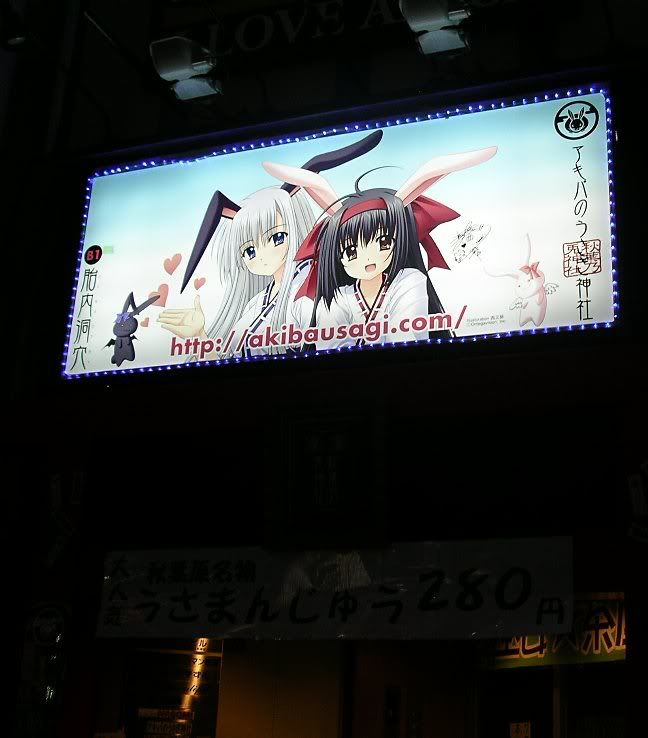 Which brings me to "
Akiba no Usagi Jinja
" (Akihabara's Rabbit Shrine). "Usagi" is a small gift shop and cafe
located in the space
previously occupied by "
Ore-tachi no Tarou
" on Chuu-ou Dori, on the same block as
Pinafore 2
. Usagi is a fascinating place that just opened a couple of months ago. From the street, it just looks like an "omiyage shop" (souvenirs) selling pre-boxed maid cookies, Lucky Star snacks and shaved ice (kakigori). Many of the snacks here are the same as at Aso Bit and
Maid Club
, but some of them, like the strawberry-flavored
daifuku
(soft rice-paste balls (mochi) with a jam center) are unique to Usagi.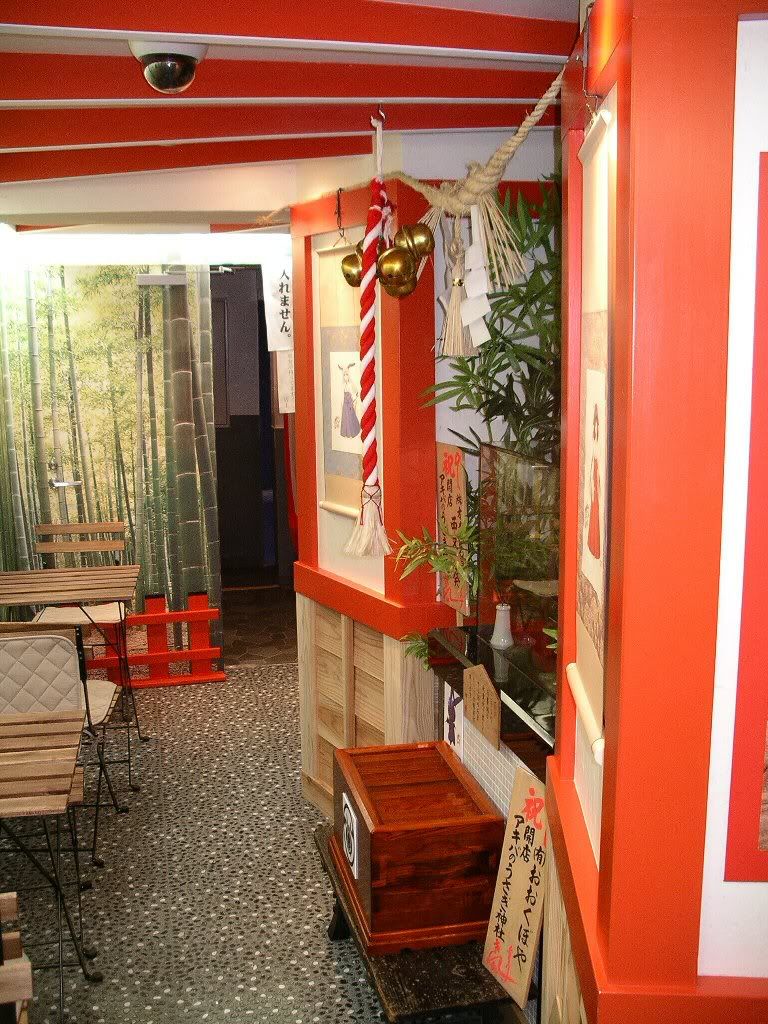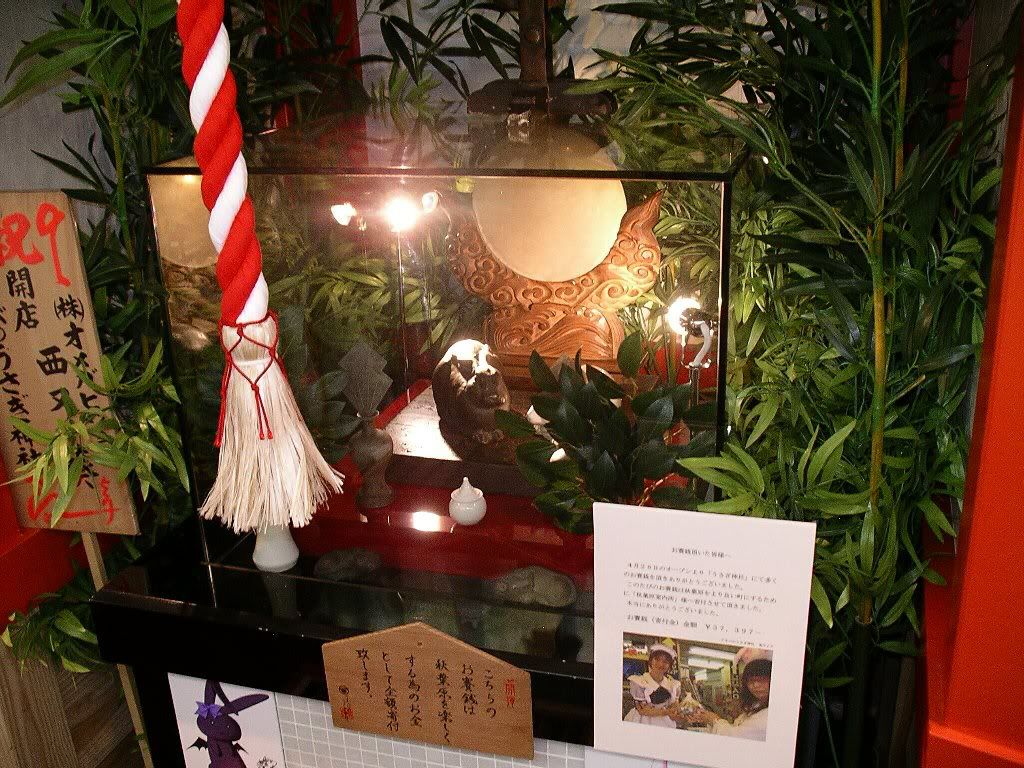 Inside is a small shrine dedicated to a rabbit god, with two little rabbit statues. Pictures lining the wall show manga-style characters associated with the shop, and a small dispenser sells fortunes and lucky talismans just like at any of the larger shrines. You can buy a wooden plaque decorated with your choice of artwork, write your wish on it and hang it on one wall of the shop. Many of the plaques had "wish you well" greetings dedicated to the shop from friends and contained some great original drawings by them.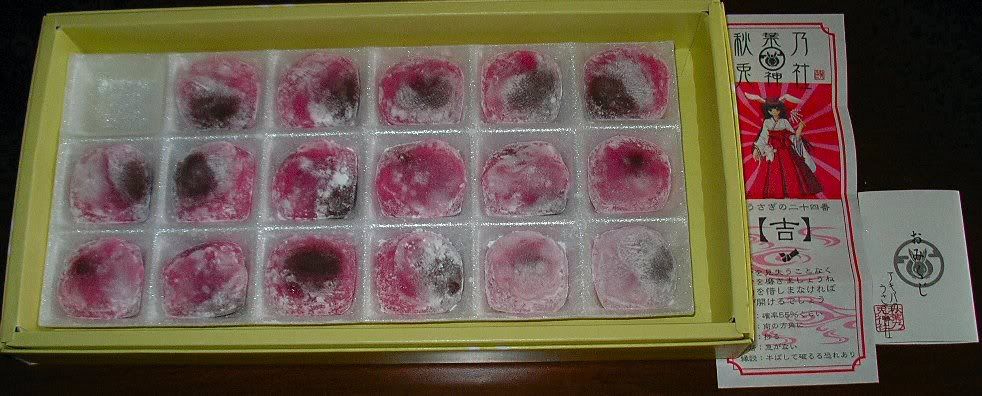 (Strawberry daifuku with chocolate centers)
Along with the omiyage, they sell frozen mochi desserts for 150 yen, and there's seating for about 10 people if you want to sit down and stay a while. I just got a box of strawberry daifuku (630) and a frozen powdered green tea mochi. The green tea mochi was packed with green tea powder and the flavor was very strong. It was very good, but it's kind of bitter and an acquired taste. The daifuku are small, soft, squishy chocolate-paste filled strawberry snacks that are great with a cup of hot tea. They come with a free fortune inside. In order to increase the flavor of the purchases, my miko performed a "pyon pyon aji ohairi" style chant ("hop hop, add good flavor") over the bag.

(My fortune)
I decided to get a fortune (omikuji) for 100 yen. I like the character design, and my miko told me that this was a very auspicious fortune that boded lots of good luck.
The staff is extremely friendly and at the time consisted of the miko and the guy running the gift counter. They even gave me a free maid photo.
(Plaque wall)
The website has a
couple movie files
showing the shop itself and the various products they carry, and links to
three different blogs
, Their online shop isn't up and running yet, but that'll happen eventually.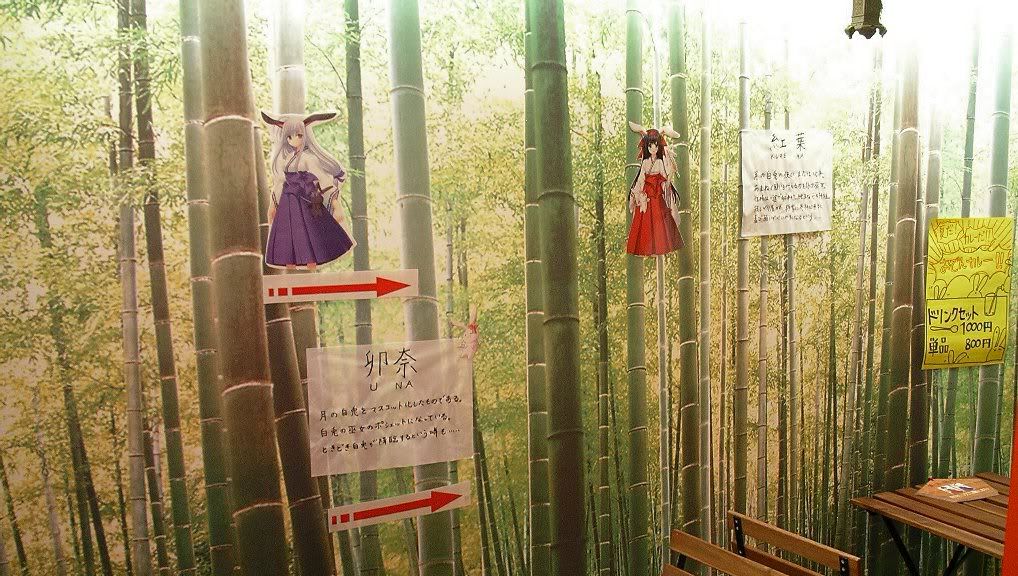 (The pieces of paper next to the photos give a short description of each character)
This is a great twist on the maid cafe concept, and I hope that Usagi has a long and successful future.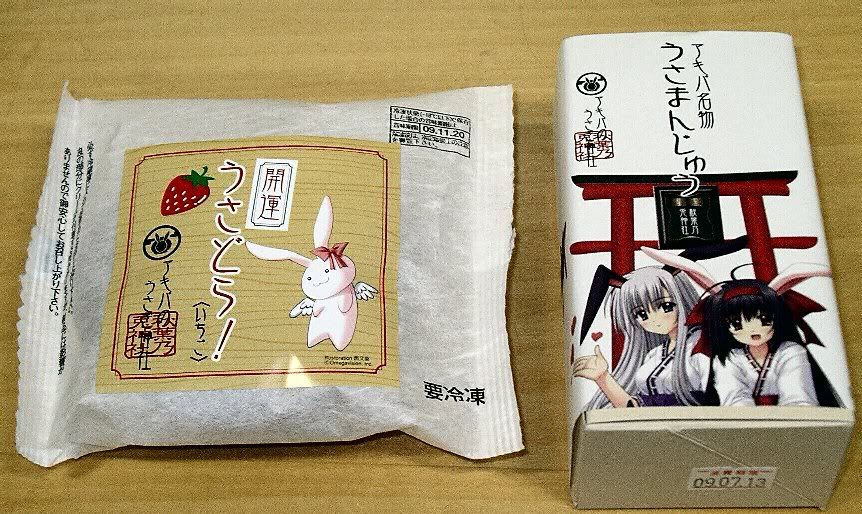 (Package for the little bunny cakes, and a frozen daifuku)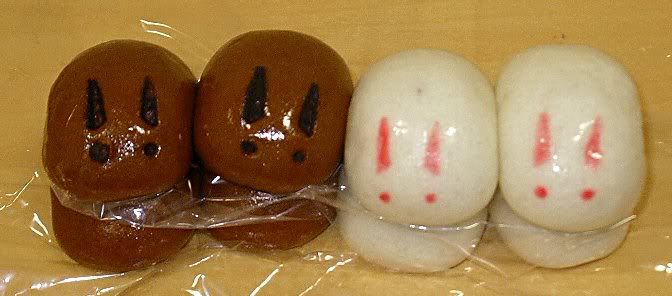 (The little hand-wrapped bunny cakes. with sweet bean paste centers.)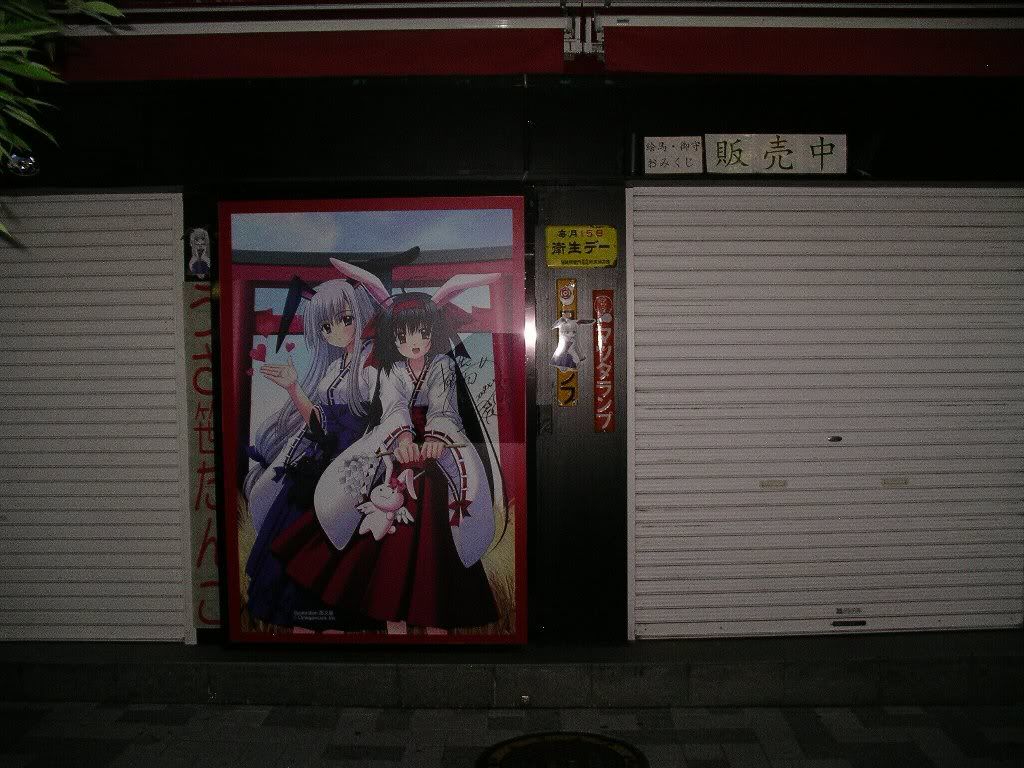 Summary:
Name
:
Akiba no Usagi Jinja
Location
:
Chuu-ou Dori, 4 blocks north of the JR station, where Ore-tachi no Tarou used to be.
Price
: Moderate,
Cover
: No cover.
Food
: Mostly souvenir snacks and shaved ice.
Service
: Very friendly and helpful.
"Love"
: Chants of "hop hop add extra flavor" over your food.
Outfits
: Shinto shrine miko uniform - white and red costume with black rabbit ears.
Photos
: Free when I bought some snacks.
Wireless Internet
: No.
Specialties
: Shinto shrine theme, with a small shrine dedicated to a rabbit god. Art work created by a professional manga artist.
Recommendation
: Highly recommended for the shaved ice and frozen daifuku on a hot Tokyo summer day. And be sure to pray at the shrine for good luck.