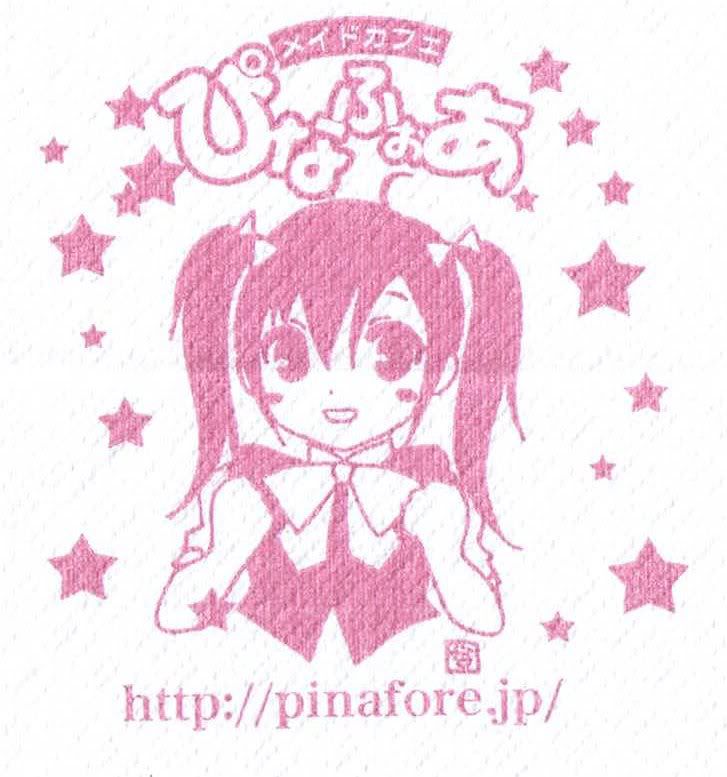 (Napkin)
Pinafore
also has two locations in Akihabara - #1 just outside the south side of the JR Akihabara train station, and #2 on Chuu-ou Dori just west of the UDX building. I visited #1 this time.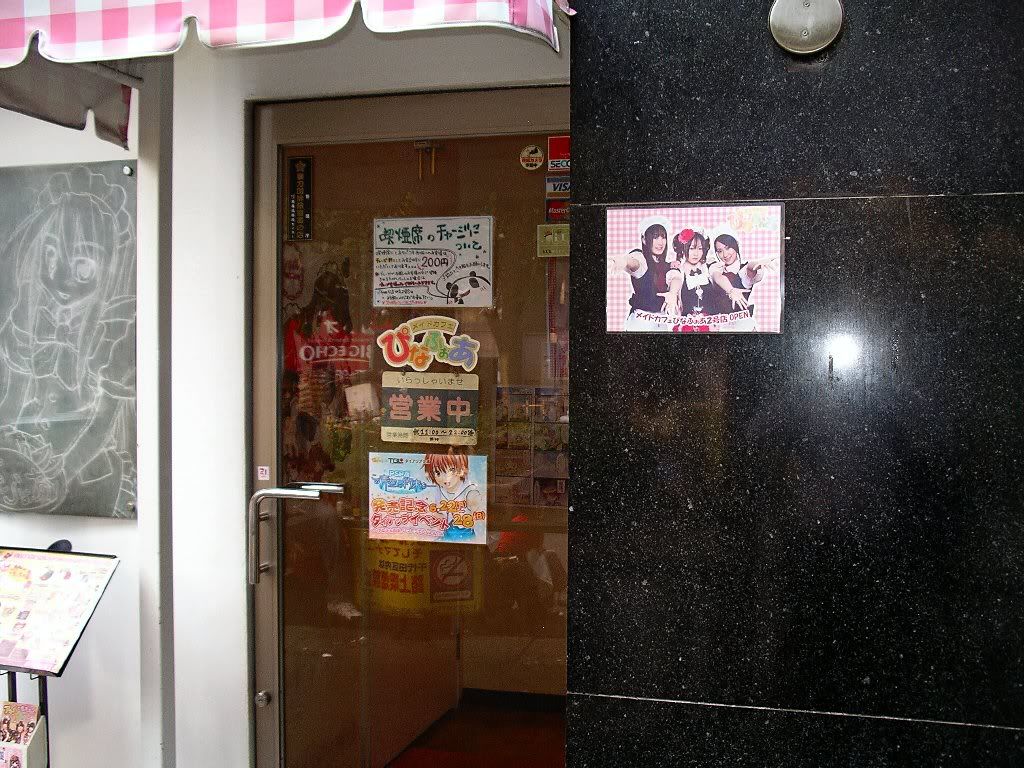 Pinafore 1 is very easy to find, but it's in kind of a grimy area right next to a dirt plaza used by travelers and business people as a smoking zone. The easiest path is to take the Denki Town exit from the station, cross the street over to Yodabashi Camera, and then walk through the tunnel to the other side. You'll be facing the plaza, so just cross the small side street and Pinafore will be on your left at the middle of the plaza.
Pinafore 1 has got to be the most relaxed, "natural-feeling" maid cafe I've been to so far. The women seem to enjoy cosplaying, and have picked the outfits that they prefer (a couple school girl uniforms, and a couple maid dresses). This is a cosplay cafe, and the outfits may change from day to day. The women were all friendly as they greeted me, seated me and walked me through the menu. I don't really know Kansai-ben, so I don't know if there was kind of an "Osaka feel" to the place, but I got that kind of a vibe. I didn't hear "welcome home master", but there was a "welcome to Pinafore" greeting of some kind, anyway. And, there's no cover charge, although they "encourage" you to stay no longer than 1 hour at a time.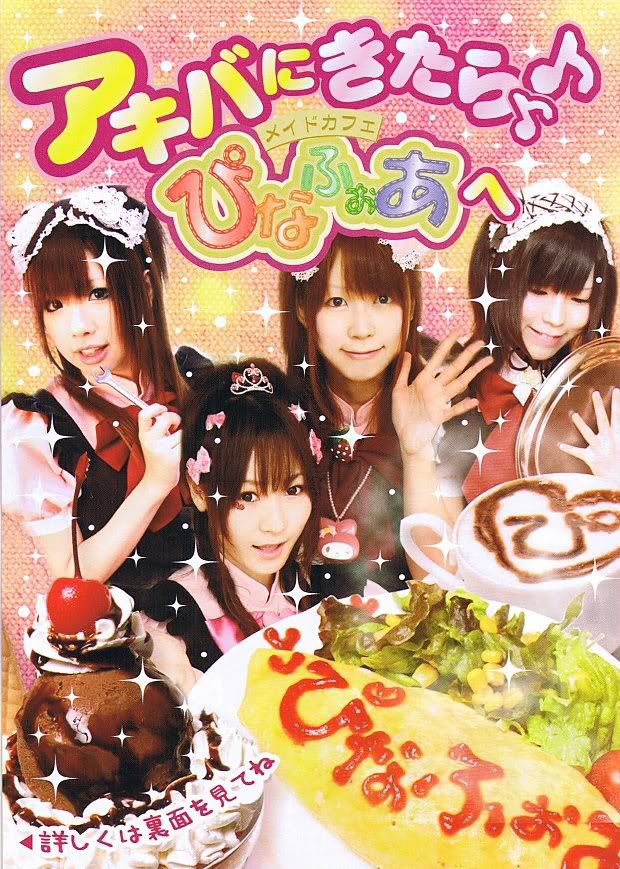 The cafe is small, brightly lit, clean and with round white tables and metal chairs that can seat about 15 people. Benches along the wall and at the bar can hold another 15. Posters, pictures of the maids, and manga-version drawings line two of the walls. 3 glass cases behind the bar hold pinned-up maid dresses along with little figures and other toys. The bar has a limited selection of liquors and hard alcohol, and the menu offers some cocktails plus a "Pinafore Special" drink.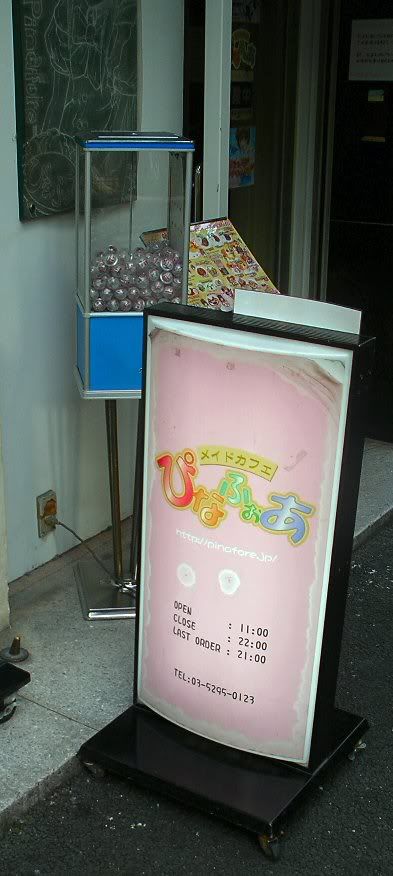 The main menu includes the standard omelet rice, curry rice, hamburger steak and pastas for around 1000 yen, salads for 550 yen, desserts (pancakes, ice cream and parfaits) for 850 to 900 yen, and soft drinks for 350 to 500 yen. There are various menu sets, including a 1300 yen "Ladies Set" that includes pasta, a salad and a soft drink. The menu did not mention maid photos. They had an English version of the menu, but none of the maids spoke English.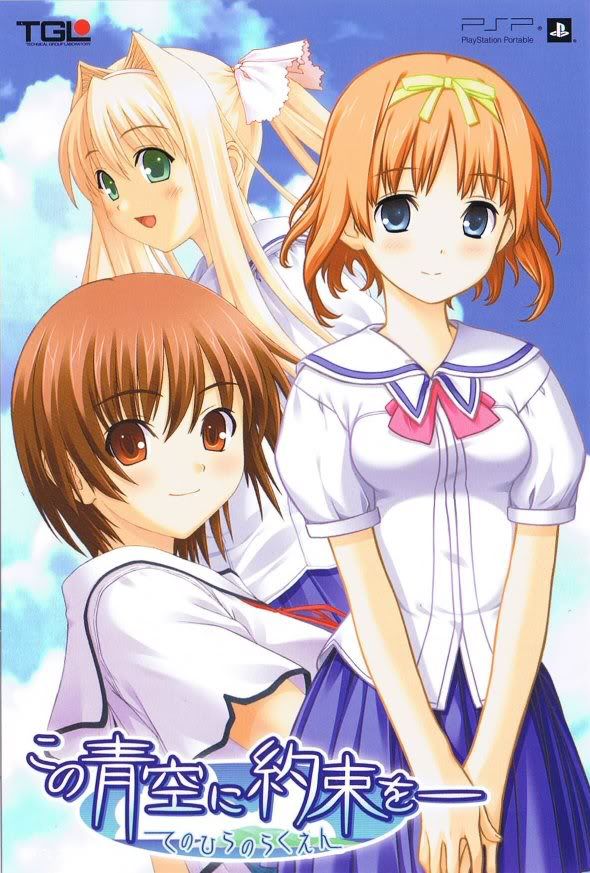 Pinafore doesn't have any specific gimmicks like
@Home
does, but they do host special events once or twice a month, as well as during Tanabata (around Aug. 26 this year) and Christmas. They also have video game tie-ups. When I visited, the game was "
Kono Aozora ni Yakusoku wo - Tenohira no Rakuen
" (The promise to this blue sky - the paradise in your hand), a new port of the game for the PSP. The tie-up seemed to just consist of handing out postcards advertising the game. Then again, the game's not due out until the 26th, anyway (I visited the cafe on the 23rd).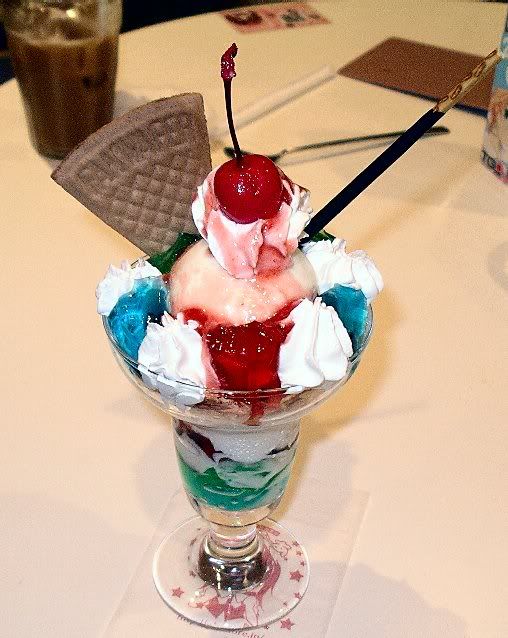 There was also a special set menu, with four different items (two entrees, a parfait and a Pinafore Special cocktail) for 1200 yen. The set consisted of one item plus a special limited edition laminated maid card. I decided to get the parfait (1200 yen), plus an ice coffee (500 yen) and a small bag of candy (420) for 2120 yen total ($21). Now, Japanese parfaits are not like the U.S. versions with lots of ice cream, fruits and syrups. Mine had a scoop of ice cream, some drizzled chocolate syrup, jello squares, a layer of corn flakes and a maraschino cherry. It was good, and very colorful, but pricey for what you get. The ice coffee was good though.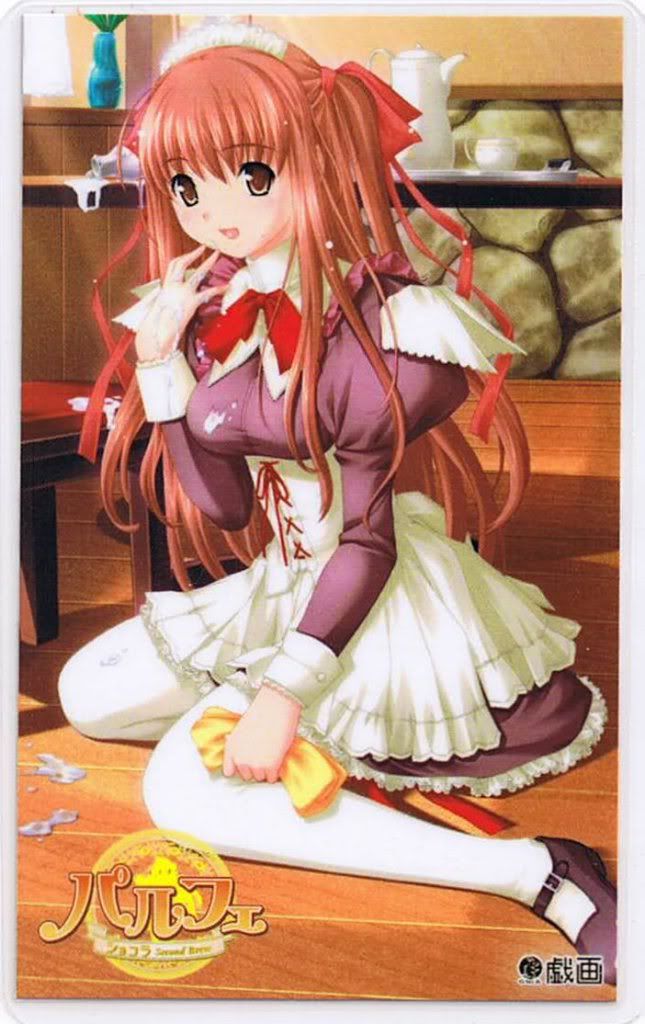 (Laminated collector's card)
While I was there at 6 PM, I counted 8 other customers, 3 of them women, all enjoying themselves. Unlike @Home or Mai Dreamin', Pinafore doesn't do the "added flavor" chant, or stir your coffee for you. They do write a word of your choice (keep it clean!) on the rice omelet in catsup.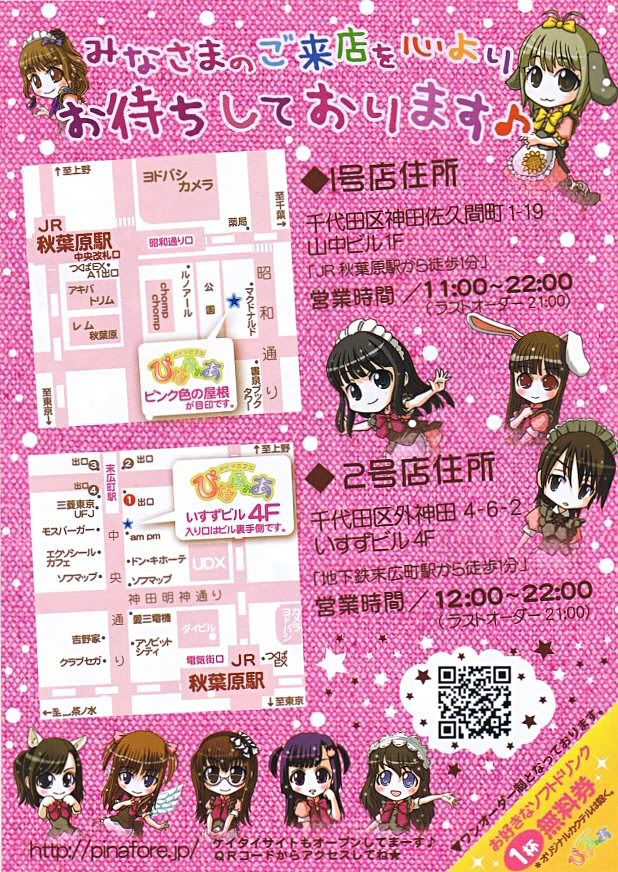 Pinafore is one of the more market-savvy cafes. Near the cash register, they have Pinafore-brand curry, "Moe-moe" hard candies, maid collector card cases, and other stuff. The Pinafore-brand curry can be found at other shops around Akihabara as well. The online shop offers tapestries of the maids, CDs and collector cards with photos of the maids on one side. The online downloads page includes a video of the maids introducing themselves and doing a little singing, and a small maid-based mini-game - "Pinafore Getter".
(The point card)
They also have a point card. I'm a little confused about how the card works though - it says that you get 1 point per 1000 yen spent, but at 2120 yen spent, I got 20 points marked off my card. I'm told that 30 points will get me a maid photo. I plan on bringing the card with me when I visit Pinafore #2 to see if it's really 100 yen per point. They gave me a flier, too, which has a coupon for one free drink, which I'll try redeeming at the same time.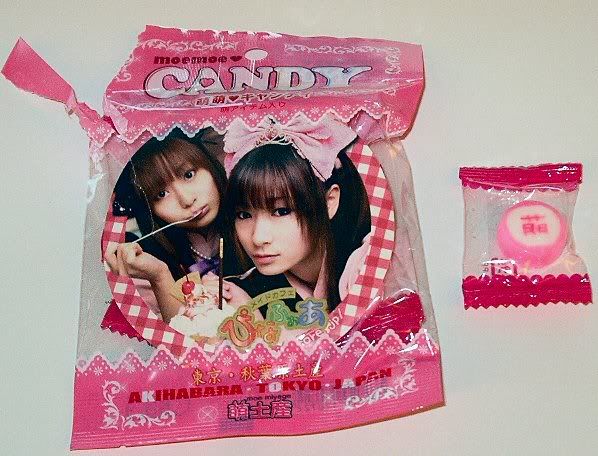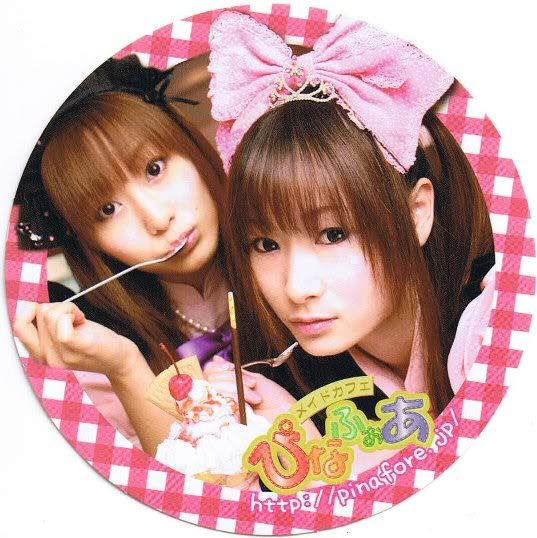 I picked up a small bag of "Moe Moe" strawberry hard candies on my way out. The picture of the two maids in the bag is actually a sticker that you can attach to your notebook or locker if you like. The candies mostly tasted like just sugar. As I left, I was followed out the door with a very loud "thank you for visiting Pinafore, come again", or something like that (my spoken Japanese is still weak). Overall, I had fun.
-=-=-==-=-=-=-=-==-=-=-==-
- Trip 2 -
"Desperate" to get my Pinafore maid photo, and finding myself with some time to kill in Akihabara before a work-related event, I decided that I'd try going to Pinafore 1 again. This time, the maids were in uniform (pink blouse, black skirt, white apron, plus "flair"), and one of the maids I'd met in 2 was doing duty here, too.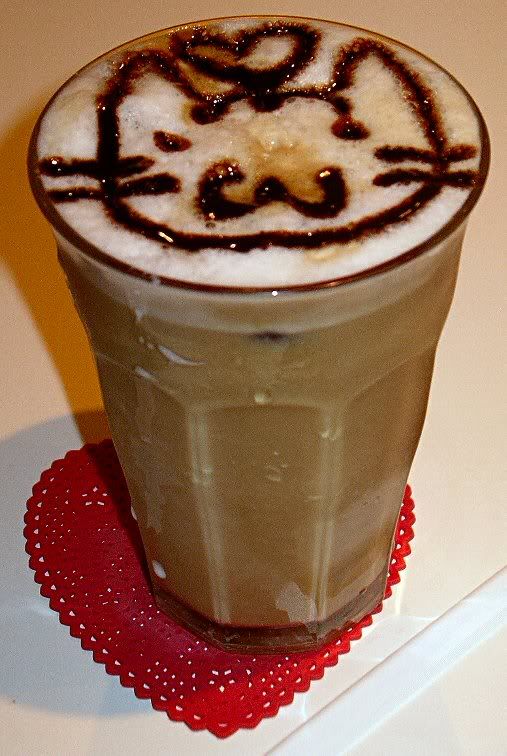 I'd gotten a handful of points at Pinafore 2 a few days earlier, but it wasn't enough to fill the card. Intent on getting the remaining 2 points, I hung out at the cafe for an hour, and ordered a cappuccino (700 yen) plus a banana crepe dessert with ice cream (800 yen). You have a choice of flavors, so I went with the blueberry sauce and strawberry ice cream. The crepe is wrapped around two large slices of banana and a little whipped cream, and the entire thing made for a meal in itself. The maid asked what I wanted drawn on the coffee and when I tried to tell her that I'd already had a cat drawing and I wanted something else, she misunderstood me and I got another cat. But, it was a cute cat so I didn't feel like complaining.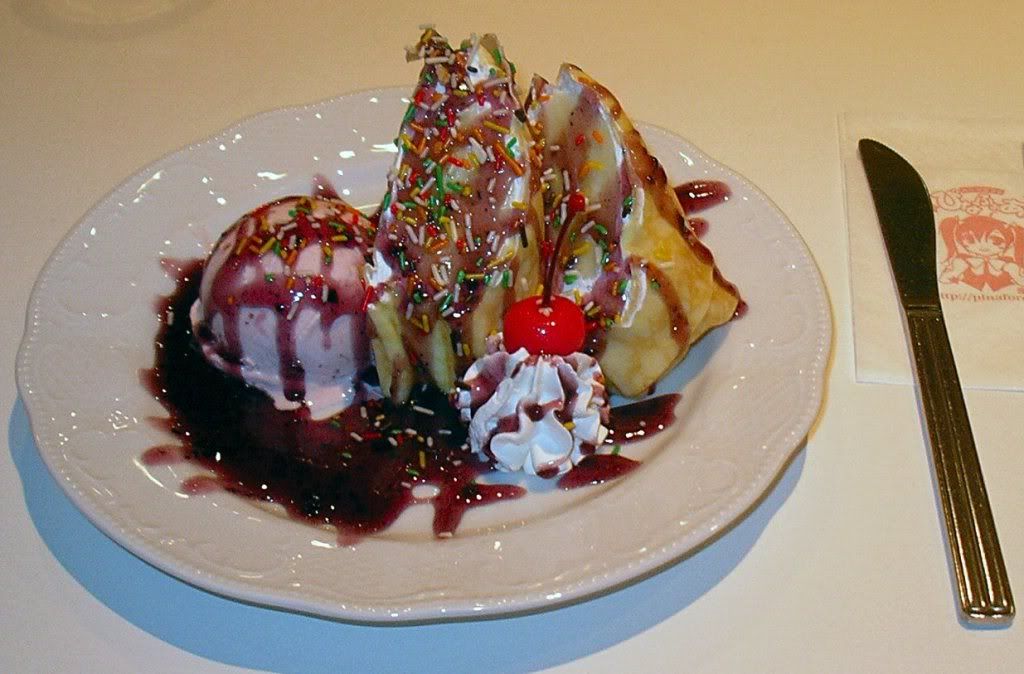 The crepe was delicious, and the iced cappuccino was good (the coffee flavor didn't really stand out, but it went well with the blueberry syrup on the dessert). But, still, it was 1500 yen for a coffee and a crepe, which would be overpriced if this wasn't a maid cafe.
At the end, I got my 2 points, and a card good for one maid photo. But, I have to make yet another visit to Pinafore to redeem the card. While I was waiting for my food, another customer got his photo taken with a maid, and he had to return to his seat before it was handed to him. So, this is not something to to get if you're in a rush. On the other hand, Pinafore seems to get a lot of repeat customers, so the photo is kind of a side benefit for them. The place always has a waiting line outside on Saturdays, and this Friday evening it was pretty crowded. About half the customers were women, and one woman had her 5-6 year-old son with her. It's fun for the whole family.
-=-=-==-=-=-=-=-==-=-=-==-
Summary:
Name
:
Pinafore #1
.
Location
: South of Akihabara station, near Yodobashi Camera.
Price
: Moderate if you just get food.
Cover
: No cover.
Food
: Standard entrees, lots of salads and desserts, some alcoholic drinks.
Service
: Friendly and very outgoing.
"Love"
: Words written on the omelet or curry rice.
Outfits
: No standard design.
Photos
: Apparently only available during events, or if you get 30 points on the points card.
Wireless Internet
: (?) (No laptops in evidence when I was there.)
Specialties
: Cosplay, video game tie-ins, events once or twice a month.
Recommendation
: Pinafore was the first maid cafe where I really felt that everyone was having fun. My maid was very outgoing, and when I told her that I thought she was "energetic" (genki), her reply was "If you're genki, you can do anything". I think that summed up Pinafore in a nutshell. Highly recommended, but try to go when they have an event.