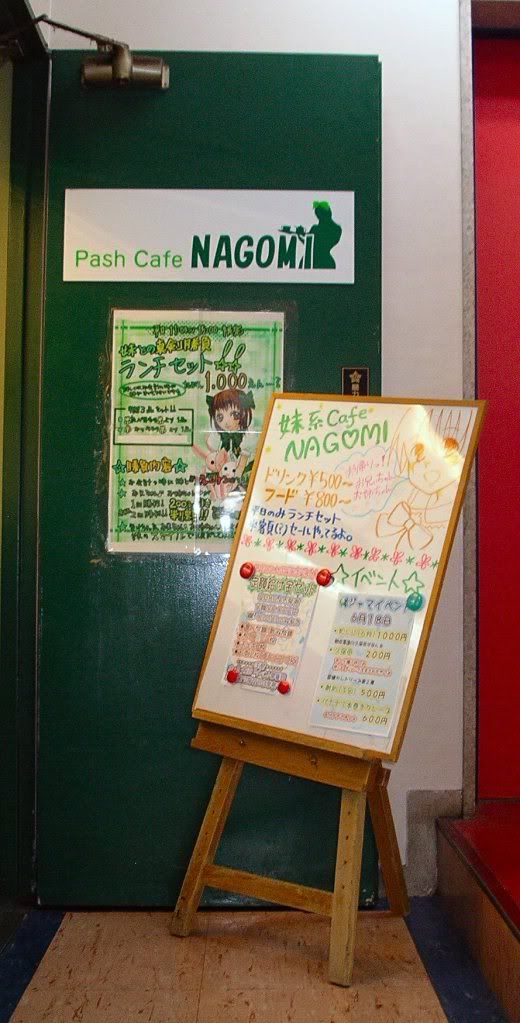 Pash Cafe Nagomi
is easy to find,
since it's on the second floor
of the same building housing
Mai Dreamin' 2
. However, it's a little less welcoming. Nagomi is another of those cafes with two locations: Cafe Bar Nagomi, which is a few block down Chuu-ou Dori, and Pash Cafe Nagomi. I only visited Pash Cafe this time. One sign on the outside of the door says "Dear customer, please do not stand in the doorway and take pictures of the inside of the cafe". Fortunately, the door was closed at the time I took this photo...
While "Pash" is slang for "passionate kiss", as in "a french kiss", I'm thinking that in this case it's a misspelling of "Posh" (elegant, upscale). Pash Cafe has a very strong "green" theme running through it. The walls are green, the floors are green carpet, the ceiling is green, the maid dresses are green... There's a bar at one end, and small tables and chairs that can seat about 18 people. A small counter at the other end holds the card and board games you can play against the maids (500 yen for 3 minutes; winning a certain number of times gets you different prizes). The place is clean, but all this green makes it seem a little dark.
This was one of the first cafes I've visited where I really felt out of place. There were 3 customers, and no staff when I entered, and all three men stared at me through the doorway. One of the guys called out the name of one of the maids several times before she came into the room, and she was halfway through "welcome home master" when she saw me and stopped mid-sentence. But, she recovered and led me to the bar and gave me a menu. Shortly after this, two of the customers left, and it was just me and the guy that knew the two maids on staff. After a few minutes, the maid returned with an English version of the menu, but I'd already made my choice, and there wasn't much difference between the two menus (outside of the lack of photos of the food in the English one).
There's no cover charge, and the food is cheaper at Pash Cafe than the other places I've visited so far, but it's a pretty standard menu - omelet rice, curry, some desserts, most soft drinks, and a "house special" alcoholic cocktail. I ordered the omelet rice dinner set, which included an ice coffee, for 1400 yen. Normally I'd get the maid photo as well, but I was told that they don't have the staff for maid photos until after 9 PM. So, this could be considered either an inexpensive maid cafe trip, or an overly expensive plate of rice with a scrambled egg on top, depending on how you look at it.
My ice coffee came out with little fanfare (no added "love" this time) followed 10 minutes later by my omelet. At least the maid was willing to draw a picture on top in catsup. I asked for her recommendation, and she replied that she drew cats best. So, that's what I asked for, and she gave me a very happy-looking cat on top of the egg. Unfortunately, I wasn't allowed to take a picture of it. (
Nagomi's blog
has photos of the food.)
During the rest of my meal, the two maids were taunting their friend, and I had the feeling that he was either a frequent customer, or he knew them from outside the cafe. I had trouble making out the Japanese used, but it was either Kansai-ben (Osaka dialect), or Tokyo street slang. The cafe advertised a "tsundere event" earlier in the year, as well as a "rain coat day", earlier in the month, so there may also be a little of an abusive vibe in the air as a matter of course. Anyway, I was left alone to read my manga in the corner (Galaxy Express 999), and one of the maids was challenged to a game of Uno against the customer. He was losing 3-1 when I left.
There are two capsule ball dispensers in the shop. For 300 yen, you can try to get a maid photo, a coupon for a free picture with a maid of your choice (after 9 PM of course), and some other shop gifts. I got a photo of a maid, with a piece of fabric attached. The two maids reacted like I'd gotten something really rare, but the nuances of this were lost on me.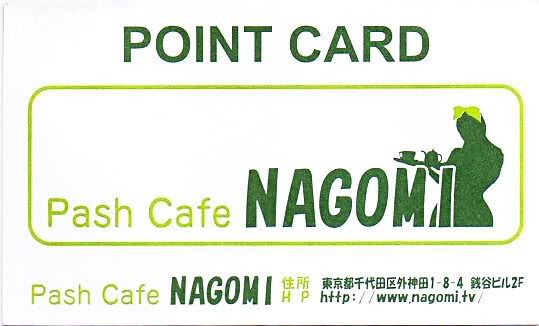 I generally visit the cafes on Tuesday evenings before starting work, so it's hard to say what a given place would be like when things are busier on Friday or Saturday nights. My impression is that Pash is more of a bar that caters to the weekend crowds. During the rest of the week, it's pretty quiet. And, while there is an English menu, the maids don't speak English themselves. You really need to be fluent in Japanese to feel comfortable here. One good thing is that they do offer points cards if you want one (1 point per 500 yen spent; 24 points gets you a free game with the maids).
The website has the menu listed, but it's just the item names and prices. For pictures of the foods, you need to visit "Nagomi's Diary".
Summary:
Name:
Pash Cafe Nagomi
Location:
West of Chuu-ou Dori 2 blocks, behind the Sega building.
Price:
Moderate.
Cover:
No cover.
Food:
Standard foods (omelet rice, pasta), soft drinks, desserts and a "house special cocktail". They emphasize their lunch set menu.
Service:
Friendly, but they don't seem to know how to handle foreigners on the week days.
"Love":
Maids draw pictures on your food in catsup.
Outfits:
Green dresses with white blouses.
Photos:
500 yen, with one maid, but only after 9 PM on the weekdays when I was there.
Wireless Internet:
(?) (No laptops in evidence when I was there.)
Specialties:
N/A
Recommendation:
Pash Cafe Nagomi
may be a lot more exciting and friendly on Friday or Saturday nights, but Tuesday evening was pretty disappointing. The food is good and the portions are large for $14 (USD), but one of the reasons for my going to maid cafes is to get the maid photo, and I couldn't stick around until 9 PM for that. I may give Pash Cafe a second try some Saturday night, but I can't recommend going during the week.