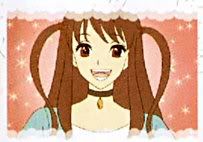 I'll be honest - I had a specific motive for visiting
Popopure
for my first maid cafe for this blog. The
Metropolis
(the weekly English rag in Tokyo), had run an interview with a Spanish woman working as a maid, and on a hunch I decided to follow the URL given at the end of the article. Their website billed themselves as an "animation studio and maid cafe". Being a fan of a wide variety of animation from different countries, I wanted to know more. So, last Wednesday, when I had a little time before the start of work, I swung by, half-ready to call the whole thing off. But, it was close to 6 PM and I hadn't had lunch, so "why not".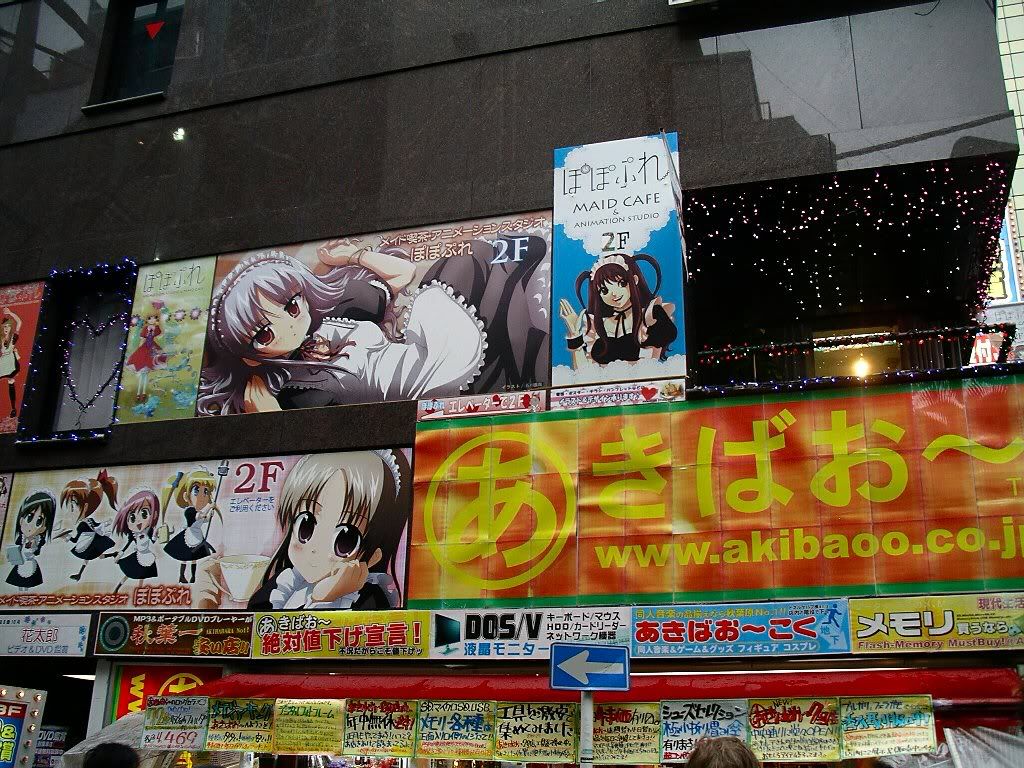 (The front of the building, with ad banners.)
A tall blond woman in front of the cafe's building was holding an advertising card for the cafe, and it turned out that she was from New York. One of the selling points for Popopure is that several of the staff speak English. She guided me inside, and I was showered with the expected "welcome home, master" in Japanese. The maids largely have a black dress with white lace uniform, smile a lot, and are very friendly. My maid ran me through the routine, brought me a menu and told me about the day's specials.
(More of the ad banners.)
Popopure, on the second floor of a building one block west of Chuu-ou Dori, is fairly spacious for Akihabara at maybe 30'x50', able to seat up to 30 people. It's relatively new, having opened around the Summer of 2008, but in a different location. It's well-lit, clean, and has wooden tables and chairs. There's framed animation artwork on one wall, and the two big flat panel TVs play the three short anime titles created by the staff themselves. Two of the titles are limited in movement, while the third (featuring two super-hero-style maids) is very well-drawn and runs about 5-10 minutes.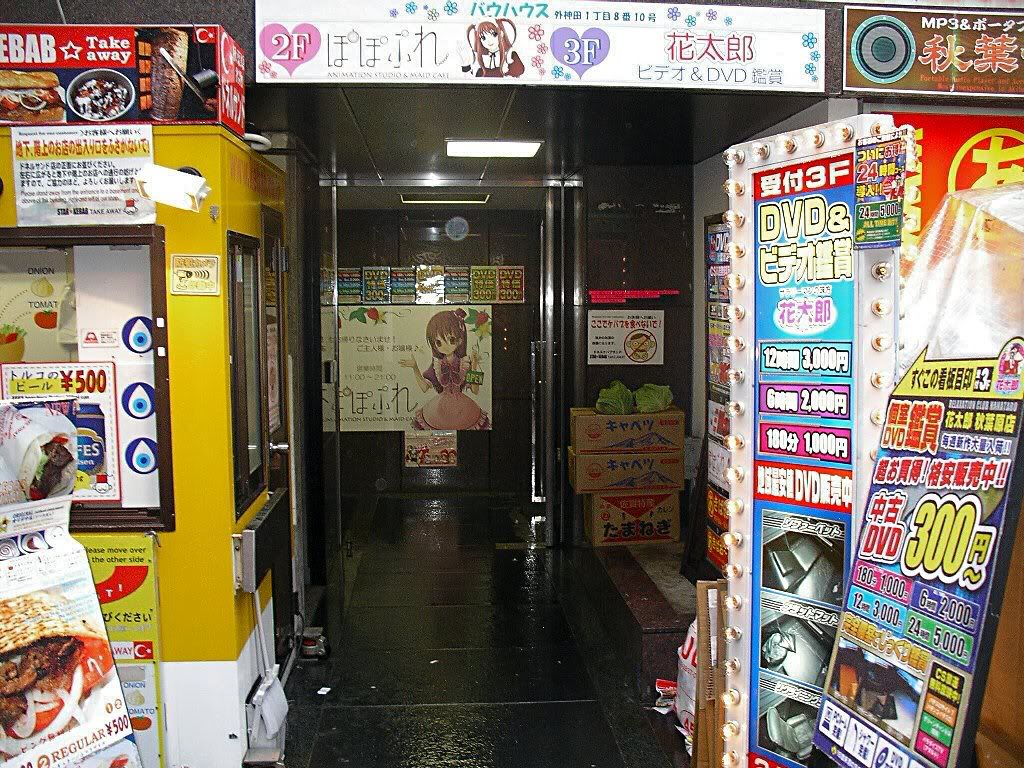 (Main entrance leading to the elevator to the 2nd floor.)
The food is pretty typical, including rice omelets (actually a pile of rice with a scrambled egg placed on top), curry rice and rice pilafs, coffee, tea, various soft drinks, and some deserts. The main dishes are in the 1200 yen range; the drinks are 600 yen, no refills; and the desert sets (a slice of cake and a drink) are 1200 yen. The prices are on the high end for a regular restaurant, but in keeping with the other maid cafes. I ordered a coffee and the omelet rice, plus a photo with one of the maids for an additional 500 yen.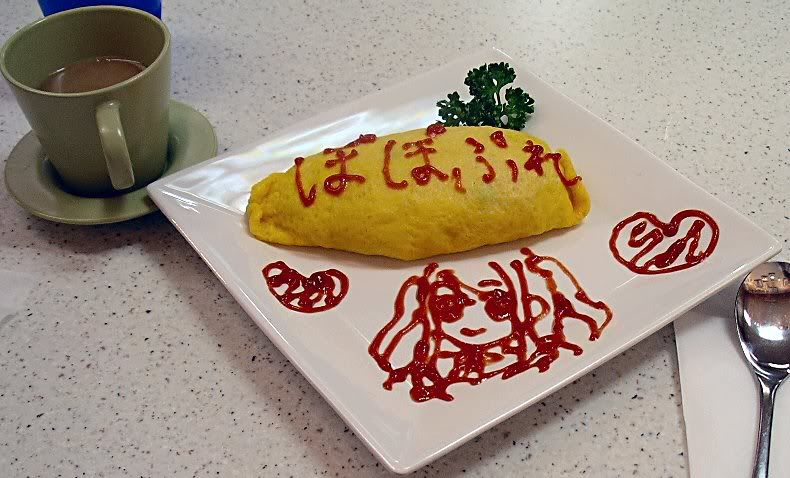 I was told that I could have any kind of design drawn on my omelet, including hearts or some kind of kanji. Not realizing what I was getting myself into, I asked if it was possible to have one of the cafe's anime characters drawn on the plate. After some agonizing, one of the girls ran into the kitchen and brought out "sensei" - another young woman who was apparently one of their main artists. Immediately, I had 5 other maids standing around the table, watching "sensei" at work. 5 minutes later, I had a pretty catsup drawing of one of the characters. I thought it was cool.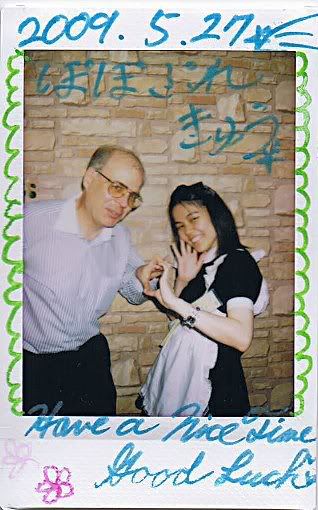 Beyond having English-speakers on staff, one of the selling points for Popopure is that for 1500 yen, you can voice one of the characters in the anime, and get it burned to a DVD. I settled for just getting the photo. I could ask any of the maids to join me, and was told that the three standard poses were: forming a heart with our hands (the one I picked); to form a heart with our arms over our heads; or, placing our hands up near our faces like cat paws. After having the photo taken, I returned to my table and waited while my maid added her embellishments to the picture.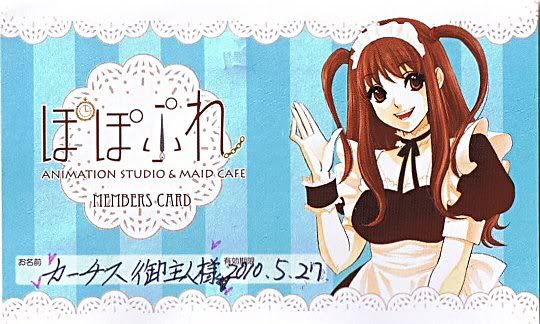 When I left, I was guided to the door and told, "master, be careful". In total, it came to 2,300 yen. I was also asked if I wanted the points card (pictured above), and I answered "sure". It's 1 point per 500 yen spent. 10 points gets me an "Ichigo-chan poster print" and a free drink. 20 points is a free drink and a maid photo. 30 is a free entree and drink plus maid photo. And the big prize is an anime DVD, maid photo and a free drink for 50 points.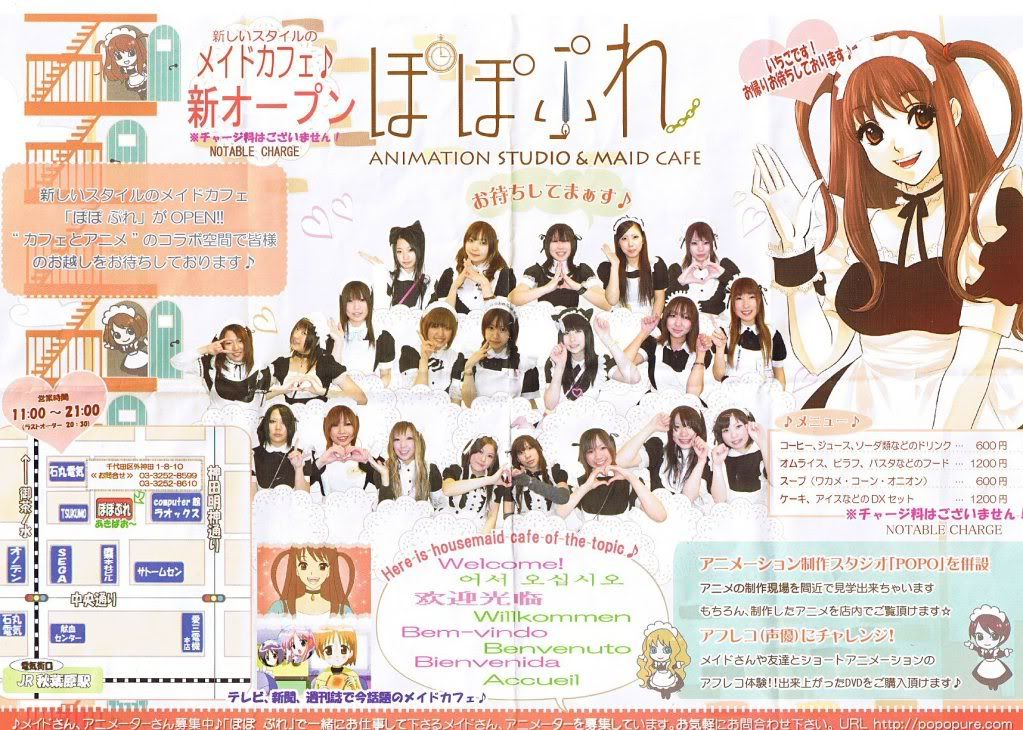 Some of the cafes have wireless service, but I didn't check if that was the case here.
Summary:
Location
:
1 block west of Chuu-ou Dori
Price
: Moderate
Food
: Standard food and soft drink selection, and quality
Service:
Very friendly and outgoing
"Love"
: Drawing of your choice on the food or on the plate
Outfits
: Black maid dress with white frills
Photos
: 500 yen, with one maid
Wireless Internet
: (?)
Specialties
: Native English-speakers; staff makes their own anime, DVD with your own voice-over available for purchase
Recommendation
: Recommended. I had fun.